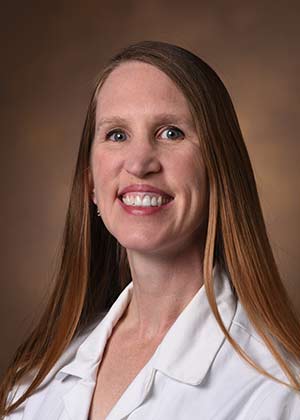 Kiersten A. Brown Espaillat, DNP
Kiersten Brown Espaillat is an Advanced Practice Registered Nurse currently serving as the Stroke Program Manager at Vanderbilt University Medical Center. In her role, which she has held since 2017, she fulfills a variety of educational and administrative duties that elevate stroke patient care, follow-up, and preventions. Dr. Brown Espaillat presents monthly lectures to medical residents, nurses, advanced practice providers, and emergency medical services on topics including anatomy and physiology of stroke, recognition of stroke, and treatment of acute stroke. She has served as an organizer and lecturer for the annual Harold Jobe Bernard Stroke and Neuroscience Symposium since 2012. 
Dr. Brown Espaillat participates in a number of professional organizations and committees, including the American Heart Association Greater Southeast Affiliate Board and related committees, both the Steering and Outreach committees of the EMS Center of Excellence, Sigma Beta Thau among others. She has received recognition for her work on stroke legislation in the state of Tennessee by the American Heart Association. In 2019, she received VUMC's Jerita Payne Advanced Practice Nurse of the Year Award. 
Dr. Brown Espaillat began her career at VUMC in 2011, first as a Neuroscience Educator then as Stroke Coordinator before moving into her present role. She earned her DNP in 2013 from the University of Tennessee Health Science Center, following her MSN, which she received from the Vanderbilt School of Nursing. She obtained a BS in Education from Vanderbilt University prior to her nursing career.