The Tennessee Ambulance Service Association (TASA) has named Vanderbilt LifeFlight's Tim Bell the Larry Griffin Paramedic of the Year.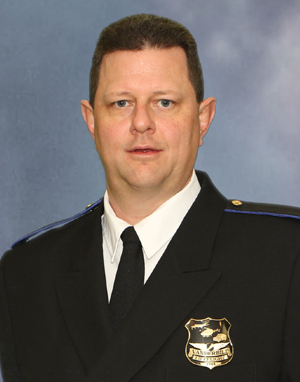 Bell, a critical care flight paramedic and respiratory therapist, has worked for Vanderbilt LifeFlight since 2005. He was one of the first paramedics hired to work in the flight division.
Jeanne Yeatman, a Vanderbilt colleague who has served with Bell since he started with LifeFlight, recruited him to join the LifeFlight team.
"We are so proud of Tim for this great accomplishment," said Yeatman, MBA, MOM, RN, CEN, EMT, Associate Nursing Officer, Emergency Services/LifeFlight. "TASA has echoed what we've known at Vanderbilt for many years.  Tim is a great asset to our team and a leader for all of Tennessee EMS. He's one of those unique individuals that brings out the best in everyone around him."
Kevin Nooner, MSN, RN, NE-BC, EMT-P, director of Air Medical Transport for Vanderbilt University Medical Center (VUMC), used to work with Bell in the aircraft. He said he admires Bell not only for his clinical skills, but also for his kind and insightful bedside manner with patients and their families.
"I originally met Tim as one of the original paramedics we hired at Vanderbilt LifeFlight. I have worked beside him for several years in many roles including those of caregiver, educator and leader. Tim is an employee who consistently delivers excellence. He challenges those around him, including his leaders, to be better," Nooner said. "Tim is an excellent clinician, but routinely goes beyond the technical aspect of the job and demonstrates a personal care to his patients. He is known to spend an extra moment making sure patients are comfortable, ensuring families understand the transport progression, and collecting contact information so they remain informed on the care of their family member."
Jeremy J Brywczynski, MD, associate professor of Emergency Medicine at Vanderbilt, Medical Director, Vanderbilt LifeFlight and Associate Medical Director, Nashville Fire Department, echoed Nooner's comments.
"I can honestly say that he is one of the most compassionate people that I have had the honor of knowing.  When Tim enters a room, his infectious smile and positive attitude cannot be avoided.  He makes all those around him better, happier and more involved in the rapidly changing environment of air medical pre-hospital care.  I frequently receive feedback from patients who have been transported or treated by LifeFlight, and I always am filled with pride when there is a mention of Tim Bell."
Bell obtained his paramedic licensure in 1995 and completed critical care paramedic training at The University of Tennessee. He has an additional license as a Certified Respiratory Therapist.
He joined Vanderbilt LifeFlight in 2005 where his clinical responsibilities as a critical care flight paramedic include providing advanced critical care, trauma and medical care for patients across the lifespan. His responsibilities include management of intra-aortic balloon pumps and left ventricular assist devices and the clinical management of patients on ECMO (extracorporeal membrane oxygenation), a machine used to pump and oxygenate a patient's blood outside the body, allowing the heart and lungs to rest.
In 2017, he obtained his Air Paramedic 4, a distinction deservingly attributed to paramedics operating at the height of VUMC's paramedic clinical ladder.
As a Cannon County, Tennessee native, he has deep roots and has been actively involved in that community. Throughout Bell's 27 years as a healthcare provider, he has demonstrated a continued commitment to leadership. Since 1993, he has been a volunteer with the Cannon County Rescue Squad and a board member for the Tennessee Association of Rescue Squads Education Committee (1993-present). He has served on the board of the Cannon County Emergency Communications Committee (2004-2009) as well as the Tennessee Department of Health, Office of Emergency Services (2006-2014). He was Chairman of the Board from 2013-16 of the Cannon County Homeland Security Committee and remains an active member of the Cannon County Fire Board (2015-present).
He has been named Cannon County Rescue Squad Member of the Year three times (1995, 1998 and 2012), in addition to receiving the Cannon County Rescue Squad's John Stiles Award. He was similarly awarded the Tennessee Association of Rescue Squad's Trainer of the Year in 2008 and 2012. Tim was honored by his peers in 2012 with the Vanderbilt LifeFlight Medical Crew Excellence Award and was part of the Outreach and Education Committee, which was awarded Vanderbilt Medical Center's Team Award.
Bell received his award at the annual Tennessee Ambulance Service Association's Mid-Winter Conference.
Other award winners include:
Gwynna Franklin  - Jimmy Studdard EMT of the Year, Monroe County EMS
Monroe County EMS – Bob Thomas ALS Service of the Year
William Richard Bailey – Thomas Erwin Lifetime Achievement Award, Lawrence County EMS
Ron Bucheit, M.D. – Dr. C. Robert Clark EMS Medical Director of the Year, Hamilton County EMS
Dan Schaeffer – John Bond EMS Administrator of the Year, Cheatham County EMS
Andrew Hart – EMS Advocacy Award, Memphis Fire Department