LifeFlight offers a variety of education courses for our emergency service colleagues. We annually train more than 3,800 people and can custom any course to fit any audience. Currently all in person training is on hold due to the Covid-19 Pandemic. However we are offering a variety of LIVE virtual events via Zoom. 
The 2020 iServe Emergency Care Conference held each August has been canceled. We look forward to seeing you soon!
---
---
 
 Treatment and Research:
 Emergency Provider Covid 19 Update
 Are you confused about all of the information surrounding Covid-19? 

 Join Dr. Stephan Russ for the latest updates in treatment and research in Covid-19 and how it   relates to your role in emergency services. 

 This seminar is for information only and no contact hours will be provided. There will be   time for questions at the end of the presentation.

 This presentation is open to any emergency provider (Prehospital or Hospital) with questions or   concerns about Covid-19
When: Aug 20, 2020 08:30 AM Central Time (US and Canada)
Topic: Treatment and Research:  Emergency Provider Covid-19 Update

Please click the link below to join the webinar:
https://zoom.us/j/98538622984

Or iPhone one-tap : 
    US: +13126266799,,98538622984#  or +13017158592,,98538622984# 
Or Telephone:
    Dial(for higher quality, dial a number based on your current location):
        US: +1 312 626 6799  or +1 301 715 8592  or +1 646 558 8656  or +1 669 900 6833  or +1 253 215 8782  or +1 346 248 7799 
Webinar ID: 985 3862 2984
    International numbers available: https://zoom.us/u/abwMBY5nED
---
Lunch with LifeFlight ZOOM Live Training 
Join us each Friday via Zoom for an hour long lecture, good for 1 contact hour. You must have a camera on, and show that you are present and active in the class for the full hour to receive credit.  These courses are FREE!
All classes below run from 11 a.m. to Noon
The dates are:
July 24 - Register here - Lunch with LifeFlight: Cardiac Emergencies and ECG's
Dr. Jeremy Brywczynski, Emergency Medicine Faculty, LifeFlight Medical Director.

Aug 7 - Register here - Lunch with LifeFlight:  Pre-Hospital Burn Care

Elizabeth Vorholt is the Burn Outreach Coordinator at Vanderbilt and has several years of burn care experience. She will be discussing new trends and current emergency burn care.

Aug 14 - Register here - Lunch with LifeFlight: Emergency Stroke Care During A Pandemic

Jimmy Closser is the Stroke Services Coordinator at Vanderbilt and will be discussing current trends and treatment in emergency stroke care.

Aug 21 - Register here - Lunch with LifeFlight:  Pediatric Summertime Emergencies

Dr. Rebecca Kidd is an Assistant Professor of Clinical Pediatrics at Vanderbilt as well as the Pediatric Medical Director for LifeFlight. Dr. Kidd will be talking about common summertime emergencies that kids encounter and different treatment options.

Aug 28 - Register here - Lunch with LifeFlight:  Medical Emergencies

Dr. Jared McKinney is an Associate Professor of Emergency Medicine at Vanderbilt, he is also Medical Director for LifeFlight Event Medicine and an Assistant Medical Director for Nashville Fire Department. Dr. McKinney will be talking about various medical emergencies and current trends and care.

Follow our Facebook page for more information and how to register.  
---
Upcoming Regional Education Events:
Because of the risk of influenza and coronavirus (COVID-19) all LF Regional Events have been postponed.
---
Critical Care Paramedic: This course is offered twice a year and is limited to 12 students. Candidates must be currently licensed paramedics by the State of Tennessee, have two years' experience as a paramedic, and have their BLS, ACLS, advanced pediatric course and advanced trauma course certifications. Applicants will be screened with a pre-test and an interview process.Click here for more information on the course and to submit an application.
---
Operation Tailwatch: The Safety section deals with general helicopter safety and Landing Zone requirements. It's best to review this information before it's needed, but it can be accessed by a dispatch center for relay to the LZ Officer if a reminder is needed. LifeFlight provides instruction covering Landing Zone Safety through our Outreach program. This class is also available online. Click here for more information. This class is free.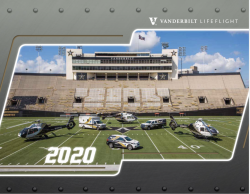 ​
View the 2020 Wall Calendar Here
A tribute to the communities that we serve
---