LifeFlight offers a variety of education courses for our emergency service colleagues. We annually train more than 3,800 people and can custom any course to fit any audience. A few of our upcoming classes are listed below but you can view all of our events on our EventBrite Page, located here.
---
---
Upcoming Regional Education Events:
Because of the risk of influenza and coronavirus (COVID-19) all LF Regional Events have been postponed.
---
Critical Care Paramedic: This course is offered twice a year and is limited to 12 students. Candidates must be currently licensed paramedics by the State of Tennessee, have two years' experience as a paramedic, and have their BLS, ACLS, advanced pediatric course and advanced trauma course certifications. Applicants will be screened with a pre-test and an interview process.Click here for more information on the course and to submit an application.
---
Operation Tailwatch: The Safety section deals with general helicopter safety and Landing Zone requirements. It's best to review this information before it's needed, but it can be accessed by a dispatch center for relay to the LZ Officer if a reminder is needed. LifeFlight provides instruction covering Landing Zone Safety through our Outreach program. This class is also available online. Click here for more information. This class is free.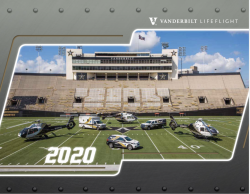 ​
View the 2020 Wall Calendar Here
A tribute to the communities that we serve
---