For more than 17 years and 13,000 flights, Vanderbilt LifeFlight in Clarksville has been providing emergency care to residents of Montgomery County and surrounding areas.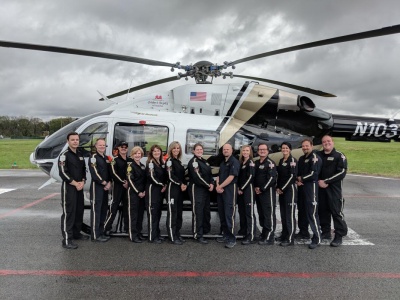 With a staff of 13 medical crew members, four pilots and two mechanics, the helicopter base is one of the busiest out of eight LifeFlight bases and covers more than 11,000 square miles.
The base opened with very humble beginnings in October 2002 on the campus of Memorial Hospital (later renamed Gateway Medical Center), on Madison Street in Clarksville. The helicopter sat on the helipad at Gateway and the on-duty staff had living quarters in a clinic attached to the hospital.
"The community was very welcoming," said Lis Henley, RN, EMT, who served as the first Chief Flight Nurse/Base Manager.  "LifeFlight 3 was the third aircraft added to the fleet, and Clarksville was selected because of the volume of requests that we received from the area."
Gateway Hospital's then president and CEO, Randy Kelley, said at the time that Gateway had partnered with LifeFlight because of their exceptional safety record and patient care.
"Their safety record is impeccable and their flight nurses have great experience in providing the type of critical care necessary in these emergencies. The service it will provide to the residents of Clarksville and surrounding counties is phenomenal. They are the best at what they do," Kelley said. "And we want the best for our community. It's a win-win situation."
When a new hospital was built in 2008, the hospital became Gateway Medical Center and the move to a new campus also brought a move for LifeFlight to Outlaw Field. A ribbon cutting was held in 2009 for the new hanger and expanded crew housing at the airport. 
The first aircraft placed in Clarksville (at Memorial Hospital) was a $2 million-dollar American Eurocopter BK117. The twin-engine aircraft is one of the safest in the industry. In 2004 an $8 million American Eurocopter EC 145 twin engine helicopter replaced the aircraft. That aircraft underwent a multimillion-dollar refurbishment in 2017 and continues to service the community.
Chief Flight Nurses (base managers) have included Henley (2002 to 2012), Michele Brazil (2012 to 2014) and Joe Brentise (2014 to present). Brazil and Brentise continue to work at the base, while Henley works out of the Paris, Tennessee (LF 6) base.  Each have fond memories of the community. 
"So many people in the community were so helpful and instrumental in bringing the LifeFlight helicopter to the community.  Charles Hand and Gary Matthews were pivotal in making sure that we could build and lease our facility at Outlaw Field," Henley said.
"I love working with all of my colleagues at Tennova Clarksville and Montgomery County EMS," Brentise added.  "I have such respect for the caliber of care that they all provide, and their thirst for constant learning."