Vanderbilt LifeFlight's helicopter based in Murfreesboro has a new home at the Murfreesboro Airport.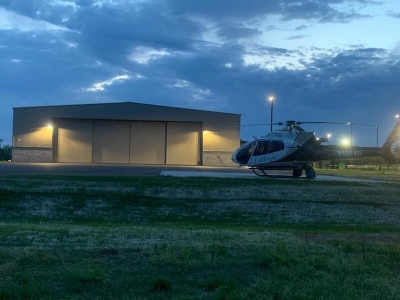 LifeFlight 5, which has been based in Rutherford County since 2012, is leasing 3,500 square feet inside the airport's new TDK hanger. TDK is a contractor and developer, specializing in apartment complexes. TDK built the hangar on a land lease from Murfreesboro and will also operate their corporate airplanes from the hanger.
In LifeFlight's side of the hanger there is room for the helicopter and a living space for the pilot and two crew members. The hangar space includes bedrooms, a living room, kitchen, mechanic workspace and storage areas.
LifeFlight 5 is staffed 24/7, with pilots working 12-hour shifts and medical crews working either 12- or 24-hour shifts.

Bill Stringfield, project manager for Air Methods Corporation, said the project has taken just over two years from start to finish.
"We appreciate the great work that TDK Construction Co. has done as general contractor on the project," Stringfield said. "We also want to acknowledge the hard work and great corporation from Oakley Studios as the architectural firm, Murfreesboro City officials and the airport commission. Steve Waldron, chair of the Airport Commission, Chad Gehrke, airport manager, and Shane McFarland, city of Murfreesboro Mayor, and their staff have all been excellent to work with on this project."
Air Methods Corporation provides aviation, fuel, maintenance, aircraft, dispatch, billing and EMS licensure while Vanderbilt University Medical Center provides all medical staffing, patient care and clinical services for Vanderbilt LifeFlight.
The Murfreesboro base has 11 medical flight crew members, four pilots and two mechanics.  The helicopter is a single engine Airbus H 130 and can fly at speeds up to 147 mph. The aircraft provides medical crew members full access to the patient, and is also equipped with state-of-the-art navigation gear, a communications and avionics package that includes night vision goggles and a terrain avoidance warning system.
From Murfreesboro, the helicopter covers a 120-mile response area and will transport patients who require advanced medical and surgical care from accident scenes. LifeFlight also performs hospital-to-hospital transports in the region so that patients can be treated at tertiary care centers. LifeFlight will transport patients to any medically appropriate hospital.
The Murfreesboro LifeFlight base is one of eight bases, with others located in Lebanon, Tullahoma, Clarksville, Mt. Pleasant, Henry County (Paris), Putnam County (Cookeville) and Humboldt, providing coverage to all of Middle Tennessee, parts of West Tennessee, East Tennessee, and Southern Kentucky.
 
Kathy Nippers, FNP-BC, RN, EMT, is base manager and chief flight nurse for the Murfreesboro base. Kathy has been with Vanderbilt LifeFlight since 2006 and is an experienced leader and flight nurse. She holds a master's degree in Family Practice Nurse/Nursing from Tennessee State University. She has made more than 1,300 patient flights.
"We love being a part of the Rutherford County community, and being based at the Murfreesboro Airport," Nippers said. "Our crews have been so excited about their new home. We appreciate the hard work everyone has done and look forward to continuing our great relationships with the community."

Advanced Procedures Performed by LifeFlight in the Field 
Aboard each LifeFlight aircraft the medical personnel include a team comprised of either a critical care nurse and nurse, or a team comprised of a nurse and critical care paramedic. At times a team may include a critical care nurse and emergency medicine physician. All nurse helicopter crew members are dual licensed as both an R.N. and EMT-Paramedic, or as an EMT with multi-state licenses. LifeFlight nurses have an average of 10 years of experience in emergency and/or critical care.
The orientation period for all new LifeFlight medical crew members is one year. Training includes gathering experience in all clinical care areas at VUMC and Monroe Carell Jr. Children's Hospital at Vanderbilt, including the Adult and Pediatric Emergency Departments, Coronary Care Unit, Trauma Center, Regional Burn Center, Neurology/Neurosurgery ICU, Pediatric ICU, Emergency Obstetrics and Respiratory Care. Training includes a quarterly surgical skills lab where invasive procedures such as chest tube placement, cricothryroidotomy, pericardiocentesis and femoral line insertion are taught.
Vanderbilt LifeFlight is celebrating 35 years of community service, having started in July, 1984, Vanderbilt LifeFlight's nurses, EMTs and paramedics are experienced in providing advanced medical procedures in flight, including the ability to perform laboratory blood work, insert chest tubes, and implement surgical airways. Every helicopter carries two units of Type O negative blood, and crews administer blood on more than ten percent of trauma patients transported.
Since 1984 Vanderbilt LifeFlight, accredited by the Commission on Accreditation of Medical Trauma Systems (CAMTS), has flown more than 43,000 patients.
 
About Air Methods:
Air Methods is the nation's leading mission-centered air medical service. With bases in 43 states, Air Methods' highly skilled clinical and aviation teams complete more than 70,000 emergency air medical missions every year, providing critical access to emergency healthcare services in underserved urban and rural areas. A focus on clinical excellence and training improves patient outcomes and sets the standard across the air medical industry, including Air Methods' ongoing research and the development of standardized protocols such as the HEAVEN Criteria for airway management. The company's Patient Advocacy Program works with patients and health plans to ensure patients receive the best care possible from the moment a call comes in until billing resolution – allowing patients to focus on what matters most: recovering and living their lives. For more information, visit http://www.airmethods.com, and follow Air Methods on Twitter, Facebook and LinkedIn.