Continuing Medical Education (CME)
NEW COURSE ALERT: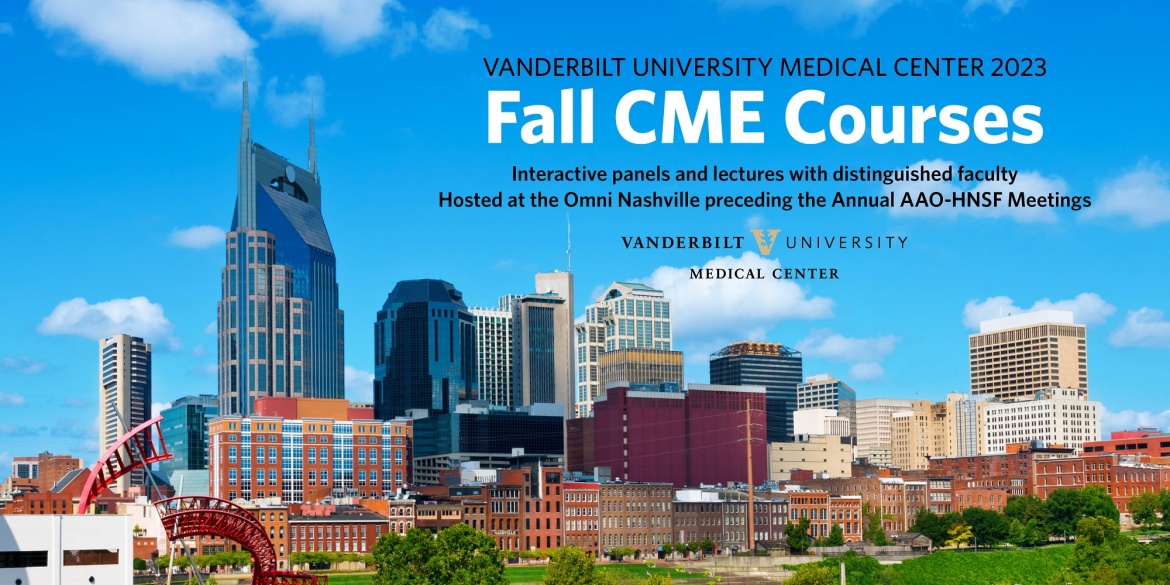 Otolaryngology CME Courses at Vanderbilt University Medical Center
Throughout the year, Vanderbilt Otolaryngology-Head and Neck Surgery hosts multiple, high quality CME courses. All courses are taught by expert otolaryngologists and provide in-depth surgical training, comprehensive pathology and disease management exploration.
FEBRUARY

APRIL

Professional Voice Conference: What do professional vocalists need to know about voice rehabilitation and habilitation to keep them healthy on and off the road? A two-day course hosted by Vanderbilt's Voice Center faculty and music industry experts.

Comprehensive General ENT Meeting: Coming April 26-27, 2024. Stay tuned!

 

SEPTEMBER

Fall CME Courses: September 28-29, 2023. Preceding AAO-HNSF in Nashville. More info coming soon!

OCTOBER

Fall Cochlear Implant Meeting: October 23-25, 2023. An annual course comprised of panels and lectures to foster clinically-focused peer-to-peer discussion about cochlear implants.

Advanced Practice Provider Continuing Education Course in Otolaryngology: Combined with Comprehensive General ENT Meeting in 2024. Join us!

 

NOVEMBER

 

DECEMBER

 
Endowed and Annual Lectureships
The Vanderbilt Otolaryngology-Head and Neck Surgery department is honored to host multiple endowed lectureships on our campus, including:
John Q. Adams Lectureship: Held annually in June as part of the Academic and Research Symposium/Commencement Weekend.
Jesse Clyde Alley Lectureship: Held annually during Grand Rounds, typically in mid-December.
Unit S Lectureship: An annual lectureship held during Grand Rounds; date varies.
Michael E. Glasscock, III, MD Lectureship: Held annually during Grand Rounds as part of the Temporal Bone Course.
Biannual Odess Lectureship for Plastic Surgery: Held in both late fall and early spring during Grand Rounds.
Duncavage Annual Lectureship for Rhinology & Resident Dissection Course
Ossoff Annual Lectureship for Laryngology and the Professional Voice
Conferences, Lectures and Training Modules
Many residents, faculty, and physicians in Otolaryngology-Head and Neck Surgery attend one or more of the following departmental conferences, lectures and training modules:
Aerodigestive Airway & Swallowing Management (bi-monthly)
Brain Tumor Board (weekly)
Center for Experiential Learning and Assessment CELA (simulation) Lab (annually)
Head and Neck Tumor Board (weekly)
Head and Neck Dissection (biennially)
MM&I/Children's Hospital (quarterly)
Neurosurgery Case Conference (monthly)
Neurotology Fellowship Lectures (weekly)
Neurotology Journal Club/Division Meeting (monthly)
Otolaryngology Resident Journal Club (monthly)
Otology Group Division Meeting (monthly)
Plating Workshop (annually)
Resident Research Competition (annually)
Sinus Dissection (annually)
Temporal Bone Course for Residents (annually)
Vascular Malformation Conference (monthly)
Velopharyngeal Insufficiency (VPI) Conference (monthly)
Additionally, the Otolaryngology Morbidity, Mortality, and Improvement (MM&I) Conference is held quarterly. Combined adult MM&I Conference is held once per quarter for residents and surgical specialty faculty.
Grand Rounds
Otolaryngology-Head & Neck Surgery Grand Rounds occur every Friday during the academic year; typically from mid-September to mid-June. Visiting professors often attend Grand Rounds and participate in a lectureship for CME credit.
A few of our more recent Virtual Grand Rounds available online:
Check our YouTube channel for our newest Grand Rounds! 
See More News and Events
Stay connected with Vanderbilt Otolaryngology-Head & Neck Surgery for the latest updates, new event listings, and more:
At Vanderbilt University Medical Center, we are physicians, teachers, and leaders in the field of otolaryngology. Our team offers high quality CME courses and multiple endowed lectureships each year to academic and community physicians.
These courses and lectureships provide opportunities for otolaryngologists to learn the latest in cutting-edge diagnosis and treatment options, as well as receive hands-on training to take back to their daily medical practice.
Vanderbilt University Medical Center is accredited by the Accreditation Council for Continuing Medical Education (ACCME). Physicians and faculty are required to stay up-to-date on their CME requirements. Residents who are board-certified are welcome to participate in the CME courses as well.
">