Professional Voice Conference
April 17-18, 2023
Nashville, TN | Belcourt Theatre
What do professional vocalists need to know about voice rehabilitation and habilitation to keep them healthy on and off the road?
A two-day course hosted by Vanderbilt's Voice Center faculty and music industry experts.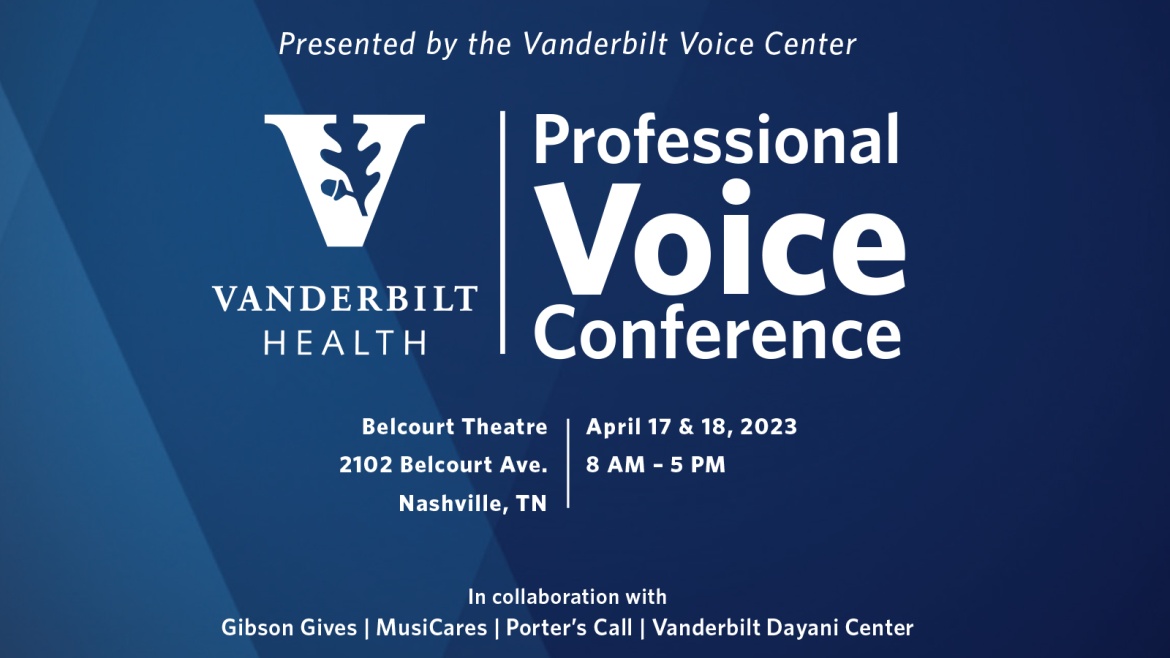 INTENDED AUDIENCE
Otolaryngologists
Singer/songwriters
Vocal pedagogues
Speech-language pathologists
Audiologists
Residents and fellows in training
Students (of any program)
Music industry professionals
COURSE GOALS
Discuss different approaches to multi-disciplinary management of patients with voice disorders with emphasis on special circumstances of performing artists

Discuss the impact of professional and lifestyle considerations on voice health and wellness

Discuss voice rehabilitation and ongoing care of the commercial voice to anticipate future challenges, treat current concerns and enhance vocal efficiency
TOPICS TO BE COVERED
The Art of Medical Management with the Professional Voice User
Vocal Damage: What Now?
The Injured Singer on Restriction: The Do's and Dont's for Voice Recovery 
Vocal Hygiene: What Sounds Good vs. What is Sound Advice
Voice Surgery: What We Do When We Must "Go There"
How Do You Fit It All In? The Demands of a Touring Artist
When the Titanic Hits the Iceberg: Meeting the Emotional Needs of the Artist (interview with Al Andrews, Founder & Executive Director of Porter's Call)
Medicine Meets Management: Pearls and Pitfalls in Vocal Emergencies
Build off the Breath: Respiration 101 for Voice Habilitation and Rehabilitation
Studio Magic: The Role of the Music Producer in Vocal Production
Going the Distance: An Interview with an Extreme Voice User
Increasing Vocal Effectiveness Through Voice Rehabilitation 
When Big Trumps Little: The Role of Physical Therapy Work and Myofascial Release in Voice Rehabilitation
Reflux, Allergies, and Laryngitis: 101
Speak up and Speak Out: How to Keep Your Speaking Voice Strong and Steady
Build off the Breath: Respiration 101 for Voice Habilitation and Rehabilitation
Panels and artist interviews: focused on the challenges and triumphs of professional voice users
Bringing It All Together: Panel
...and more!
FEATURING ARTISTS
KEYNOTE SPEAKERS
COURSE DIRECTORS
COURSE FACULTY
Emily Duke Wishik, MS, CCC-SLP
Elizabeth Tremblay, MS, CCC-SLP
IN COLLABORATION WITH
RECOMMENDED HOTELS
The conference does not have a coordinating hotel block. Below are suggestions of near-by accommodations within short distance to the Belcourt Theatre.
(Please note: Prices and availability are not guaranteed).
CANCELLATION POLICY
Registration cancellations, less a $50 administration fee, will be accepted until Friday March 17, 2023. Unfortunately, cancellations after that date are not able to be refunded.
AMA PRA CATEGORY 1 CME & ASHA CREDIT OFFERED