Contemporary Management of Aerodigestive Disease in Children
Multidisciplinary SENTAC (Society for Ear, Nose and Throat Advances in Children) and Aerodigestive Society Combined 2020 Annual Meeting
2020 Virtual Meeting: Friday, December 4, and Saturday, December 5. 
Sponsored by Vanderbilt University Medical Center, Department of Otolaryngology-Head and Neck Surgery and the Monroe Carell Jr. Children's Hospital at Vanderbilt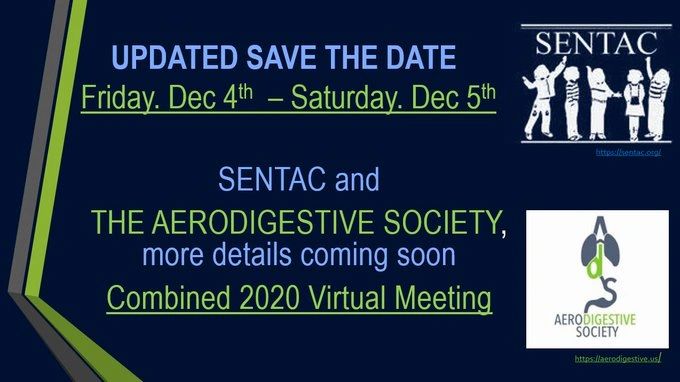 ​
Multidisciplinary SENTAC and Aerodigestive Society Combined 2020 Virtual Meeting - Friday, December 4, and Saturday, December 5.
Deadline for Abstract Submission is Friday, September 18, 2020.
Course overview
After participating in this CME activity, participants should be able to describe and discuss:
• Evidence-based approaches to managing patients with aerodigestive diseases
• Indications for surgical approaches to improving the airway
• Approaches to distinguishing the role of gastro-esophageal reflux and eosinophilic esophagitis in diagnosing aerodigestive tract inflammation.
• Strategies for diagnosing tracheomalacia and indications for surgery.
• Multi-specialty team functioning and the role each member plays in the diagnosis and management of aerodigestive problems
• The components of a comprehensive aerodigestive program and a business model that makes it sustainable.
Topics to be presented
• GERD and Eosinophilic Esophagitis
• Dysphagia
• Cricopharyngeal Dysfunction
• Recurrent Pneumonia
• Nasal Obstruction and Inflammation
• Oropharyngeal Obstruction
• Laryngomalacia
• Laryngeal Clefts
• Airway lesions
• Interstitial Lung Diseases
• Food allergies and Intolerances
• Esophageal dysmotility
• Laryngotracheal Stenosis
• Tracheobronchomalacia
• New therapies and trends
• Current Research in Aerodigestive Disease