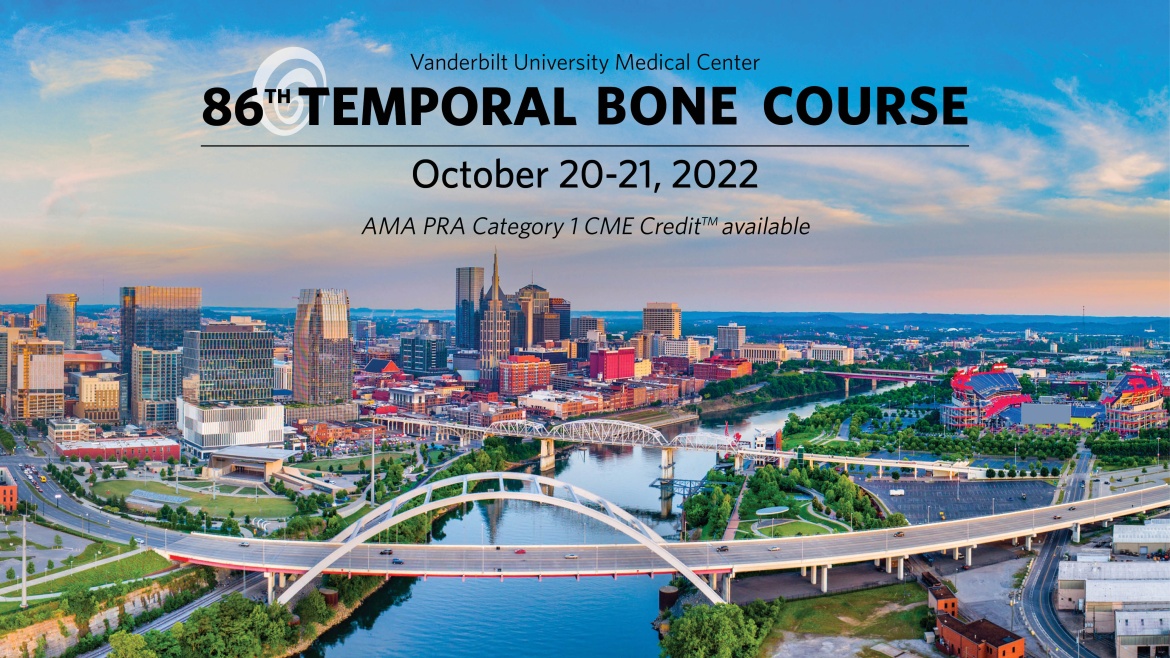 Temporal Bone Course
Vanderbilt University Medical Center's 86th Temporal Bone Course
Thursday, October 20 - Friday, October 21, 2022
Sponsored by Vanderbilt University Medical Center, Department of Otolaryngology-Head and Neck Surgery.
This Neurotology-focused course provides training in temporal bone anatomy, disease, management of the ear, and applied surgeries.
The 86th Annual Temporal Bone Course led by The Otology Group at Vanderbilt University Medical Center, is a 2-day, in-person course on VUMC's campus that combines a didactic lecture series with hands-on dissection lab training. 
DIRECTED BY: Elizabeth Perkins, MD and Matthew O'Malley, MD
Featuring keynote speaker: Craig A. Buchman, MD from Washington University in St. Louis
CURRICULUM
Lecture Topics:
Anatomy of the temporal bone
Surgery for chronic ear disease
Cochlear implants
Management of sudden sensorineural hearing loss
Image-guided surgery in otology
Advanced radiology techniques in otology
Osseointegrated implants
Audiology and vestibular diagnostic techniques
Ossicular reconstruction
Stapedectomy
Management of acoustic tumors
Surgery for vertigo
Skull base approaches to the temporal bone
Endoscopic ear surgery
Procedures to be Demonstrated/Performed:
Intact canal with mastoidectomy
Facial recess and extended facial recess
Endolymphatic sac decompression
Facial nerve identification
Canal wall down mastoidectomy
Labyrinthectomy
Middle cranial fossa approach
Translabyrinthine approach to the skull base
Transcochlear approach to the skull base
BAHA implant techniques
Dissection registration spots are LIMITED, so register now to secure your participation in the full dissection curriculum of the course. Additional non-dissection registration spots are available. 
CME
AMA PRA Category 1 CME credit available.
HOTEL ROOM BLOCK
We have a block of rooms available at the Nashville Marriott at Vanderbilt University until Wednesday, September 21st, 2022. 
Address: 2555 West End Ave, Nashville, TN 37203
To book: Call 615-321-1300 and reference code "CME"
Or visit our personalized booking link HERE
 
For questions regarding registration, participation, or anything else related to the course, please contact Meghan Franklin at meghan.franklin@vumc.org.