Comprehensive ENT for the Primary Care Provider
June 2-3, 2023 | Nashville, TN
Memorial Hall at Vanderbilt University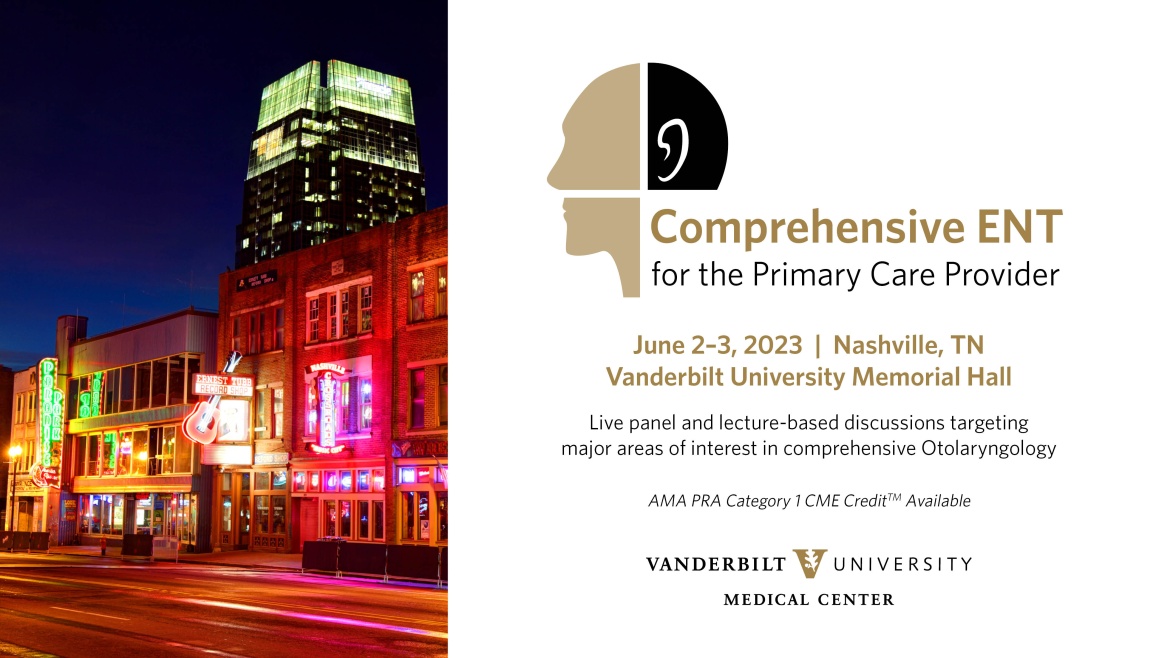 Continuing education course presented by Vanderbilt Department of Otolaryngology-Head and Neck Surgery. The course will consist of live panel discussions and didactic lectures discussing major areas of interest in comprehensive Otolaryngology. Course faculty will be comprised of our General Otolaryngology providers.
COURSE CONTENT
• Runny Nose & Congestion: When is it Allergies?
• Blocked Ears: Evaluation, Empiric Treatment, and When to Refer
• Sinus Headaches, Ear Pain, and Pain with Speaking
• Neck Masses: When to Worry?
• ENT Emergencies: When Treatment Can't Wait
• Chronic Cough: Is it All GERD?
• When is Dizzy Really Vertigo? Otolaryngology Evaluation and Treatment
• Epistaxis: Just Say No to the Rhinorocket: Basic and Advanced Treatment
• Sinus Disease in Primary and Urgent Care
• Tinnitus
• Common Oral Pathology
• Smell and Taste Disorders: Common Etiology and Work Up
CME ACCREDITATION
This live activity has been approved for a maximum of 12.75 AMA PRA Category 1 CME credits.
ANCC accreditation pending. 
INTENDED AUDIENCE
Primary Care Providers
Advanced Practice Proivders
Urgent Care Providers
Family Practice Physicians
Pediatricians
Any referring provider to Otolaryngology
...and anyone else who is interested in joining us!
COURSE DIRECTORS & KEYNOTE SPEAKER
Keynote Speaker: Christopher Jackson, MD from ENT Associates of St. Petersburg, FL
Director: John W. Seibert, MD, FACS
Co-Directors:
RECOMMENDED HOTELS
The conference does not have a coordinating hotel block. Below are suggestions of near-by accommodations within short distance to the Vanderbilt campus. (Please note: Prices and availability are not guaranteed).
CANCELLATION POLICY
Registration cancellations, less a $50 administration fee, will be accepted until Monday, May 5th, 2023. Unfortunately, cancellations after that date are not able to be refunded, but will be accepted.
Registration is encouraged on or before May 19, 2023. 
Questions? Contact Meghan Franklin at meghan.franklin@vumc.org