The Haynes Scholar Award
Named in honor of Professor David Haynes, this yearly award recognizes an Otolaryngology – Head and Neck Surgery resident who has developed a novel invention, program, or process that has the potential for breakthrough changes in the education and/or practice of our specialty. Senior medical students that have matched into OHNS and existing residents from any program nationwide are invited to apply. Applications for the 2023 award cycle are due November 17, 2023. We welcome applicants from all backgrounds and seek a diversity of perspectives and ideas for the Haynes Award.
The resident chosen for this award will become a "Haynes Scholar" and travel to Nashville to present their innovation to our Department and the VUMC community. The Haynes Scholar will have the opportunity to meet with residents, department faculty, and faculty from across Vanderbilt's innovation community. This award also includes a celebratory dinner in Nashville and a $1000 honorarium.
Additional applications may be chosen for "Honorable Mention"; these applicants will receive a $100 honorarium and an opportunity to present virtually at the annual Haynes Innovation Symposium.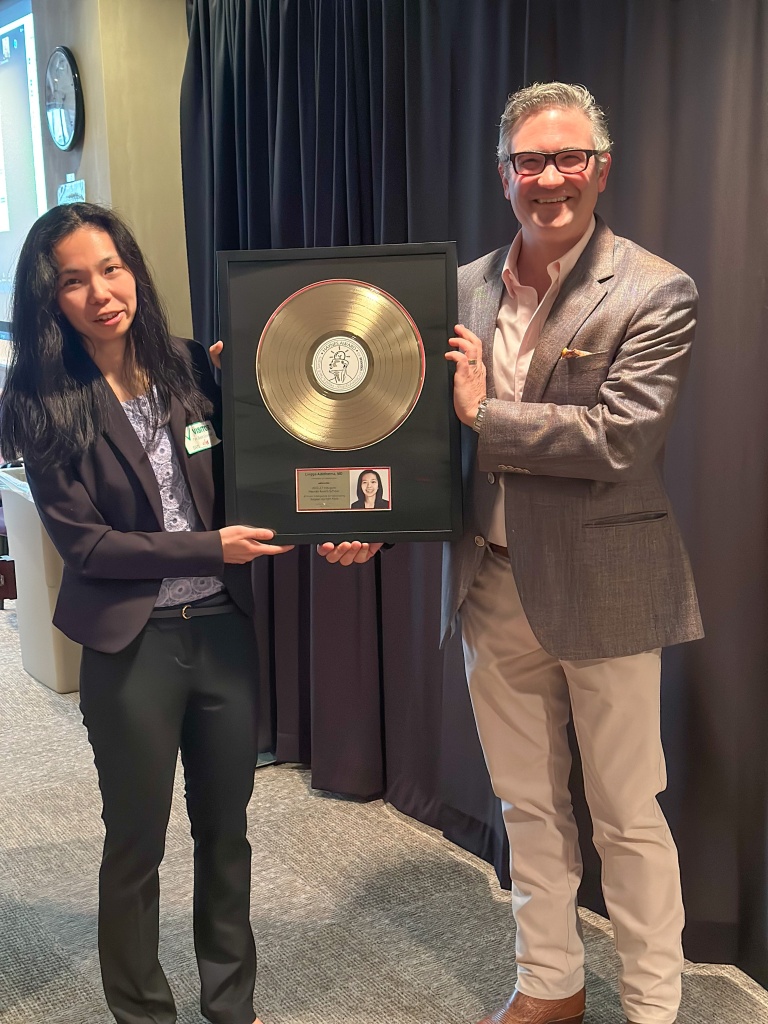 Pictured: 2022 Haynes Scholar Dr. Lingga Adidharma from the
University of Washington receives the inaugural Haynes Innovation
Award from Dr. Alexander Langerman. 
The application form is available here

. In addition to listing name, contact information, institution, and PGY year, applicants will need to answer the following questions:  

Title of Project

Introduction

: Please describe the problem you are solving (limit 25 words).  

Description

: Please describe your innovation (limit 450 words). You may upload a one-page PDF with images as part of this section. Note: please limit response to non-confidential information only.  

Overall Impact and Future Directions:

 Please describe the actual and/or potential impact of your innovation and the future steps you hope to take to develop it further (limit 300 words).  

Role: Please describe your specific role in developing this innovation (limit 150 words).
Presentations and Funding: Please list key presentations and pitches you've made on your innovation, as well as any funding you've applied for or secured to support the development of your innovation (limit 150 words).

Please list your primary mentor or other key individuals who contributed to this innovation and their titles and institution. 

Applicants will also need to upload a letter of support from their department chair. This letter must include the following information:  

Certification of good standing as a resident in the department  

Confirm role of resident in developing the innovation  

Agreement to permit the applicant to travel to Vanderbilt as a visiting scholar for up to three days and release from residency duties during that time. Matched medical students will need a letter from their matched institution department chair. The visit to Vanderbilt will coincide with the Haynes Innovation Symposium in early Spring 2024.

2023 applications are due by midnight CST on Friday, November 17, 2023.

Winner will be announced in December 2023.

Applicants can direct questions to Jaime Wallace (jaime.wallace@vumc.org) 
The Haynes Innovation Symposium is a yearly virtual conference celebrating the Haynes Scholar and honorable mention awardees while providing practical insights to aspiring innovators on the strategies and pathways towards commercialization and dissemination. The symposium kicks off with "grand rounds" keynote address by the Haynes Scholar, followed by quickshot presentations by the honorable mention awardees. During these presentations, a discussant panel of experts in innovation, commercialization, entrepreneurship, and tech transfer provide commentary and questions to enhance the educational value for attendees. The symposium ends with closing remarks by a leader in innovation.

Clips from the 2023 Haynes Symposium will be available at a link here when posted.
Congratulations to the winners of this year's Haynes Award for Innovation in Otolaryngology–Head and Neck Surgery! We are delighted to announce that Dr. Lingga Adidharma from the University of Washington was chosen as our inaugural Haynes Scholar and joined us for a campus visit on April 28, 2023 to present her work as part of our inaugural Haynes Innovation Symposium. Registration for the symposium here. 

Because we had such a tremendous number of outstanding applications, we also added an "honorable mention" category to recognize additional applicants whose innovations had exceptional potential to transform otolaryngology. These applicants will also be presenting their work at the Haynes Innovation Symposium. Read more about these exciting projects below!

Inaugural Haynes Scholar


Lingga Adidharma, MD
University of Washington
Artificial Intelligence for Generating Surgical Highlight Reels

Biography: Dr. Adidharma is currently a PGY2 Otolaryngology resident at University of Washington. She graduated with a degree in Biomedical Engineering at Johns Hopkins University and is passionate about using this background to work in the intersection of Engineering and Medicine. She is a serial innovator developing methods for automated surgical video editing and a more racially equitable pulse oximeter, and she hopes to continue working on more innovations that improve patient care.

Innovation Description: Surgery is a visual specialty, and the status quo of translating hours-long procedures into operative notes consisting of a few paragraphs of text results in the loss of crucial details and context for medical providers. A better alternative to textual operative notes is surgical video highlight reels, however, the labor and time it takes to watch and edit hours of video footage is a major limiting factor to producing them. Dr. Adidharma and her colleagues developed an artificial intelligence software to automate this work, modernizing surgical documentation, and consequently improving how information is communicated between providers. Dr. Adidharm's has applied for provisional patents and has been awarded a $50,000 grant from the UW CoMotion Innovation Gap Fund for this work.

Honorable Mention Award Winners


Yu-Jin Lee, MD MS
Stanford University
Zirconium-89 panitumumab PET/CT scan for detection of head and neck cancer lesions

Biography: Dr. Lee is a resident physician in the Clinician Scientist Training Program in the Department of Otolaryngology - Head & Neck Surgery at Stanford. She is interested in conducting clinical trials to improve head and neck surgical outcomes.

Innovation Description: Pre-treatment imaging for head and neck squamous cell carcinoma (HNSCC) is not tumor-specific, leading to detection of incidental lesions requiring unnecessary intervention and delay in treatment. We developed and conducted a clinical trial to evaluate a tumor-specific radiotracer, zirconium-89 panitumumab, to detect HNSCC lesions. We found that the addition of zirconium-89 panitumumab PET/CT scan to the current standard of care using fluorine-18 FDG PET/CT scan led to significantly improved specificity in detection of cancer lesions.


Somtochi Okafor, MD
Duke University

Biopgraphy: Dr. Okafor is a Nigerian-American PGY-3 Otolaryngology Head and Neck Surgery resident at Duke University Hospital who grew up in Houston, Texas. She attended the University of Texas at Austin where she majored in Plan II Honors and Latin American Studies, developing a passion for intersecting health equity, language, and history. She graduated from the University of Texas Southwestern Medical School and enjoys working out, spending time with family and traveling.

Innovation Description: The Health Equity Curriculum is a new resident-initiated program within the Duke Department of Head and Neck Surgery and Communication Sciences developed by Drs. Somtochi Okafor, Rolvix Patterson, and Nicholas Frisco under the guidance of Dr. Trinitia Cannon that aims to provide didactic and experiential education to adequately prepare trainees and faculty to identify and address health disparities in otolaryngology. The program aims to equip the next generation of otolaryngologists with the skills and tools to integrate health disparities awareness, knowledge, and research into practice to improve the health and the health care experience of all patients.


Andrew Prince, MD
University of North Carolina

Biography: Dr. Prince is a current PGY-5 UNC ENT resident, NIH T32 Postdoctoral Research Fellow, and CEO/co-founder of LiRA Inc. He grew up outside New Orleans, LA, and went on to complete his education at Spring Hill College (Mobile, AL) and the University of Alabama School of Medicine

Innovation Description: LiRA is developing video-to-speech technology designed to provide immediate, robust lip-reading. Using a smart device, the software looks to mitigate the burden of aphonia following interventions like laryngectomy and tracheostomy. By capturing the voiceless individual attempting speech, and accurately "filling" the soundless words, we aim to ensure all voice is realized. LiRA won the first-place prize in the Covintus Tech Tank pitch competition, a technology-focused accelerator designed to groom startup founders.


Ani Saraswathula, MD
Johns Hopkins University

Biography: Dr. Saraswathula is a fourth-year otolaryngology-head and neck surgery resident at Johns Hopkins in the T32 research track, interested in quality and safety, rhinology, and endoscopic skull base surgery. Originally from Fairfax, Virginia, he attended Stanford University for medical school.

Innovation Description: There is currently no effective free virtual sinonasal anatomy teaching tool for junior residents and medical students allowing learners to manipulate these complex structures in 3D. To address this need, Dr. Saraswathula worked closely with Shirley Li, a talented medical illustration Masters student, her mentor Juan Garcia, and rhinologist Dr. Nicholas R. Rowan to develop an online-compatible fully manipulatable schematic 3D teaching tool of the paranasal sinuses and anterior skull base. This tool will be made available for free download on the public website of the Johns Hopkins Department of Otolaryngology-Head and Neck Surgery and offers a low-cost and highly accessible modality capable of demonstrating complex anatomic relationships to junior trainees learning sinus and endoscopic endonasal skull base surgery.
Chair: Alexander Langerman, MD SM FACS – Associate Professor, Head and Neck Surgery

Naweed Chowhurdy, MD – Assistant Professor, Rhinology

Michael Freeman, MD – Neurotology Fellow

Austin Hoke, MD - PGY 2 Resident

David Kent, MD – Assistant Professor, Sleep Surgery

Jaclyn Lee, MD – PGY 3 Resident

Elizabeth Longino, MD - PGY 5 Resident

April Peterson, MD - PGY 4 Resident

Lyndy Wilcox, MD – Assistant Professor, Pediatric Otolaryngology

 

 

Logo Design: Rahul Sharma, MD – PGY 2 resident
Founded in 1986, the modern version of the Vanderbilt University Medical Center Department of Otolaryngology – Head and Neck Surgery has risen to become one of the most influential and progressive programs in the country. From Dr. Robert Ossoff's early vision, through our substantial growth under Dr. Roland Eavey, to our continued transformation and thought leadership from Dr. Eben Rosenthal, our department chairs have always embraced novel approaches to patient care, trainee education, clinical/translational research, and program development. Situated on the Vanderbilt University campus, our department has also leveraged transdisciplinary collaborations to bring new ideas and expertise to benefit our patients and society. This includes the strong ties our department has as a founding partner in the Vanderbilt Institute for Surgery and Engineering and our faculty collaborations with the Vanderbilt innovation, design and entrepreneurship center, the Wond'ry.
2023 – Inaugural Haynes Innovation Symposium, featuring a keynote address by 2022 Haynes Scholar Dr. Lingga Adidharma, quickshot presentations by the honorable mention awardees, and concluding remarks on straddling the divide between academics and entrepreneurship by University of Alberta Professor and CEO of True Angle, Dr. Jana Rieger.

2022 – Department announces Haynes Award for Innovation in Otolaryngology – Head and Neck Surgery 

2022 – Dr. Ryan Belcher pilots the use of PTeye (Near Infrared Autofluorescence Probe to identify parathyroid glands) in the pediatric population. This device has a 90% sensitivity and 97% specificity in identifying parathyroid glands in children to help improve the safety and efficacy of endocrine surgery in the pediatric population.

2021 - Led by Dr. Michael Topf and medical student, Kayvon Sharif, head and neck surgical oncology team completes feasibility study examining the utility of intraoperative 3D scanning technology to improve surgeon-pathologist communication. 

2021: Dr. Michael Freeman and colleagues from the Department of Engineering design and validate a novel steerable trans-eustachian endoscope for middle ear diagnosis in cadaveric specimens.

2021 – Dr. Rakesh Chandra, working with the One Hundred Oaks transition team, develops a "bimodal subspecialty care" model for high complexity/low acuity healthcare delivery in otolaryngology – head and neck surgery.

2021 – Dr. Ryan Belcher in pediatric otolaryngology is a founding member of the Vanderbilt Collaborative for Global Health Equity, which was piloted in the face of COVID and lack of international travel for global health endeavors. This year-long program allows residents from all specialties at VUMC to build knowledge, skills, and attitudes expected of physicians competent in global health work. The residents graduate with a certificate notating their completion of the Global Health program.

2021 – Dr. Alexander Langerman creates the first international conference and working group addressing ethical, legal and social implications of surgical recording, which works to identify and overcome barriers to routine recording in procedural spaces for the benefit of patients and surgical teams.

2021 – Dr. Courtney Tomblinson in Neuroradiology collaborates with residents Drs. Ankita Patro and Madelyn Stevens and Dr. Alexander Langerman to create a combined Radiology-Otolaryngology neuroradiology education curriculum, RADiENT.

2021 – Dr. Ryan Belcher works with Endocrinology, pathology, radiology, pediatric surgery, and interventional radiology to establish the Vanderbilt Pediatric Thyroid Nodule and Cancer Program. The program helps streamline care for patients, has resulted in research collaboration, and is in the top 12 for volume of pediatric endocrine surgeries in the country.

2020 – Dr. David Kent files a patent for a novel neuromodulation treatment for obstructive sleep apnea he developed at VUMC.

2020 – Dr. Amy Whigham works with residents and faculty members to develop the Vanderbilt Otolaryngology Online Medical Student Experience (VOOMSE). This allowed medical students to virtually interact with the department during the pandemic to learn about the department's culture. This helped in successful recruitment efforts despite the lack of in-person rotations and interviews.

2020 – Residents Drs. Brandon Esianor and Madelyn Stevens develop the STAROto program as part of VUMC OHNS's coordinated approach to the COVID-related residency interview disruption. This program connects OHNS applicants with mentors nationwide, to produce an online version of the traditional "sub-intern presentation" given by student applicants on their away rotations.

2019– Dr. David Haynes performs the first same-day cochlear implant at VUMC. See his biography above for more information about this historic programmatic development, which was streamlined by Dr. Haynes and resident Dr. Ashley Nassiri.

2019 – Dr. Alexander Langerman develops the nation's first surgical ethics program that is inclusive of anesthesiology and perioperative nursing, applying a team approach to ethics scholarship and research regarding surgical patient care.

2019 – Dr. Lyndy Wilcox (pediatric otolaryngology) and Dr. Matt O'Malley (otology) become EPIC Physician Builders to improve the workflow and integration of technology in the Otolaryngology department. Dr. Wilcox also participates in the Vanderbilt Clinical Informatics Center Clickbusters initiative to reduce the number of clicks physicians deal with on a daily basis.

2018 – Dr. Gaelyn Garrett's modification to the Ossoff-Pilling laryngoscope, the Garrett-Ossoff-Pilling laryngoscope, becomes commercially available. This extended-reach upgrade maintains working space while increasing access for patients with greater distance between teeth and vocal cords.

2018 – Drs. Christine Shieh (cornea), Rachel Sobel (oculoplastics) and Scott Stephan (facial plastics) develop the corneal neurotization program and perform the first direct neurotization of cornea using nerve grafts at VUMC. At the time there was only two other centers in the country utilizing this innovative solution to reinnervate insensate cornea for treatment of neurotrophic keratopathy.

2018 – The head and neck group hosts the first "LaryHacks" design and pitch competition to develop innovative devices, methods, or apps to assist laryngectomy patients. This event brought together medical engineering, and design students with laryngectomy patients for design thinking exercises and development of business models based on their ideas.

2018 – Dr. Lyndy Wilcox in pediatric otolaryngology establishes the Pediatric Voice Clinic at Vanderbilt. This program combined the expertise of pediatric otolaryngology and speech language pathologist, Paige Goodie, to provide a comprehensive evaluation and treatment plan for children with voice disorders.

2018 – Drs. Alex Gelbard in laryngology and Christopher Wootten in pediatric otolaryngology establish the first VUMC complex airway clinic as a coordinated care center for adults with difficult-to-treat airway disorders. The novelty of their approach is in using pediatric airway reconstruction procedures for adult patients that would otherwise be tracheotomy dependent or airway disabled.

2018 – Dr. Sarah Rohde publishes on the head and neck group's experience with immediate use of cuffless tracheostomy in the management of free flap patients, which substantially decreases the average length of stay and resource utilization for these complex procedures.

2018 – Drs. John Seibert, Daniel Schuster, and Ben Johnston in general otolaryngology develop a biannual medical student airway endoscopy course to educate medical students in ridged and flexible airway techniques.

2017 – Dr. Scott Stephan uses custom porous polyethylene ear for microtia reconstruction at VUMC, only the second center in the country to do so. This technique improves aesthetic outcomes and safety for patients undergoing microtia repair.

2017 – Drs. Rakesh Chandra, Justin Turner, and Timothy Trone find the Smell and Taste Center to serve the unique patient population suffering from these disorders. This multispecialty clinic took on added significance during the COVID pandemic.

2017 – Dr. Scott Stephan develops a TPS-PDS construct that allowed repair of nasal septal perforations without mucosa closure. This approach is now proven with a multicenter trial and widely accepted.

2016 – Drs. Alejandro Rivas and Scott Stephan perform the first Combined Microtia-Atresia (CAM) Surgery at VUMC, only the second center in the country. This procedure combines complete atresia repair with complete PPE-based microtia reconstruction in a single surgery.

2015 – Drs. Reyna Gordon and Roland Eavey find the Program for Music Mind and Society at Vanderbilt, a trans-institutional incubator program that engaged key players from more than 15 Departments and 8 Centers across Vanderbilt to support the science of music. The team implemented community engagement activities including public lectures, symposia, partnerships with music industry and community organizations, and international media coverage. The program seeded over $8 milion in extramural grant support for music-related research.

2015 – Under the direction of Dr. Alejandro Rivas, the Otology Group at Vanderbilt holds its first Endoscopic Ear Course, one of the first in the world, which has been instrumental in disseminating advanced endoscopic ear surgery globally.

2014 – Dr. Alex Gelbard establishes the North American Airway Collaborative (NoAAC), an international, voluntary, multidisciplinary group of clinicians and healthcare research personnel who seek to improve the quality, safety, effectiveness, and cost of medical interventions in adult airway disorders.

2013 – Drs. Robert Labadie, Rene Gifford and colleagues from the Vanderbilt Institute for Surgery and Engineering develop Image Guided Cochlear Implant Programming, which has enabled improving hearing outcomes for cochlear implant recipients and has been proven and adopted at multiple institutions beyond VUMC.

2013 – Drs. Roland Eavey and Scott Stephan creates the first multidisciplinary clinic for microtia & atresia care in the region; one of only a handful in the country. This program brings together facial plastic surgery, pediatric otolaryngology, otology, audiology, & anaplastology for coordinated care of these complex conditions.

2012 – Dr. Christopher Wootten establishes the Aerodigestive Society – a multidisciplinary group of providers, administrators, coordinators, and allied health care workers who are members of teams that are committed to improving health of aerodigestive patients. The Society's membership continues to grow and it will be having its 10th annual meeting this year.

2011 – Dr. Kyle Mannion performs the first fibula microvascular free tissue transfer in Kenya. The head and neck group has gone on to develop a protocol for free flap use in low-resources settings and established a training program for local surgeons in advanced ablative and reconstructive techniques.

2008 – Dr. Christopher Wootten establishes the multidisciplinary Complex Aerodigestive Evaluation Team (CADET) for management of children with airway, lung, sleep, and feeding disorders. Children are seen, evaluated, and scoped in a collaborative fashion to limit the number of visits to the hospital, decrease anesthetics needed, and improve coordination and quality of care.

2007 – VUMC speech pathologist Jennifer Muckala, physical therapist Carey Tomlinson, and Dr. Gaelyn Garrett begin a multidisciplinary program for treatment of muscle tension dysphonia (MTD) that for the first time includes physical therapy in addition to traditional laryngologist and speech pathologist interventions. They publish their seminal paper on the success of this now-standard multidisciplinary approach to MTD in 2015.

2004 – Drs. Michael Glasscock and Gary Jackson's Otology Group merge with the VUMC Department of Otolaryngology – Head and Neck Surgery to become The Otology Group at Vanderbilt. Among the many benefits to training and research, this merger creates one of the largest databases of otologic surgical outcomes worldwide.

2004 – Dr. Paul Russell and collaborators in Neurosurgery are early pioneers in using endoscopic techniques to lower the morbidity of skull base surgery (versus traditional approaches) at VUMC.

1997 – Dr. James Duncavage co-founds the Vanderbilt Allergy, Sinus, and Asthma (VASAP) program, co-locating multiple physicians representing different specialties in a center focused on a patient's disease state, rather than traditional, siloed specialty care. This program is hailed as an early example of Michael Porter's Integrated Practice Unit, which assumes "accountability for patients with specific conditions across the full cycle of care."

1996 – Dr. David Zealear becomes the PI for "The Upper Airway Program" sponsored by Medtronic, Inc. The first patient in the US is implanted with a pacemaker at Vanderbilt for unilateral laryngeal pacing. 

1993 – Dr. James Netterville publishes an updated technique for vocal-fold medialization using hand-carved silastic implant. These silastic blocks (Netterville Phonoform Silicone Block) later become commercially available.

1992 – Dr. Robert Ossoff works with the Teleflex Surgical to develop the Ossoff-Pilling laryngoscope that provides greater working access for microlaryngeal procedures.

1990 – Dr. James Netterville creates the Parapharyngeal Tumor Center at VUMC, which has gone on to become the world's largest center for multidisciplinary treatment of patients with carotid body tumors, schwannomas, and other masses of the parapharyngeal space.

1979 – Dr. Michael Glasscock founds the American Journal of Otology, now known as Otology & Neurotology.