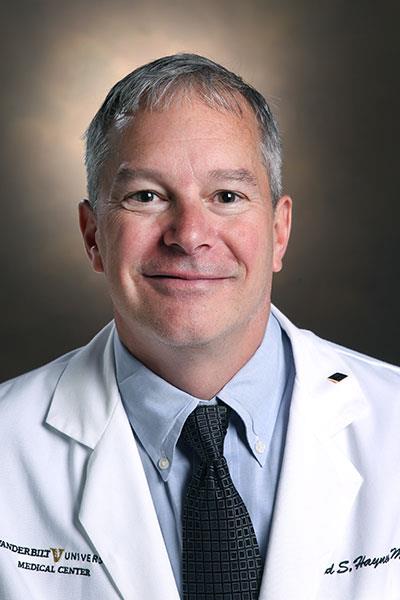 David Haynes, MD, FACS, MMHC
Department of Otolaryngology–Head and Neck Surgery
Endowed Director, Relationship Development
Program Director, Neurotology Fellowship
Service Chief, Otology and Neurotology
Chief Patient Experience Officer
Vanderbilt University Medical Center
David S. Haynes, MD, MMHC, FACS is chief of the Division of Otology and Neurotology, Program Director of the Neurotology Fellowship, Co-Director of the Cochlear Implant Program and Skull Base Center, and Endowed Director of Relationship Development in the Department of Otolaryngology–Head and Neck Surgery at Vanderbilt University Medical Center. He was named VUMC's Chief Patient Experience Officer in July 2023.
Dr. Haynes is a pioneer of otologic surgery and has helped to design many of the tools and techniques that have become the standard of practice in chronic ear surgery, cochlear implantation, and lateral skull base surgery. With a career-long focus on the care of the individual patient, Dr. Haynes has developed novel systems to overcome barriers to timely otologic care. Beginning in 1997, Dr. Haynes designed and piloted a streamlined process to reduce travel burden and wait times for cochlear implant patients that resulted in the world's first bundled cochlear implant program and, in 2019, the initiation of the Same Day Cochlear Implant Program.
He received his medical degree from the University of Tennessee College of Medicine, Memphis and was the first resident trained in Otolaryngology–Head and Neck Surgery at Vanderbilt University Medical Center. He completed his clinical fellowship at The Otology Group/the EAR Foundation, now known as the Otology Group of Vanderbilt. His leadership positions have included the executive board of the American Neurotology Society, the Hearing Health Foundation, Otology and Neurotology Inc, and the American Cochlear Implant Alliance, and he serves as an associate editor of Otology and Neurotology Open. He holds a Masters of Management in Healthcare from Owen School of Business (2017) and is a Fellow of the  American College of Surgeons.
His research involves investigating treatment optimization of patients with hearing loss and skull base disorders as well as optimizing health care delivery to patients with otologic disorders, and has appeared in leading academic journals including The Laryngoscope and Otology and Neurotology. He has hosted many international conferences including the XIV International Pediatric Cochlear Implant Conference in Nashville, TN. 
Clinical Interests
Research Information