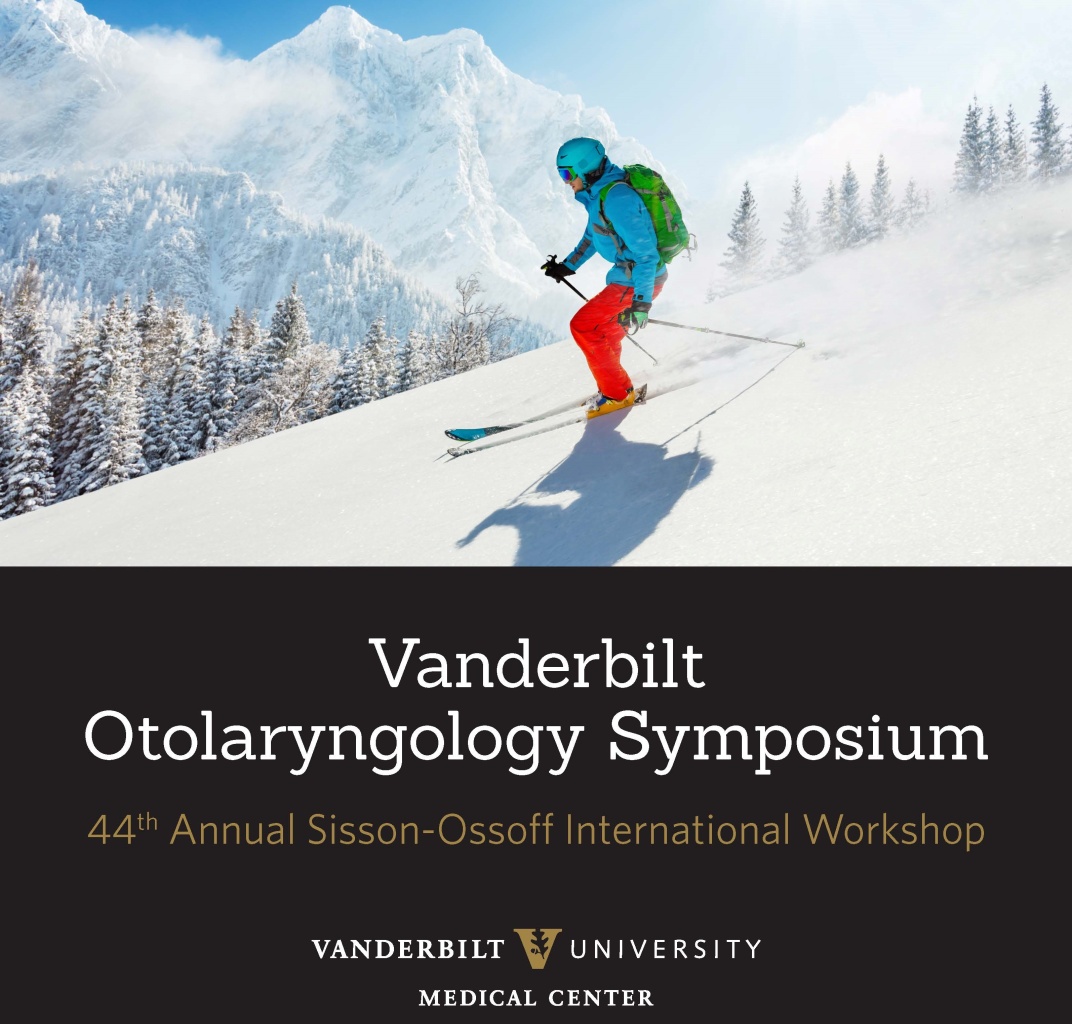 Vanderbilt Otolaryngology Symposium
44th Annual Sisson-Ossoff International Workshop
February 5-10, 2023
Vail, Colorado | The Lodge at Vail
An interactive, panel-based course located in Vail, Colorado covering topics in Facial Plastic and Reconstructive Surgery, Head & Neck Surgery, Laryngology, Otology, Pediatric Otolaryngology, and Sleep Medicine. This meeting provides an environment conducive to free exchange of experience and the sharing of clinical outcomes with the ultimate goal of advancing and improving patient care. 
CURRICULUM & PANEL SCHEDULE
This meeting will employ both case presentation and panel discussion formats. Educational programming will include current concepts of diagnosis and treatment in head and neck medicine. New techniques and technology will be addressed, as well as outcomes of surgical techniques.
The purpose of this program is to provide otolaryngologists an opportunity to review and update their knowledge in each sub-specialty of Otolaryngology. 
After participating in this CME activity, participants should be able to describe and discuss:
Current evidence-based medical and surgical management of patients with common and uncommon disorders of the ears, nose, throat, head and neck.
Emerging protocols, procedures, and techniques being investigated in major teaching centers.
Future developments in the management of otolaryngologic disorders.
Sunday, February 5th                                                                    
6:30-7:00am: Breakfast/Exhibits
7:00-8:00am: Current Treatment of Melanoma
8:00-9:00am: Thyroid Update 2023                                            
2:30-3:30pm: Management of Sensorineural Hearing Loss, Steroids, Cochlear Implants, and Beyond
3:30-4:30pm: Skull Base Disorders                                 
Monday, February 6th                                                                  
6:30-7:00am: Breakfast/Exhibits
7:00-8:00am: Updates and Advances in the Treatment of HPV+ Oropharyngeal Cancer                                         
8:00-9:00am: Controversies in Otology                                                     
9:00-10:00am: Chronic Ear Disorders
4:30-5:30pm: Tough Salivary Gland Cases                                        
5:30-6:30pm: Implantable Devices for Hearing Loss: Cognitive Hearing Loss & Sensorineural Hearing Loss     
Tuesday, February 7th                                                                  
6:30-7:00am: Breakfast/Exhibits
7:00-8:00am: Nasal Polyps: Preventing Recurrence After Surgery                                                            
8:00-9:00am: Hypoglossal Nerve Stimulation Non-Responders: What to do Next                                                      
9:00-10:00am: Business of Medicine                                       
4:30-5:30pm: Dysphagia for the General Otolaryngologist                                          
5:30-6:30pm: Clinical Application of the Latest Research in Laryngology   
Evening: James L. Netterville Alumni Society dinner, all welcome
Wednesday, February 8th
6:30-7:00am: Breakfast/Exhibits
7:00-8:00am: Office Procedures to Manage Nasal and Sinus Disorders
8:00-9:00am: Business of Medicine
4:30-5:30pm: Pediatric Voice Disorders
5:30-6:30pm: Diagnostic challenges in Laryngology
Thursday, February 9th
6:30-7:00am: Breakfast/Exhibits
7:00-8:00am: Common Pediatric Airway Problems for the Generalist
8:00-9:00am: Case-Based Pearls in Laryngology
4:30-5:30pm: Pearls & Pitfalls in Mohs Reconstruction
5:30-6:30pm: Early & Late Management of Bell's Palsy 
Friday, February 10th
6:30-7:00am: Breakfast/Exhibits
7:00-11:00am: Botox and Dermal Fillers
AUDIENCE
This program is designed for practicing otolaryngologists and otolaryngology residents and fellows seeking the latest information in head and neck medicine.
CME CREDIT
Vanderbilt University School of Medicine is accredited by the Accreditation Council for Continuing Medical Education to provide continuing medical education for physicians. Vanderbilt University School of Medicine designates this live activity for a maximum of 24.0 AMA PRA Category 1 Credits. Physicians should claim only the credit commensurate with the extent of their participation in the activity. 
COURSE DIRECTORS
Course faculty is comprised of internationally recognized experts in academic otolaryngology.
Eben L. Rosenthal, MD
Rakesh K. Chandra, MD, MMHC
C. Gaelyn Garrett, MD, MMHC
James L. Netterville, MD
David S. Haynes, MD, FACS, MMHC
Sarah L. Rodhe, MD, FACS, MMHC
Scott Stephan, MD
Christopher Wootten, MD, MMHC
Course faculty is selected by each Course Director, and comprised of internationally recognized experts in academic otolaryngology.
LODGING DETAILS
Vanderbilt has a block of rooms reserved at The Lodge at Vail until January 3, 2023 or until the block is full. To reserve, please call 1-855-332-1601 and select option 1 to reach the Colorado resorts, and then option 4 for Vail lodging options. Please indicate that you are with the Vanderbilt group by using the code BVLVBT23 to benefit from the group rate. 
*PLEASE NOTE: As of November 30th, most rooms in the block have been reserved. Individuals are still welcome to call-in independent of the block rate to inquire about availability. 
GROUND TRANSPORTATION
For shuttle service, please contact Epic Mountain Express. Epic Mountain Express has door-to-door service from both Denver International Airport and Vail/Eagle Airport. To make reservations, please call 970-754-7433, choose option 1, and reference the group code "Vanderbilt". Or visit the personalized booking link here.
SKI LIFT TICKETS & RENTAL EQUIPMENT
To pre-purchase ski lift tickets and rental equipment, please visit the personalized booking link HERE and input the promo code BVLVBT23.
DRESS CODE
Dress is casual and intended to suit conference attendance right off the slopes. Jeans, sweaters, ski pants, and athletic attire are welcome. 
REGISTRATION
We invite you to register on or before January 5th, 2023.
Refunds will be provided, less a $100.00 administrative fee, provided you notify us by January 5th, 2023. No refunds will be made after that date. Exceptions will be made for justifiable emergencies. In the event of cancellation or rescheduling of this CME activity due to unforeseen circumstances, Vanderbilt will refund registration fees in full. Vanderbilt is not responsible for non-transferable, non-refundable airline tickets or hotel accommodations purchased in connection with attendance at this CME activity.
Please contact the course organizer, Meghan Franklin, at meghan.franklin@vumc.org, with any questions.