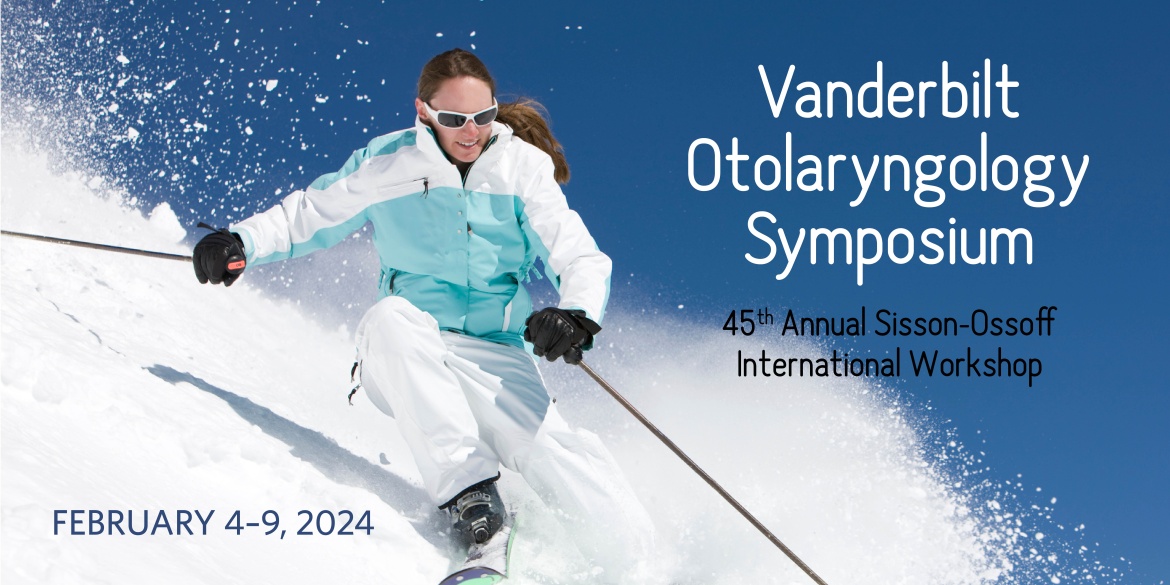 Vanderbilt Otolaryngology Symposium
45th Annual Sisson-Ossoff International Workshop
February 4-9, 2024
Vail, Colorado | The Lodge at Vail
An interactive, panel-based course located in Vail, Colorado covering topics in Facial Plastic and Reconstructive Surgery, Head & Neck Surgery, Laryngology, Otology, Pediatric Otolaryngology, and Sleep Medicine. This meeting provides an environment conducive to free exchange of experience and the sharing of clinical outcomes with the ultimate goal of advancing and improving patient care. 
Please contact the course organizer, Meghan Franklin, at meghan.franklin@vumc.org, with any questions.
This meeting employs both case presentation and panel discussion formats. Educational programming will include current concepts of diagnosis and treatment in head and neck medicine. New techniques and technology will be addressed, as well as outcomes of surgical techniques.

The purpose of this program is to provide otolaryngologists an opportunity to review and update their knowledge in each sub-specialty of Otolaryngology. 

After participating in this activity, participants should be able to describe and discuss:

Current evidence-based medical and surgical management of patients with common and uncommon disorders of the ears, nose, throat, head and neck.
Emerging protocols, procedures, and techniques being investigated in major teaching centers.
Future developments in the management of otolaryngologic disorders.

Sunday, February 4th 

6:30-7:00am: Breakfast & Exhibits                                                                   

8-9am: Contemporary Management of Sensorineural Hearing Loss and Cochlear Implants

3:30-4:30pm: Business of Medicine and Pediatric Demand

4:30-5:30pm: Brow & Eyelids:  Functional and Aesthetic Treatments

5:30-6:30pm: Controversial Topics in Otology and Neurotology I: BAHA, Cochlear Implants and More                                 

Monday, February 5th                                                                 

6:30-7am: Breakfast & Exhibits

7-8am: General Pediatric: Controversies

8-9am: Nasal Trauma: Early and Late Management

3:30-4:30pm:  Controversial Topics in Otology and Neurotology II: BAHA, Cochlear Implants and More                                      

4:30-5:30pm: Oropharyngeal Update

5:30-6:30pm: Complex Congenital Neck Masses                                                                                                                          

Tuesday, February 6th                                                                  

6:30-7:00am: Breakfast & Exhibits

7-8am: Thyroid and Parathyroid Cases

8-9am: Management of the Chronic Ear                                               

9-10am: Multidisciplinary Management of the Nasal Airway: Endonasal vs Open Septoplasty:  When and Why?  

3:30-4:30pm: Pediatric Thyroid: Contemporary Practice Models and Cases 

4:30-5:30pm: Cutaneous Malignancies

5:30-6:30pm: Pediatric Otolaryngology and the Cleft Patient   

*Evening: James L. Netterville Alumni Society dinner, all invited                    

Wednesday, February 7th

6:30-7:00am: Breakfast & Exhibits

7-8am: Oral Cavity

8-9am: Management of Nasal Polyps: Spectrum of Options

9-10am: Alley Endowed Lecture: "I'm Sorry Dave: I'm Afraid I Can't Do That (Concerns and Promises of AI and Big Data with Electronic Health Records)"

Endowed Speaker: Chen-Tan "CT" Lin, MD of University of Colorado School of Medicine

3:30-4:30pm: Navigating Billing and Coding for the Comprehensive Otolaryngologist

4:30-5:30pm: Updates on Laryngeal Stenosis

5:30-6:30pm: Chronic Sinusitis: Cases of Advanced Disease

Thursday, February 8th

6:30-7:00am: Breakfast & Exhibits

7-8am: It's Not Just the Larynx

8-9am: Chronic Sinusitis: Management of Minimal Disease

9-10am: Update and Basic Education of Compliance Issues in Otolaryngology

3:30-4:30pm: Defining the Role of the Otolaryngologist as a Community Influencer

4:30-5:30pm: Taking Care of the Professional Singer

Friday, February 9th

6:30-7:00am: Breakfast & Exhibits

8-9am: Laryngology Hodge-Podge
This program is designed for practicing otolaryngologists and otolaryngology residents and fellows seeking the latest information in head and neck medicine.
Course faculty selected to sit on each panel is coordinated by each Course Director, and comprised of internationally recognized experts in academic otolaryngology.
There is a block of rooms reserved at The Lodge at Vail until Tuesday, January 4, 2024, or until the block is full (whichever comes first). To make a reservation:

Call 1-855-332-1601 and select option #1 to reach the Colorado resorts.

Then select option #4 for Vail lodging options. Please use the code BVLVBT24 to book a standard room within the room block.

If you would like to book a condo, Studio room, luxury room, or suite, please use code SVLVBT24 for 15% off at the time of booking (plus tax and resort fee).

*PLEASE NOTE: The room block is expected to fill to capacity by the Fall. We encourage booking as early as possible. 
There is a discount available for attendees of the Sisson-Ossoff Symposium booking ground transportation to/from both Denver International Airport and Eagle County Regional Airport to Vail Village/Beaver Creek if you book shuttle transportation via Epic Mountain Express. 

Please use the personalized booking link here for 10% off your reservation. 

We encourage reservations to be made as soon as possible due to high demand. 
Ski lift tickets and rental equipment are available for purchase through the Vanderbilt conference for a 25% discount off walk-up rates. 

Purchase lift tickets through Vanderbilt conference HERE. Use promo code BVLVBT24.

VERY IMPORTANT: Purchasing lift tickets via the above link through the Vanderbilt conference disallows you from purchasing lift tickets via an Epic membership or profile at a later date for a better discount. 

EPIC PROFILE HOLDERS: Epic Passes/Day Passes available on the Epic App can be purchased at a steeper discount. If you are a repeat Vail Resort customer or plan to visit other resorts in the future, we encourage you to create an Epic profile, provide your personal information, and specify your resort location and dates to procure lift tickets with the highest discount.

Create your Epic profile here.

PLEASE NOTE: Purchasing Epic Day Passes via the Epic App or your membership may have restrictions on dates, so please be sure the dates and location you have selected for your lift passes match your schedule. 
Dress is casual and intended to suit conference attendance right off the slopes. Jeans, sweaters, ski pants, and athletic attire are welcome. 
2025 at The Lodge at Vail

February 6-10, 2025

2026 at The Lodge at Vail

February 1-6, 2026