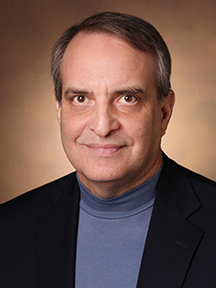 James R. Goldenring, MD, PhD, AGAF
Paul W. Sanger Professor of Experimental Surgery
Professor of Surgery and Cell & Developmental Biology
Vice Chair for Surgical Research
Section of Surgical Sciences
MRB4
Vanderbilt University School of Medicine
2213 Garland Ave S
Nashville
Tennessee
37232
Phone
Phone: (615) 936-3726
James Richard Goldenring, MD, PhD joined Vanderbilt in 2002 as Paul W. Sanger Professor of Experimental Surgery and Vice Chair for Surgical Research for the Section of Surgical Sciences.  In addition, he holds a secondary appointment as Professor of Cell and Developmental Biology and serves as staff physician at the Nashville Veterans Medical Center.  Since 2008 he has served as Co-Director of the Epithelial Biology Center and in 2013 became the Scientific Director of Translational Pathology and Digital Histology Shared Resources.
Dr. Goldenring previously served as Professor of Medicine, Surgery and Cellular Biology and Chief, Program in Cell Signaling, Institute of Molecular Medicine and Genetics at the Medical College of Georgia in Augusta GA and staff physician and Director, Laboratory of Molecular Gastroenterology Augusta Veterans Medical Center. His training and early experience began at Yale University School of Medicine where he was named Assistant Professor of Surgery.
Dr. Goldenring is an elected member of the American Society for Clinical Investigation (ASCI), and the Association for Academic Physicians (AAP) and is a Fellow of the American Gastroenterological Association (AGAF). His honors include AGA Institute Council Cellular and Molecular Gastroenterology Research Mentor Award, Fellow from the American Association for the Advancement of Science and the Takeda Distinguished Research Award from the American Physiological Society.
Dr. Goldenring is internationally recognized for his research contributions defining cancerous and precancerous development and disease in the intestines and stomach. Goldenring along with other Vanderbilt colleagues are part of a $26 M Cancer Research UK Grand Challenge grant joining researchers across the globe to study inflammation-related cancers. He also has garnered part­­ of a $2.5 M award to Vanderbilt University from the Burroughs Wellcome Fund to expand and promote "SCRIPS" — Supporting Careers in Research for Interventional Physicians and Surgeons. SCRIPS will expand opportunities for surgeons and other procedure-based physicians through mentored basic research training in the medical school, residency and fellowship years and through early faculty career development.

Research
The Goldenring laboratory in the Epithelial Biology Center studies aspects of epithelial biology and pathobiology.  Present investigations focus on two different areas.  First, the laboratory has been dedicated to the analysis of apical vesicle trafficking and apical membrane recycling for over 20 years.  Investigations focus on the regulation of apical membrane trafficking in normal intestinal enterocytes as well as in enterocytes from mice and humans with deficits in key trafficking proteins (e.g. MYO5B in Microvillus Inclusion Disease) or regulators (e.g. DGAT1) that lead to congenital diarrheal disease.  The laboratory uses live cell, confocal and SIM imaging to characterize apical vesicle trafficking in whole tissue as well as in cultured enteroids from mouse, pig and human sources.  The goal in these studies is to understand the complexity of trafficking pathways that deliver requisite pumps and channels to the apical membrane and to devise therapeutic strategies to circumvent blockade of apical trafficking in congenital diarrhea syndromes.

The second area of interest in the lab is the origin of pre-cancerous lesions in the stomach. The lab has developed paradigm shifting data over the past decade that has led to the conclusion that pre-cancerous metaplasia does not arise from altered resident stem cells in the stomach, but rather develops from transdifferentiation of protein-secreting chief cells into metaplastic mucous-secreting cells. Studies in the laboratory focus on how immune cell populations (M2-macropahges and IL-C2 cells) regulate the induction of metaplasia and its progression to more aggressive and proliferative pre-cancerous lesions.

Other studies are seeking to identify the characteristics of pre-cancerous stem cell populations using metaplastic and dysplastic organoid lines isolated from both mouse models and human patients.  These studies are coordinated with ongoing studies of the utility of MEK inhibitor treatment to reverse metaplasia and allow re-establishment of normal gastric lineages.  The work coordinates in vitro studies with initiation of a human trial of MEK inhibitor treatment for reduction of risk of gastric cancer in those with extensive metaplasia.  These gastric carcinogenesis studies utilize organoid cultures and live cell imaging, immune cell characterization by multiplex imaging techniques, co-culture studies of stromal cell influence on metaplastic and dysplastic cells, mouse models for targeted analysis of metaplasia, and human and mouse stem cell analyses using single cell RNA sequencing. 
All of the work is funded by multiple federal grants (NIH, VA, DOD) and a Cancer UK Grand Challenge grant.
Education
• AB – Harvard University
• MPhil – Yale University
• PhD – Yale University
• MD – Yale University

Certifications
• National Board of Medical Examiners
• Georgia State Medical License
CONTACT
James Goldenring, MD, PhD
Section of Surgical Sciences
Epithelial Biology Center
Vanderbilt University Medical Center
10435G Medical Research Building IV
2213 Garland Avenue
Nashville, TN  37232
Phone (615) 936-3726
Fax (615) 343-1591
Research Information