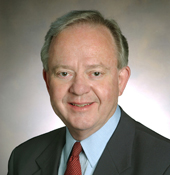 William O. Whetsell, Jr., M.D.
Professor Emeritus of Pathology, Microbiology and Immunology
William O. Whetsell, Jr., M.D. is Professor Emeritus of Pathology, Microbiology and Immunology. Whetsell, a native of South Carolina, graduated from Wofford College, Spartanburg, South Carolina in 1962 (B.S. degree) and from the Medical University of South Carolina, Charleston, in 1966 with an M.D. degree and an M.S. degree in neurobiology. He pursued post-graduate training at Columbia University Medical Center in New York City with a post-doctoral fellowship in neuroscience and residencies in clinical neurology, anatomic pathology and neuropathology. He served in the U.S. Navy (1967-1969) as Lt. Commander at the Naval Aerospace Medical Center in Pensacola, Florida.
In 1975 he became Assistant Professor of Pathology (Neuropathology) and Neurology at the Mt. Sinai School of Medicine in New York City and adjunct Assistant Professor at the Rockefeller University. In 1978, he was promoted to Associate Professor at Mt. Sinai. In 1979, he accepted a position as Professor of Pathology and Director of Neuropathology at the University of Tennessee Center for Health Sciences in Memphis. In 1983, he became Professor of Pathology and Director of Neuropathology at Vanderbilt University School of Medicine.
His research career has focused on mechanisms of human neurodegenerative diseases including Huntington's, Parkinson's and Alzheimer's diseases. He, along with his long­time collaborator, Dr. Robert Schwarcz of the University of Maryland, was a co­discoverer of quinolinic acid as an endogenous excitotoxic substance in the human brain, a substance that has been implicated subsequently in Huntington's, Parkinson's, Alzheimer's, temporal lobe epilepsy and AIDS encephalopathy.
Dr. Whetsell's continuing research has demonstrated mechanisms of neurodegeneration relating to chronic excitotoxicity and metabolic stress in the brain. He has maintained a research laboratory at Vanderbilt since 1983 supported by grants from the National Institutes of Health and several American and European pharmaceutical companies. His published works include more than 100 peer-reviewed articles and book chapters as well as numerous abstracts of work he has presented at national and international meetings, symposia and guest lectureships in the U.S., Italy, France, England, Sweden and Japan over the last three decades.
In his teaching endeavors, Dr. Whetsell taught medical students in the Neurosciences Courses at Mt. Sinai and the University of Tennessee as well as residents and postdoctoral fellows in his laboratories at both institutions.
At Vanderbilt, he designed and developed the current curriculum for the neuropathology teaching component of the medical student course in Pathology; he has also taught in the Medical Neurosciences Course, graduate student elective courses in Psychiatry, an honors course for undergraduates at Belmont University, and a course on the human brain and aging for the Retirement Leaming Program. He has participated in and directed training of residents in neurology, neurosurgery and pathology at Vanderbilt as well as neuropathology fellows, postdoctoral fellows and Ph.D. students in his laboratory since 1983.
In clinically related duties, Dr. Whetsell has served as a diagnostic neuropathologist in surgical pathology and autopsy pathology at Vanderbilt since 1983. He established the first American Medical Association-approved training program in neuropathology at Vanderbilt in 1985; this program has received continuous AMA accreditation since then.
Over the past 28 years, Dr. Whetsell has served on the National Science Council, Huntington's Disease Society of America (NYC); Scientific Advisory Council and Grants and Fellowship Review Committee of the Amyotrophic Lateral Sclerosis Association (Sherman Oaks, CA); the Advisory Panel of the Parkinson's Action Network (Santa Rosa, CA); the Grants Review Panel, American Institute of Biology (Washington, D.C.); the External Advisory Committee, Bryan Alzheimer's Research Center, Duke University; and the BDCN-4 Study Section of the National Institute of Neurological Diseases and Stroke, NIH (Bethesda, MD).
Dr. Whetsell has also served on the Awards Committee of the American Association of Neuropathologists, the International Council of the International Society of Neuropathologists, and the Editorial Board of the Journal of Neuropathology and Experimental Neurology.
At Vanderbilt, he has served on the Medical Student Evaluations Committee (1992-1996) the Faculty Awards Committee (1991-2000), the Dean's Committee on Goals & Governance (2000-2002), and as a Senior Fellow at the Kennedy Center. As an elected member of the Vanderbilt Faculty Senate (1997-2000), he was Chairman of the Professional Ethics and Academic Freedom Committee (1998-2000). Within the Department of Pathology, he has served on various committees including the Executive Committee and as Chairman of the Appointments & Promotions Committees.
Dr. Whetsell is a member of the American Association of Neuropathologists, the International Society of Neuropathology, the Society for Neuroscience, the Association for Research in Nervous and Mental Disorders, the American Medical Association, The Tennessee Medical Association, the Nashville Academy of Medicine and a Fellow of the College of American Pathologists.
In addition to professional activities, he has participated in a variety of local and regional community activities and has received several awards including the Phi Beta Kappa Alumnus Award from Wofford College, Distinguished Alumnus Award, Medical University of South Carolina and the Jack C. Massey Community Leadership Award in Nashville.