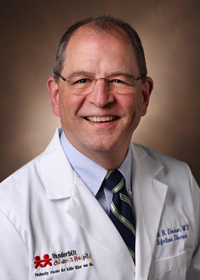 Mark R. Denison, M.D.
Professor of Pathology, Microbiology and Immunology
Craig-Weaver Chair in Pediatics
D-6217 MCN
1161 21st Ave S
Nashville
Tennessee
37232-2581
Replication, cell biology, and pathogenesis of coronaviruses; emerging viruses in biodefense
Clinical Interests
Coronavirus / SARS replication Virus cell biology Emerging viruses in biodefense Synthetic biology
Research Information
The Denison Lab studies coronaviruses, a family of plus-strand RNA viruses that cause important infections in many animals and colds in humans. A new coronavirus recently has been identified as the cause of severe acute respiratory syndrome (SARS). The Denison laboratory studies the model coronavirus, mouse hepatitis virus (MHV) to understand the replication, cell biology, and protein functions of coronaviruses. The laboratory uses biochemical and genetic approaches, including the recent introduction of reverse genetic approaches, to define the specific functions of replicase proteins in the formation and function of viral replication complexes. In addition, the laboratory has a program to define the replication of the SARS coronavirus (SARS-CoV) and develop virus mutants as live virus vaccine candidates. The Denison laboratory has an active training program for students and postdoctoral fellows to develop new investigators in viral cell biology, molecular biology, and genetics. 
Publications on