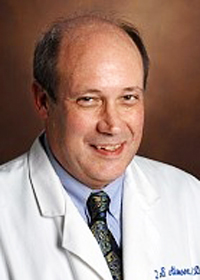 James B. Atkinson, III, M.D., Ph.D.
Professor of Pathology, Microbiology and Immunology
C-3321 MCN
1161 21st Ave S.
Nashville
Tennessee
37232
Atherosclerosis, cardiovascular pathology, cardiovascular disease, heart transplantation
James B. Atkinson, M.D., Ph.D. offers expert electron microscopic interpretation of neoplastic diseases, storage and muscle diseases, abnormal cilia, infectious and other diseases. He has long-standing expertise in cardiovascular pathology and electron microscopy, and has published extensively in these areas.
Research Description
Research in this laboratory is centered around mechanisms of cardiovascular disease as well as applied cardiovascular pathology. Current projects in atherosclerosis include the role of biogenic amines in human atherogenesis, with emphasis on the developing atherosclerotic lesion in young people. 
This laboratory has also developed an animal model for atherosclerosis (the cholesterol-fed heterozygous WHHL rabbit) in which both genetic and nutritional factors are combined to produce vascular disease. This model has been used to study the role of calcium in atherogenesis. These studies have been extended to an animal model for heart transplantation to study the atherosclerosis that develops in transplanted hearts. 
Using the heart transplant model, we have explored possible interventions that might suppress graft coronary artery disease, the major factor that currently limits long-term success in cardiac transplantation. Several applied research projects have taken advantage of the unique position of cardiovascular pathology to study the mechanisms of a variety of diseases, including coronary and ischemic heart disease, prosthetic vascular grafts and coronary artery bypass grafts, valvular disease, and the role of calcium regulatory proteins in the pathobiology of cardiomyopathy.
Publications on