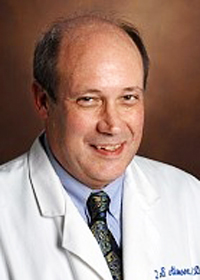 James B. Atkinson, III, M.D., Ph.D.
Professor Emeritus of Pathology, Microbiology and Immunology
Atherosclerosis, cardiovascular pathology, cardiovascular disease, heart transplantation
James Atkinson stepped on the Vanderbilt campus in the fall of 1969 and never left. He received his B.A. at Vanderbilt in 1973 and entered the combined degree program and received M.D. and Ph.D. degrees in 1981. The research for his Ph.D. thesis was in the Department of Pathology and focused on muscle disease. After completing his Residency training in Anatomic and Clinical Pathology at Vanderbilt, he was appointed an assistant professor in the Department of Pathology and was promoted to professor in 1999. He has served as Director of the Autopsy Service at Vanderbilt and the VA and as Director of the Laboratory of Surgical Pathology at Vanderbilt. Dr. Atkinson has had an active role in medical student, graduate student and Resident training throughout his entire career. He taught in the 2nd year medical student pathology course, and in 2007 was designated as one of seven Master Science Teachers at Vanderbilt Medical School and is a member of the Academy for Excellence in Teaching. He led the team that revised the 2nd year medical school curriculum and was co-director of the 2nd year medical school course, Disease, Diagnosis and Therapeutics. He served on the leadership team that designed the Foundations of Medical Knowledge year in Curriculum 2.0 and was a course director for the Homeostasis and Endocrine, Digestion and Reproduction blocks. Dr. Atkinson was awarded the Shovel Award for Excellence in Teaching which is the highest teaching award at Vanderbilt Medical School and was also awarded the Robert D. Collins Award for Excellence in Teaching in he Lecture Setting, The Denis O'Day Award for Excellence in Teaching in Team-Implemented Curricular Reform, The Jack Davies Award for Teaching Excellence in the Basic Sciences, and was elected by the graduating medical school class for three years to serve as a Marshall at graduation. He was Chair of the Undergraduate Medical Education Executive Committee and was appointed Vice Chair for Medical Education in the Department of Pathology, Microbiology and Immunology. He has held leadership positions in medical education nationally, serving on the Executive Board of the Undergraduate Medical Educators Section of the Association of Pathology Chairs. Dr. Atkinson's research has focused on cardiovascular disease and he has co-written books and book chapters on cardiovascular pathology, authored 110 peer-reviewed papers, and served on editorial boards of several journals. His research on atherosclerosis was supported by the NIH and Veterans Administration. In recognition of his expertise in cardiac diseases, he was elected Fellow in the American College of Cardiology, and he held leadership roles in the Society for Cardiovascular Pathology and International Society for Heart and Lung Transplantation. Dr. Atkinson served as a member as well as Chairman of the Vanderbilt and VA IRB Committees and was a long-standing member of the Vanderbilt School of Medicine Admissions Committee.
Publications on