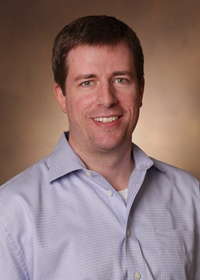 Aaron C. Shaver, Ph.D., M.D.
Associate Professor of Pathology, Microbiology and Immunology
Director, Residency Training Program
MCN C-3308
1161 21st Avenue South
Nashville
Tennessee
37232-258
Flow cytometry, including multivariate modeling
Dr. Aaron Shaver is a Tennessee native who received his undergraduate degree from Rice University in Houston. He then went to the University of Pennsylvania in Philadelphia for a Ph.D. in molecular evolutionary biology, followed by an M.D. from the University of Chicago. He moved to Nashville for residency training in pathology and fellowship training in hematopathology, and in 2012 was hired as faculty in the Hematopathology Division of the Department of Pathology, Microbiology, and Immunology.
Aaron has clinical and research interests in the diagnosis and monitoring of hematologic diseases such as acute leukemia, particularly in the use of clinical flow cytometry, as well as clinical informatics. He also has a long-standing interest in teaching, and is involved in several medical student courses across the entire spectrum of Curriculum 2.0.
Publications on