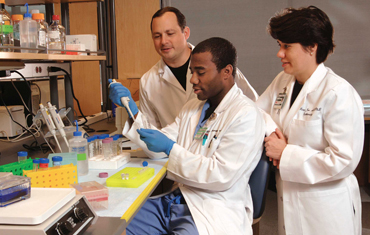 Overview
The Vanderbilt Eye Institute recognizes the critical need for exposure to research in shaping physician development, so our residency program requires active participation in research for the second and third years of training. This program is administered by our faculty with the guidance of the Resident Research Committee chaired by Dr. Tonia Rex, PhD, Director of Resident Research. Starting in 2019, Dr. Milam Brantley will be spearheading resident research. The committee provides guidance to the residents in the administration, design, execution and presentation of their research projects. The breadth of our faculty provides for a wide array of projects, including bench, clinical, translational and epidemiological science. Case reports and reviews of the literature are important aspects of resident training, but not appropriate for the formal research requirement.
Timeline
First year residents are encouraged to focus on their clinical acumen. Research is allowed with permission from the Residency Director. At the beginning of the second and third year, each resident will meet with Dr. Rex or Dr. Brantley to discuss possible projects and faculty mentors and to begin to formulate a research plan. Residents should keep in mind that certain projects involving clinical interventions (prospective studies) or chart reviews (retrospective) are likely to require additional Institutional Review Board (IRB) approval. Residents need to work with their faculty mentor to make sure that all appropriate approvals are obtained prior to beginning formal work on the project. Residents are encouraged to openly seek assistance when necessary.
Association for Research in Vision and Ophthalmology (ARVO)
Residents who have made substantial progress in completing a research project are encouraged to present their results at the annual meeting of the Association for Research in Vision and Ophthalmology (ARVO). Residents whose research is accepted for presentation at ARVO will be provided time and support to attend the meeting.
Works in Progress
Quarterly, faculty and trainees from Vanderbilt Eye Institute clinics and research laboratories meet to discuss ongoing research. At each meeting there is a presentation by one post-doctoral fellow or graduate student and one resident. Presentations are very brief and are followed by a longer discussion period. The goal of these sessions is to foster cross-talk between clinicians and basic science researchers to benefit each.
Resident Research Day
At the end of each academic year, the Vanderbilt Eye Institute sets aside a half-day symposium to allow residents an opportunity to present their research. The presentation must be accompanied by a manuscript describing the same project in the format of an appropriate peer-reviewed journal. The Resident Research Committee selects from these one or more for acknowledgement at the year-end celebration honoring the graduating residents and clinical fellows. Participation in Resident Research Day is required for all residents executing a research project during the academic year.
Winners of the Best Resident Research Project Award
2019 Winner: Allison Umfress, M.D.
Prevalence of Ocular Pathology on Initial Screening and Incidence of New Findings on Follow-Up Examinations in Children with Trisomy 21
2018 Winner: Joshua Barnett, M.D., Ph.D.
Investigation Into the Role of Bile Acid Metabolites as Inhibitors of the Development & Progression of ARMD
2017 Winner: Ian Thompson, M.D.
Early Microvascular Changes in Diabetic Subjects without Retinopathy using Optical coherence tomography angiography
2016 Winner: Niraj Nathan, M.D.
Effect of the Prone Position on Intraocular Pressure in Treated Low-Tension Glaucoma Patients
2015 Winner: Caroline Vargason, M.D., Ph.D.
Long-Term Outcomes of Transscleral Cyclophotocoagulation after Aqueous Shunt Placement for Refractory Glaucoma
2014 Winner: Christopher Estopinal, M.D.
Mitochondrial Genetic Effects on Proliferative Diabetic Retinopathy
2013 Winner: Samantha Williamson, M.D.
Metabolomics of Age-Related Macular Degeneration
2012 Winner: Karsa Attaran Rezaei, M.D.
Short-Term Effects of Antioxidant and Zinc Supplements on Oxidative Stress Biomarker Levels in Plasma
2011 Winner: Sarita B. Dave, M.D.
Emergence of Multi-Antibiotic Resistance of Conjunctival Flora: A Prospective, Controlled, Longitudinal Study of Patients Undergoing Intravitreal Injections
2010 Winner: Maziar Lalezary, M.D.
Long-Term Trends in Intraocular Pressure after Pars Plana Vitrectomy