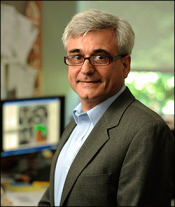 Benoit Dawant, Ph.D.
Professor of Electrical Engineering
Professor of Radiology and Radiological Sciences
Cornelius Vanderbilt Professor of Engineering
Professor of Biomedical Engineering
Director, Vanderbilt Institute for Surgery and Engineering (VISE)
Benoit M. Dawant received the M.S.E.E. degree from the University of Louvain, Leuven, Belgium, in 1983, and the Ph.D. degree from the University of Houston, Houston, TX, in 1988. Since 1988, he has been with the Faculty of the Electrical Engineering and Computer Science Department, Vanderbilt University, Nashville, TN, where he is currently a Professor. His main research interests include medical image processing and analysis. Current projects include the development of algorithms and systems to assist in the placement of deep brain stimulators used for the treatment of Parkinson's disease and other movement disorders, the placement of cochlear implants used to treat hearing disorders, or the creation of radiation therapy plans for the treatment of cancer. The work of his group in the area of DBS has been featured by the National Institute of Biomedical Imaging and Bioengineering (NIBIB) on its e-advances web site.