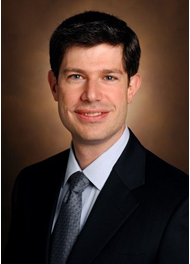 Today, the Department of Radiology named Rick Abramson, M.D., Associate Professor of Radiology and Radiological Sciences, as its Vice Chair of Innovation. 
In his new role, Dr. Abramson will work to enhance the entrepreneurial culture amongst faculty and trainees, and ultimately oversee the department's strategic initiatives and resources related to innovation and entrepreneurship.
"I am tremendously excited to take on this role within the department," said Dr. Abramson. "In establishing this visionary position, Vanderbilt Radiology is affirming its commitment to innovation as a long-term strategic priority."
"Dr. Abramson is a natural innovator who has long been working at the intersection of our clinical, research and learning missions," added Reed Omary, M.D., M.S., Carol D. and Henry P. Pendergrass Professor and Chair, Department of Radiology and Radiological Sciences. "We are thrilled that Dr. Abramson, one of the most creative, forward-thinking leaders in radiology, will be our first Vice Chair of Innovation, and help transform the department and Medical Center."
In addition to his background as a physician, Dr. Abramson has several years of experience in the fields of health care policy, management and entrepreneurship that will support his goal of making Vanderbilt Radiology synonymous with entrepreneurial success.
Prior to joining the Body Imaging section in 2011, Dr. Abramson was an associate with McKinsey & Company where he provided strategy and management consulting services to various pharmaceutical and device manufacturing companies. Subsequently, he co-founded a consulting and management firm dedicated to promoting alignment between radiology groups and health care systems. He currently serves on various hospital committees, including the Medical Center's Strategic Directions Entrepreneurship committee, is the founder and medical director of two imaging research-related core resources, and has established an NIH-funded research program on the development of imaging biomarkers for cancer treatment response assessment.
In the coming weeks, additional details will be announced about Radx, a new department-supported initiative led by Dr. Abramson that will promote innovation and support commercialization of creative health care technology solutions developed by those in the Vanderbilt community.