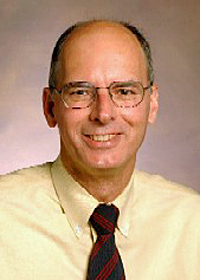 Samuel A. Santoro, M.D., Ph.D.
Professor Emeritus of Pathology, Microbiology and Immunology
Structure and biology of integrin adhesive receptors for extracellular matrix proteins
Dr. Santoro is Professor Emeritus of Pathology, Microbiology and Immunology. He received his M.D. and Ph.D. degrees from Vanderbilt in 1979. After residency training in clinical pathology, he initiated his academic career at Washington University where he rose through the ranks to Professor of Pathology & Immunology and of Medicine, Conan Professor of Laboratory Medicine and director of the Division of Laboratory Medicine. In 2003, he was recruited back to Vanderbilt as chair of the Department of Pathology and the Dorothy B. and Theodore R. Austin Professor. In 2011, he was asked to lead the creation of the new Department of Pathology, Microbiology and Immunology. Each department became recognized as an innovator in clinical service, education and research. Dr. Santoro has been a leading figure in the elucidation of the molecular mechanisms of cellular adhesion to the extracellular matrix and in defining the role of adhesion molecules in disease. His research group is largely responsible for the discovery and characterization of collagen receptors. Dr. Santoro has been an Established Investigator of the American Heart Association, a member of the Pathology A Study Section of the National Institutes of Health and a member of the editorial boards of BLOOD and the AMERICAN JOURNAL OF PATHOLOGY. His academic accomplishments have been recognized by election to membership in the American Society of Clinical Investigation, the Association of American Physicians, the Association of American Pathologists and by election to fellowship in the American Association for the Advancement of Science. Throughout his career, Dr. Santoro has played an active role in the clinical laboratory aspects of hemostasis and thrombosis. He is the author of numerous articles and textbook chapters in the field. Dr. Santoro has also emerged as a leader in the transformation of pathology with the introduction of standard-setting clinical practices and personalized medicine to pathology.
Publications on