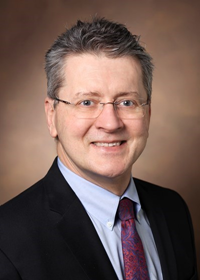 Robert D. Hoffman, II, M.D., Ph.D.
Professor of Pathology, Microbiology and Immunology
C-3324 MCN
1161 21st Ave S
Nashville
Tennessee
37232-2561
Graduate medical education
Dr. Hoffman serves as Vice Chair for Graduate Medical Education in the Department of Pathology, Microbiology and Immunology at Vanderbilt University. He serves as Director of the Vanderbilt Pathology Residency Training Program and provides administrative oversight for twelve pathology fellowships. As one of the longest serving pathology program directors in the country, a past Chair of the Program Director's Section of the Association of Pathology Chairs, member of the Pathology Milestones Workgroup of the Accreditation Council for Graduate Medical Education and the American Board of Pathology and current Vice Chair of the Graduate Medical Education Committee of the College of American Pathologists, he has been closely involved with the major changes that have been implemented nationally in Pathology Graduate Medical Education in the past two decades. Dr. Hoffman directs the autopsy services at Vanderbilt University Medical Center and the Nashville VA Hospital, and has a specialty interest in cardiovascular pathology.
Publications on
Clinical Interests
Cardiovascular Pathology, Autopsy Pathology