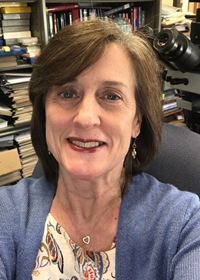 Joyce E. Johnson, M.D.
Professor of Pathology, Microbiology and Immunology
Vice Chair for Clinical Faculty Affairs
C-3321 MCN
1161 21st Avenue South
Nashville
Tennessee
37232-2561
Histopathology and immunopathology of pediatric viral pneumonias, etiology and pathogenesis of idiopathic interstitial lung diseases, cytologic diagnosis of disease
Clinical Interests
I practice Anatomic Pathology, with special interest in lung diseases and cytopathology. 

At Vanderbilt University Hospital I cover the Thoracic, Heart, and Frozen Section services in Surgical Pathology, and non-GYN and GYN/GU services in Cytopathology. 

At the VA I direct the Anatomic Pathology services, where we maintain a general practice in Surgical Pathology and Cytopathology.