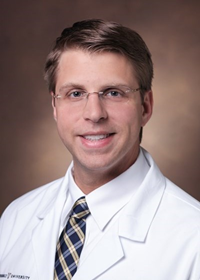 Assistant Professor of Pathology, Microbiology, and Immunology
Co-Director of the Clinical Chemistry Fellowship
Office Address
1301 Medical Center Drive
Nashville
Tennessee
37232-5310
Clinical Chemistry, Diagnostic Stewardship, Endocrinology, Medical Education, and Point of Care Testing
Dr. Wiencek is a board-certified clinical chemist at Vanderbilt University Medical Center where he serves as the Medical Director of Core Clinical Chemistry, Associate Medical Director of Point of Care Testing and Co-Director of the Vanderbilt University School of Medicine's ComACC accredited clinical chemistry fellowship program.
Dr. Wiencek received his Ph.D. in clinical-bioanalytical chemistry at Cleveland State University – the only ComACC accredited doctoral program in the United States. He has had comprehensive training in clinical chemistry through a two-year internship in the Clinical Biochemistry Laboratory at the Cleveland Clinic's Pathology and Laboratory Medicine Institute and a two-year ComACC accredited clinical chemistry fellowship at Vanderbilt University (fellow from July 2015-June 2017). Following his fellowship, he joined the faculty at University of Virginia School of Medicine and then was recruited back to Vanderbilt in 2020.
His research interests are in clinical chemistry specifically in preanalytical variation in laboratory testing, diagnostic stewardship and medical education. He has been selected for numerous awards for teaching and was also recently selected as a 2019 ASCP 40 under Forty honoree.
Publications on