Edward Chaum, MD PhD -  Laboratory Overview
As the Margy Ann and J. Donald M. Gass Professor of Ophthalmology and Visual Sciences at the Vanderbilt Eye Institute, I bring over 25 years of diverse clinical, basic science research, and mentorship expertise to a broad range of investigations including; the cellular and molecular biology of the retina, treatments for age-related macular degeneration and proliferative vitreoretinopathy, point-of-care diagnostics and bioengineering, the development of novel drugs for eye diseases, and clinical trials medicine. Trained as a molecular biologist, my work over the past decade has been focused on innovating and building research collaborations at the interface between engineering and medicine, between the lab and my patients in the clinic, to translate novel drugs and device concepts into transformative clinical care and launch new clinical paradigms to improve ocular health. 

Dr. Chaum has 9 issued bioengineering patents and is a serial entrepreneur. He is the founder and chief medical officer of several angel/venture-backed startup companies including; Nanophthalmics, Infusense (medical devices), Ipax Pharmaceuticals, and Focal Point Pharmaceuticals. Hubble Telemedical, a medical services company was acquired by Welch Allyn in 2015 and is now a national telemedical network, RetinaVue. 
The focus of the current research in the laboratory includes:

Retinal Degeneration: Our group is developing new approaches to understanding the cellular and molecular mechanisms causing age-related macular degeneration (AMD) and to derive "normal" retinal pigment epithelial cells from stem cells that carry deleterious mutations. This work has also identified important new signaling pathways that appear to play a role in AMD and represent a new target to treat this disease and also cancer.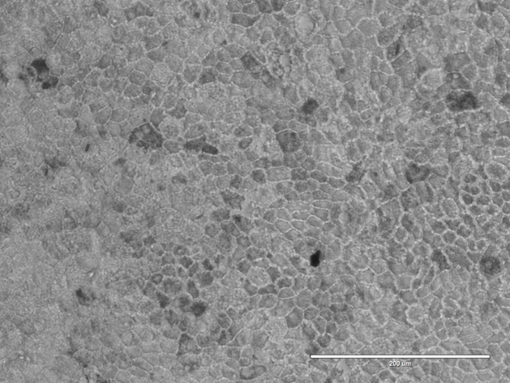 Health retinal pigment epithelial cells derived from  an iPSC stem cell lineage.
1.    Bhattacharya S, Chaum E, Johnson DA, Johnson LR. Age-related susceptibility to apoptosis in human retinal pigment epithelial cells is triggered by disruption of p53 Mdm2 association. Invest Ophthalmol Vis Sci. 2012; 53(13):8350-66.
2.    Chaum E, Winborn CS, Bhattacharya S. Genomic regulation of senescence and innate immunity signaling in the retinal pigment epithelium. Human Genome, 2015; 26:210-221.
3.    Bhattacharya S, Yin J, Winborn CS, Zhang Q, Yue J, Chaum E. Prominin-1 is a Novel Regulator of autophagy in the human retinal pigment epithelium. Invest Ophthal Vis Sci. 2017; 58:2366-2387.
4.    Zhang P, Zhao G, Ji L, Yin J, Lu L, Li W, Zhou G, Chaum E, Yue J. Knockdown of survivin results in inhibition of epithelial to mesenchymal transition in retinal pigment epithelial cells by attenuating the TGFβ pathway. Biochem Biophys Res Commun. 2018 Apr 6;498(3):573-578. 
5.    Bhattacharya S, Gangaraju R, Chaum E. Recent Advances in Retinal Stem Cell Therapy. Curr Mol Biol Rep. 2017 Sep;3(3):172-182.
Novel Translational Bioengineering: Our group works with engineers, scientists, and clinicians nationally to translate emerging engineering concepts into new and transformative research and clinical paradigms. New technologies that have been developed, matured, and published from the lab include, optode biosensors for physiologic analysis of the tear film, computer-based retinal image analysis, and the application of innovative materials to the development and clinical testing of novel ophthalmic surgical instruments. Using novel manufacturing techniques developed in collaboration with Oak Ridge National Laboratory, we have invented and patented an innovative device and method to treat recurrent corneal erosions and other microscale ocular pathologies. We are also developing  new engineering approaches to understanding retinal diseases including, bioengineering, high-resolution imaging, and microfluidics ("retina-on-a-chip").  Over the past decade we have also been developing novel electrochemical biosensors for point-of-care, therapeutic drug monitoring in anesthesia and detection of drug toxicity to improve patient care and clinical outcomes. This technology also has applications in improving our understanding of dry eye and the potential for wearable sensor and continuous monitoring of medical therapeutics and disease.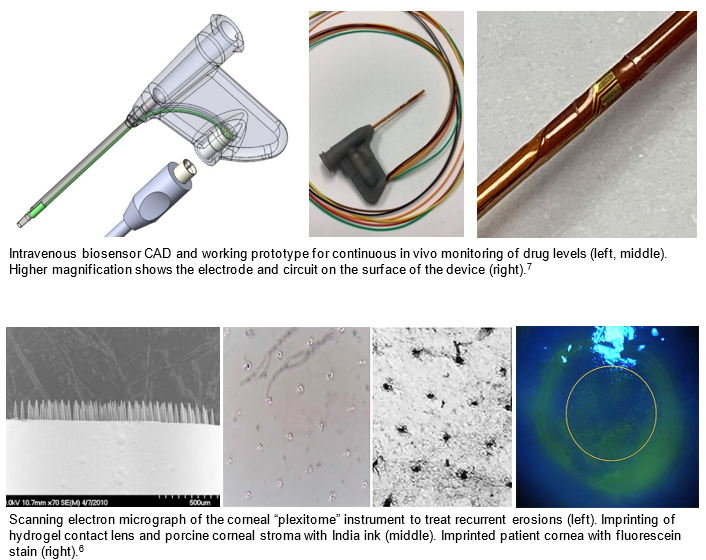 1.    Hines-Beard J,  Marchetta J, Gordon S, Chaum E, Geisert EE, Rex TS. A mouse model of ocular blast injury that induces closed globe anterior and posterior pole damage. Exp Eye Res. 2012;99:63-70.
2.    Kivlehan F, Chaum E, Lindner E. Propofol Detection and Quantification in Human Blood: The Promise of Feedback Controlled, Closed-loop Anesthesia. Analyst, 2014, 140(1):98-106.
3.    Alami NH, Smith RB, Carrasco MA, Williams LA, Winborn CS, Han SS, Kiskinis E, Winborn B, Freibaum BD, Kanagaraj A, Clare AJ, Badders NM, Bilican B, Chaum E, Chandran S, Shaw CE, Eggan KC, Maniatis T, Taylor JP. (2014) Axonal transport of TDP-43 mRNA granules is impaired by ALS-causing mutations. Neuron. Feb 5;81(3):536-43. 
4.    Lindner L, Guzinski M, Pendley B, Chaum E. Plasticized PVC Membrane Modified Electrodes: Voltammetry of Highly Hydrophobic Compounds. Membranes, Membranes 2020, 10(9), 202.
5.    Wing BJ, Schaeffer DA, Hendricks TR, Chaum E, Simpson JT. Structural Manipulation of Microcone Arrays for Microsurgical Modification of Ophthalmic Tissues. J. Med. Devices. 2014; 8:034558.
6.    Chaum E. Preclinical Studies of a Novel Microfabricated Device to Treat Corneal Epithelial Disease. Cornea. 2021, 40(1):48-53. PMID: 32769679
7.    Chaum E, Lindner E. A "Smart" Biosensor Catheter and Platform for Dynamic Delivery of Propofol to "Close the Loop" on Total Intravenous Anesthesia. Military Medicine, in press, Jan. 2021 
8.    US Patents: #8,425,596, #8,591,481. US Patents: #9,700,246, #9,983,162; Canada #2,740,421, #2,875,003; EU #2856133

Telemedicine and Clinical Applications of Artificial Intelligence: Dr. Chaum oversees a new ocular telehealth network to provide diabetic retinopathy screening to primary care practices throughout middle Tennessee and the region. We are collaborating with colleagues across the country to use artificial intelligence and "deep learning" methods to improve patient care in diabetes.  , Dr. Chaum and his team developed and implemented "TRIAD", a national telemedical network delivering expert eye care to health disparity communities, establishing a new diagnostic paradigm for remote management of diabetic retinopathy.3 The research generated 30 peer-reviewed publications and over 40 international forum presentations. The TRIAD Network was recognized with an R&D 100 Award, as one of the top 10 life sciences breakthroughs of 2010. In May 2011, Hubble Telemedical received the 2011 Innovation Award from the American Telemedicine Association.
1.    Garg S, Jani PD, Kshirsagar AV, King B, Chaum E. Telemedicine and Retinal Imaging for Improving Diabetic Retinopathy Evaluation, Arch Intern Med. 2012;172(21):1677-80.
2.    H.J. Santos-Villalobos, D.R. Barstow, M. Karakaya, C.B. Boehnen, E. Chaum. ORNL biometric eye model for iris recognition. In proceeding of: Biometrics: Theory, Applications and Systems, 2012 IEEE Fifth Int'l Conference on Biometrics Compendium. 01/2012; ISBN: 978-1-4673-1384-1.
3.    Giancardo L, Meriaudeau F, Karnowski T, Tobin K, Grisan E, Favaro P, Ruggeri A, Chaum E. Textureless Macula Swelling Detection with Multiple Retinal Fundus Images. IEEE Trans Biomed Eng. 2011 Mar;58(3):795-9.
4.    Senter K, Sukumar SR, Patton RM, Chaum E. Using Clinical Data, Hypothesis Generation Tools and PubMed Trends to Discover the Association between Diabetic Retinopathy and Anti-hypertensive Drugs", in the Proc. of the Workshop on Mining Big Data to Improve Clinical Effectiveness in conjunction with the IEEE Conference on Big Data, (2015)pp. 2366-2370.
5.    Chaum E. Detection of Lipemia Retinalis During Telemedical Diabetic Retinopathy Screening. Ophthalmology. 2020 Jul;127(7):900.
6.    Follow-Up Compliance for Patients Diagnosed with Diabetic Retinopathy After Teleretinal Imaging in Primary Care. Stebbins K, Kieltyka S, Chaum E. Telemed J E Health. 2020 Jun 15. doi: 10.1089/tmj.2019.0264.