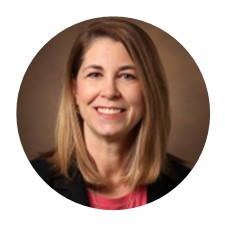 Vicki Jones, MSN, RN, NE-BC
Associate Nursing Officer, Inpatient Nursing Services

Vicki began her career at Vanderbilt in 1996, first as a staff nurse and then moving into the roles of Assistant Manager, Manager, Administrative Director, and Associate Nursing Officer.
Vicki has administrative responsibility for Inpatient Services, the ECMO team, Wound Ostomy & Continence Nursing (WOCN), and the Vascular Access program. In addition to supporting patient and family-centered care, Vicki has a passion for quality improvement, pain management, collaboration in project management, and shared decision-making.  Vicki represents Monroe Carell nationally with the Solutions for Patient Safety (SPS) as a subject matter expert for the Peripheral Intravenous Infiltration and Extravasation (PIVIE) hospital-acquired condition. 
Vicki received her Bachelor of Science degree in Nursing from Harding University in 1994 and received her Master of Science in Nursing from Vanderbilt University in 2012. Vicki holds a specialty certification as a Nurse Executive from the American Nurses Credentialing Center (ANCC).