January 2022
---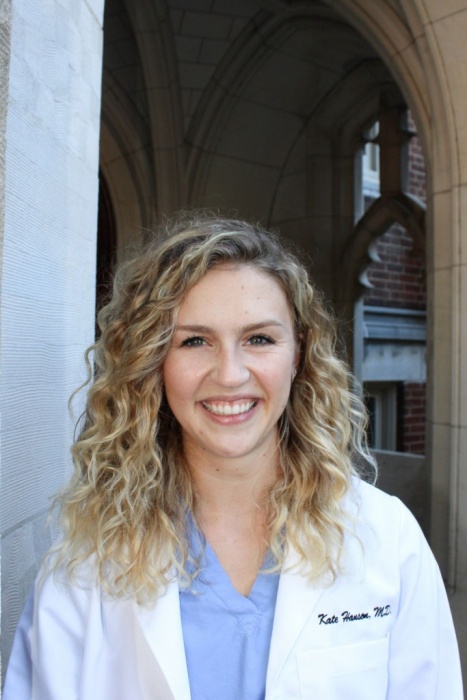 Hey Kate!  Thank you so much for agreeing to be the resident spotlight this month! I feel like there are a lot of things about you that I don't know, especially because of COVID and having just worked together a little, so I was excited to be able to interview you. 
Hi Natalie! Absolutely, thank you for asking! 
How was your holiday break?
It was great! Sean, my fiance, and I went to see his family in the Outer Banks, North Carolina. It was really nice to see his whole family.  They live by the beach and have a view of the water with a dock. It's gorgeous and they get the best sunsets.
That sounds lovely! Did you guys get it the water at all?
We didn't. We had planned to kayak one day, but woke up that morning and it was much too cold. Plus, for me, too high a risk of falling in.
Haha, that sounds so relaxing. I know you guys have been engaged for a while but congratulations on your engagement! How is planning going?
Planning has actually come a long way in the last couple of weeks because I had a week of break. So I have gotten around to thinking about things like the registry and accommodations. I even got my dress fitted the other day which was very exciting. So I feel like I found my little window of time to get stuff done and we are really looking forward to it.
I'm so excited for you guys. Your wedding will be here in Nashville, right?
>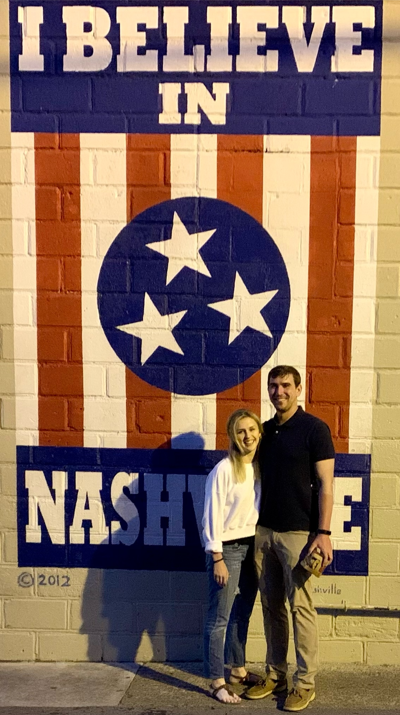 Yes, it will be at the Tennessee State Museum. We will have our friend and families come visit Nashville, some for the first time. So I think it'll be a perfect venue for that.
I agree. I think it'll be a nice time for everyone to come see where you live now! That brings me to… Do you have any siblings? And how many do you have?
I have two older siblings, a sister and a brother. My sister lives in Cincinatti so only about four hours away which is nice. She was just down here last weekend. And then my brother is down in Austin, Texas so I don't see him as much. But he has my only niece so whenever I can get down there, I try to.
Very cool, I'm glad you have some family close by! Now for some rapid-fire questions. What was the last book that you read?
Apart from Weider's? Haha. The last book I read was Trevor Noah's autobiography, Born a Crime. I'm a fan of the Daily Show and I visited South Africa when I was in undergrad so it was interesting to get his perspective. I would recommend it. You can hear his comedic voice, but it is also a tragic story. You get a bit of both.
Haha, Weider's is the correct answer, of course. I've seen his book pop up on my Audible! I'll have to keep it on my list. What was the last film you saw either before or during COVID?
The last movie that I saw in theaters, pre-Covid was Frozen 2.
That was so long ago!
Yea, I don't think we've actually been to a theater since 2019. We just watched the Matrix trilogy in anticipation of the next one coming out although we haven't seen the new one yet.
That's really cool. Next question: what's been the most memorable trip you have taken in your life?
That's a big one. I would say in terms of the trajectory of my life and career, I had a study abroad trip when I was a freshman in college. I went to the Dominican Republic because I was a Spanish major and I studied public health. That sent me off my track to want to go into medicine and also to do law because it gave me insights into how policies and systems impact patients. I feel like it pushed me to where I am now. The experience stayed with me.
I don't want to get too interview-y, but when you applied to medical school, did you know you wanted do you your law degree as well?
I applied knowing I wanted to do some type of dual degree, based in part on my experience in the Dominican Republic. I considered Public Health as well, and then through my initial experiences as a medical student and thinking about it more I decided that law school would give the skillset I was looking for. I applied to law school after I had already started medical school.
That's so neat, Kate. I think a lot of us are excited to see how you use these degrees. How do you predict that your study of law and medicine will intersect in your career?
My degree is technically in Health Law and Bioethics. I have been very focused on the medicine side of things right now. But every day we see the difficult situations our patients face due to the realities of the healthcare system as well as individual questions about what's best for a patient that pushes you to think outside of strictly the science of medicine, so I'm hoping to work in an academic setting where I get to explore those questions. I think being in a setting where people are doing integrated research is where I will spend my time.
We are lucky having Dr. Stimson here utilizing medical and law degrees in his career. I'm sure you both see things and think of questions that none of us would think of because of your backgrounds.
Another question I wanted to ask you… What has surprised you the most about Nashville?
I hadn't spent that much time in this part of the country prior to moving here. Driving down from Minnesota, it was still colder/wintertime up north and I drove into springtime here. I was amazed as there were all these hills and it's so beautiful and green in Tennessee. I've made it a goal of mine to visit the Smoky Mountains before the end of residency. I've enjoyed the parks and hiking trails nearby which was a bit of a surprise to me.
Absolutely! To quite Dixie Chicks, there are a lot of 'wide open spaces' once you get a few miles outside the city.
What would you say has been the highlight of intern year so far? 

You guys are an awesome class and you seem really close. I think it makes it so much better when you can confide in each other. I know that my second-year class has really enjoyed working with all of you. We are excited that we get to do this journey one year ahead of you.That is absolutely my co-residents. Especially the urology residents. There is just no truer answer than that. I feel like we got super lucky, and I love my class.
Just a few more– do you like country music?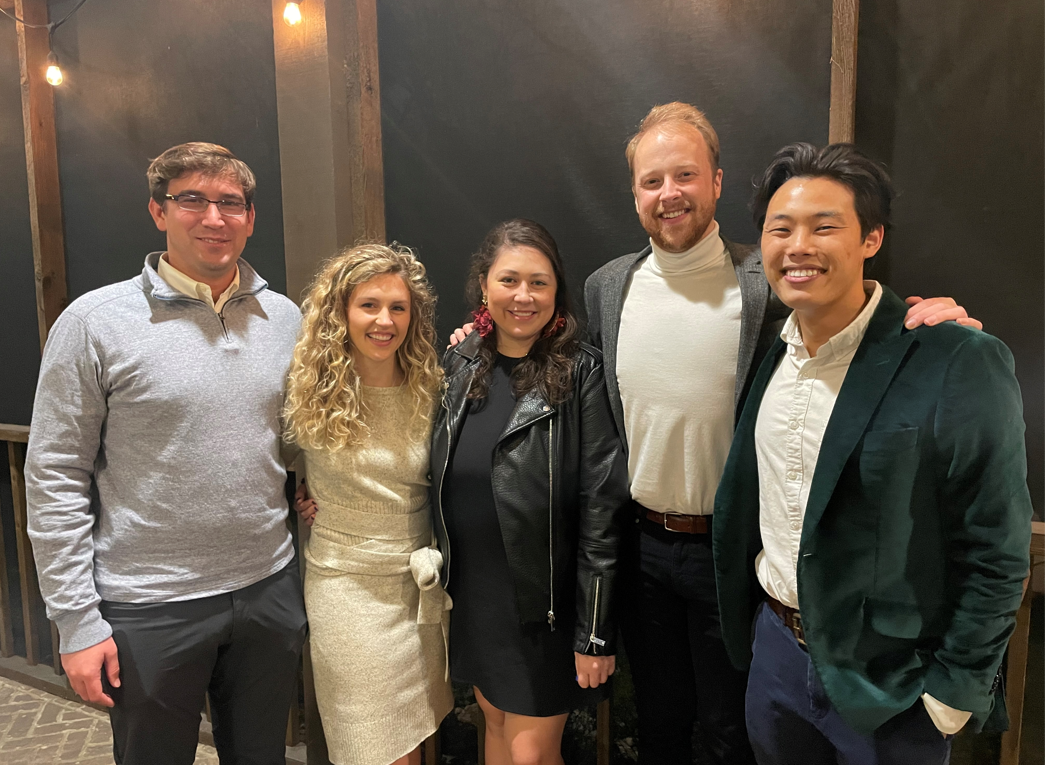 You know what, I don't. It was a bit of a joke in my family when I was coming here. I have never been someone who listens to country music. But, I will say a lot of the radio stations play at least some country so I'm getting more used to it now. I tend to listen to more hip-hop/R&B or 90s music. I've seen Beyonce twice, I love her.
Beyonce is a Queen. What are some of your non-medical hobbies or interests?
I love being outside and hiking. I've been trying to find new gyms and running paths in Nashville. We went down towards Chattanooga and hiked up to a waterfall recently. There is also Percy Warner Park near my house that we've gone to several times.
It is very dog friendly as well! Have you taken Charles there?
Yes I have! Last time I took Charles hiking, he caught the scent of the horses out there and took off running down a trail that we were not supposed to be on. Haha.
Haha. What kind of dog is he?
He is a Shih-tzu/yorkie mix. Just a little guy.
Little but lots of spunk! Kate, that's all the questions I have. It has been great to get to know you more, and I know we can't wait to spend all of our time with you once you are past intern year. I can't wait to see what the next couple years will hold for all of us!
Me too, thank you!
Interview conducted by Natalie Pace, MD