January 2021
---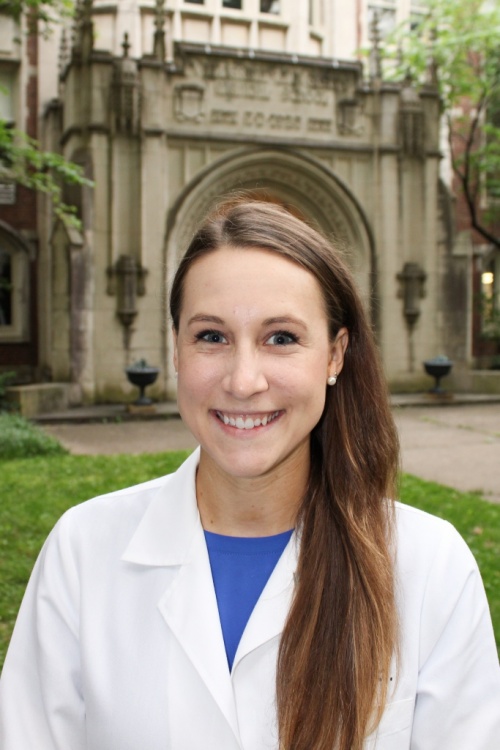 Quick Facts
Hometown: Brighton, Michigan
Undergaduate: Northwestern University
Medical School: University of Michigan
What rotation are you coming off of and what did you like best about it?
I'm coming off of the recon rotation. I had a great experience on the rotation. I loved the opportunity to work with Kaufman and Johnsen the most, both are awesome teachers and super creative. It was cool to learn different ways to approach different problems and situations and I liked the opportunity to expand my surgical creativity.
We are coming off the holidays, tell me about the best gift you have ever received and why?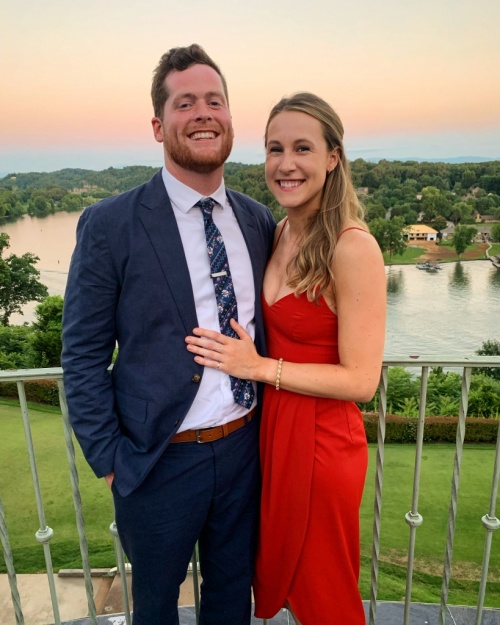 Oof tough question. Andrew got me an apple watch last year for Christmas which I use every day and I am obsessed with. He also once got me a staycation to Opry Mills which was a great surprise. I thought we were just going to the mall, but it turns out it is this whole wonderland hotel experience. We went there and enjoyed good restaurants and had a really nice staycation. 
So how did you an Andrew meet?
We met during second year and there's actually a funny story about right after we started dating. We coincidentally ran into Ben Dropkin and Cyrus at Bearded Iris a few weeks after we started dating. I hadn't really told anyone at that point but the secret was out. Cyrus actually said to him, "You met at the right time, it can only get better from here!"
Our readers likely know that you're not just a cat mom but now a dog mom as well. What is Butter's ideal Saturday? 
Butter's a combination of lazy and stubborn. Her ideal Saturday is to get lots of attention in the morning, weasel her way into treats at every meal we have, take a very short walk, sleep most of the day, and get lots more attention in the afternoon. There would also likely be a bone involved.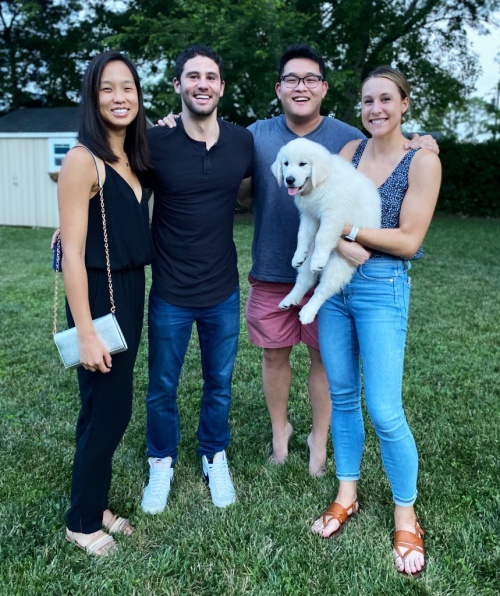 How did you get your start in swimming and what do you miss most about being a start collegiate athlete? 
I started swimming when I was 8 years old. I wanted to do the country club swim team because my friend did it. When I did my first race, I was actually pretty fast, so I kept with it. It feels like forever ago that I swam at that level, but I wouldn't trade the experience for the world.
The thing I loved the most was the camaraderie and team environment. Fortunately, I think we kinda have that in residency, which I know is cheesy to say but it's true. Basically, the relationships that you develop by working so closely with people is what I'll always treasure the most
Corollary: if you could swim in any liquid, what would it be and why?
It would have to be non-viscous because I would want to swim quickly. I actually love limeade, so I think I would go with a pool of limeade. That sounds very refreshing.
What do you miss most about Michigan?
That's easy, I miss the lakes most of all. I love boats, being by the water, in the water or near the water. Some of my best memories from Michigan are spending times with friends and family at lake houses. My grandma lives on a lake and we like to go up there in the summertime.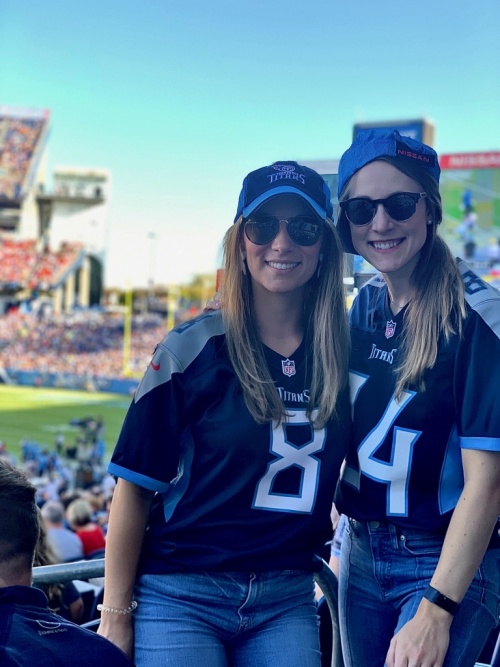 What are you looking forward to most for the first day to hit 75 degrees in Nashville?
I would have to say a day out on Percy Priest Lake on a boat with friends, presuming the pandemic has subsided, and then get a flight of beers at southern grist or bearded iris.
Okay, now some rapid-fire questions:
Best meal in Nashville? Two Ten Jack
Best song of 2020? Every Taylor Swift song, Evermore was the best album
French fries or onion rings? French Fries
Southern Grist or Bearded Iris? Southern Grist because you can get flights and they have better variety
Titans or Preds? Titans
Interview conducted by Jacob Tallman, MD