February 2022
---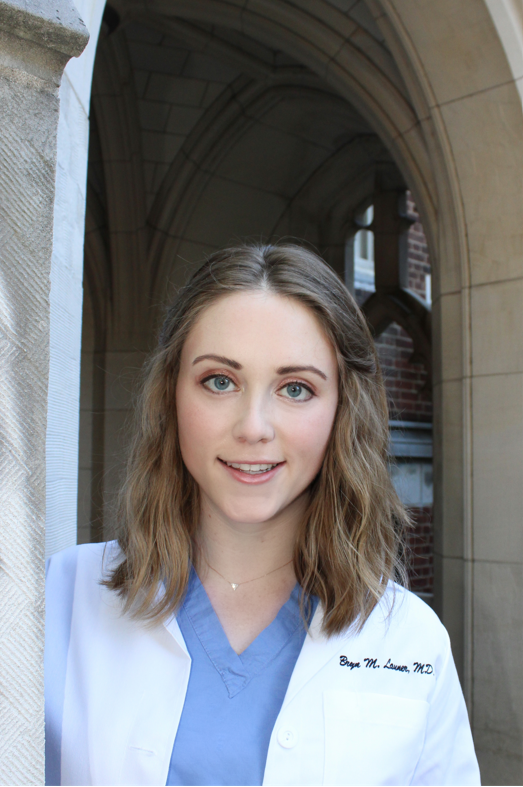 Bryn! We don't get to hang out nearly enough. I am so excited to interview you. For the people, tell us a little bit about where you are from and your first impressions of living in Nashville. 
Well, I was born in Boston during my mom's general surgery residency, but I grew up in Boise, Idaho! I didn't grow up on a farm or anything, but we definitely spent a lot of time outdoors, hiking and backpacking. And whitewater rafting! Did you know that Idaho has the most miles of whitewater river in the whole US?  I went to boarding school on the East Coast and undergrad on the West Coast, and then I went to med school in Colorado. So Nashville is actually the farthest south I've ever been! The first time I ever set foot in Nashville was 12 days after the urology match. I booked a plane ticket the morning I matched and flew out to look at houses. This is so lame, but I cried the first night I was there because I was so excited to be in the city I was going to spend the next 5 years of my life in.  I've loved living in Nashville so far! Everyone is so friendly and down-to-earth. 
Speaking of the match! That's coming up next week! I guess we might not be interns forever. How has the year been for you, and do you have any words of wisdom for our incoming co-residents?
I seriously can't believe we won't be interns forever?! At this point I've become very reliant on saying "Sorry for the dumb question, I'm an intern," and I'm not sure how I'm going to manage without that safety net. The year so far has been honestly everything I had hoped for. I came in ready to feel totally overwhelmed as an intern, and I have been pleasantly surprised at how many different pillars of support there are, from my amazing general surgery co-interns to the senior urology residents who always have my back. In terms of words of wisdom for the incoming baby interns... I would have to say, it's ok to feel like you are NOT the person who should be putting in difficult foleys on your first few weeks when you've done maybe 10 total in medical school! It turns out, a lot of "difficult" foleys aren't actually that difficult, and you will get very good at the common foley consults very quickly! Just remember, always start with an 18Fr Coude in an old man with a big prostate.
Spot on. 18F Coude is the real hero. What are you interests in urology, and where do you expect to be in 10 years?
I really am enamored with the robot! We have a training robot that you can do simulations like putting rings on pegs, and I've been practicing on it when I get free time. I haven't gotten more than a 65% yet... but I'm at least getting double digit percentiles now! In terms of specialty, I think oncology is cool, but I'm still open. In 10 years hopefully I'll be an attending at an academic institution somewhere, maybe on track to become a Program Director? That would be cool!
Okay pivoting away from work, let's talk about your hobbies. For those that don't know, I'll first mention that you are an avid birder. So I have to ask: what's the coolest bird you've seen in Nashville?
Such a good question!! I saw some neat migratory waterbirds earlier on in the year, but I think the coolest one for me so far has been the downy woodpecker that lives in the tree in my front yard. I have a bunch of bird feeders, and this little woodpecker is obsessed with black sunflower seeds. I just got some suet for the winter, but he hasn't caught on yet.
Last but most important, how is Sunny?
Sunny is GREAT as always (for those who don't know, Sunny is Bryn's old, blind dog who she adopted from the streets of LA). She just learned how to sit after 5 years of trying. She still doesn't know what a toy is, but she at least enjoys treats. She hasn't been enjoying the cold weather as much, but it's better than it was in Denver!
Rapid fire!
Post call go to food? Breakfast burritos from 51st street deli 
Favorite drink? Dr. Robot, a sour beer by Monday Night Brewing 
Item on your bucket list? Travel to Iceland and tour around their geological sites 
Favorite spot in the hospital? Going shopping for catheters at central supply in the basement
Interview conducted by Kate Hanson, MD