December 2020
---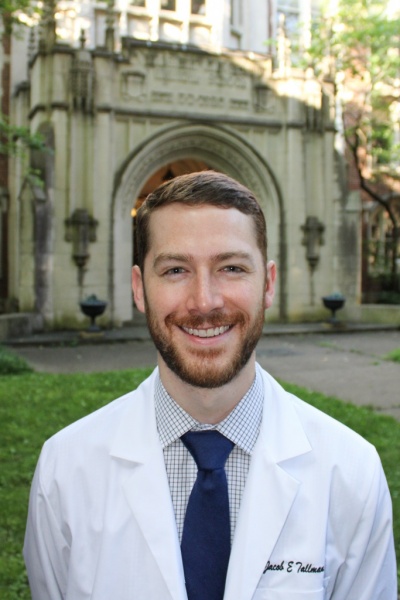 Welcome Jacob Ezra Tallman, welcome to the hotseat, with a literal resident spotlight on his face. 
Like a colposcopy light to the face.
So, you survived second year, how does that feel? 
Part of me is relieved, as it's a strenuous year, part of me is proud of the accomplishment, but there's still a lot of work to be done.  I was just chatting with my other PGY3 co-residents, and discussing how we are close to the real-half-way point of residency, and that's terrifying, since I often feel like I don't know how to 'do urology, yet.' 
What is a one or two sentence soundbite you can give to the PGY2s, who are almost halfway through second year?
Keep snacks in your VA office.  Ask for help. It may feel like you have to do everything on your own, but we've all been there and want to help. Lastly, there is light at the end of the extended tunnel, even in February when you may literally never see the sunlight. 
What is third year like, how has that transition been? 
Third year is great. I went from 'Johnny Raincloud' to 'Third Year Jake.' Its been really fun. I started on endourology, with Drs. Miller and Hsi and it was fantastic. Now being here at the VA with a great squad, has been much better than expected.  Now looking forward to being on research, or a potential 3 month Covid rotation. It's going to be great. 
Let's back track a little bit.  Where did you grow up? 
I grew up in Deerfield Illinois, a northern suburb of Chicago, close to Evanston and Highland Park, Northbrook.  Spent my first 18 years, there and then when I was a senior in high school my dad swapped jobs and my parents moved to New York, as I was transitioning to college at Cornell, they were moving with me to NYC. 
Cornell, never heard of it, how long were you there? 
It took me like 8-9 or years to graduate. No, just joking, I was there for 4 years, and fell in love with the Finger Lakes Region. I am one of the increasingly rare residents who went straight through, high school, college for 4 years to straight to med school. 
Which makes you how old? 
13. Actually 28.
And when did you meet Alli throughout this process?
Spelled A-L-L-I for the crowd. She gets a kick out of how often that is misspelled at Starbucks.  She swears it has never once been spelled correctly. Alli and I met our freshman year at Cornell. It's a funny story actually. My fraternity was holding a sledding party.  Cornell is up on a hill, so during snowy February in Ithaca, we had a mixer with her sorority. Classic Sledding and Hot Chocolate, the most PG fraternity event of all time.  We talked for a long time there. I actually later learned that all of her friends were behind my back ushering for her to leave so they could go to a better part with hotter guys and better drinks. We dated all through college and the rest is history.  I proposed after 8 years, and we got married during second year which may seem impossible but it was doable. 
We know about your job, what does she do for work?
She is a dietician. She works for a company called Amerita, it's a home infusion company, she manages TPN and tube feeding patients and she also runs her own small business called, Nourishedroutes, they do private nutrition consulting and small group webinars.
What is a common mistake we make as urologists from a nutritional perspective, that she has voiced concerns about? 
On the inpatient side of things, not so much urology, but most surgeons and doctors in general don't know the indication for keeping someone on TPN.  They get consults all of the time for folks on TPN, who are totally capable of PO nutrition.  On the outpatient side she's my personal dietetics consultant.  If I even need a refresher on what foods have oxalate, I just ask her. 
RAPID FIRE ROUND. 
Favorite Go to food at Vandy? McCoy Burrito Friday, but don't let that secret get out
Post-call ritual? Shower. I like to take a long, or well-longer than usual, shower.  If it's a weekend, I like to cook nice food.
Favorite case in urology, or a recent one you loved? That robotic simple prostate was cool, honestly, I really like TURPs, that's the best case on this VA rotation. 
What kind of urology are you going to be practicing in 10 years? I'm interested in oncology, the endo rotation got me excited about endo-stuff, but I'm really holding out until the Intro to Oncology rotation to finalize big decisions.
Favorite Foley catheter? 28f hematuria. Why do they even make those? 
Final question, hypothetical, Alli is having a baby, it just so happens to be your baby. She is about to go into labor. However X sports franchise is playing in their respective one game championship, or game 7 of a series.  What sports franchise do you leave the birth of your child to go fly across the country to see? None, I'm not missing the birth of my child, but if Alli is not reading this, the Cubs. 
Interview conducted by Josh Calvert, MD