June 2020
---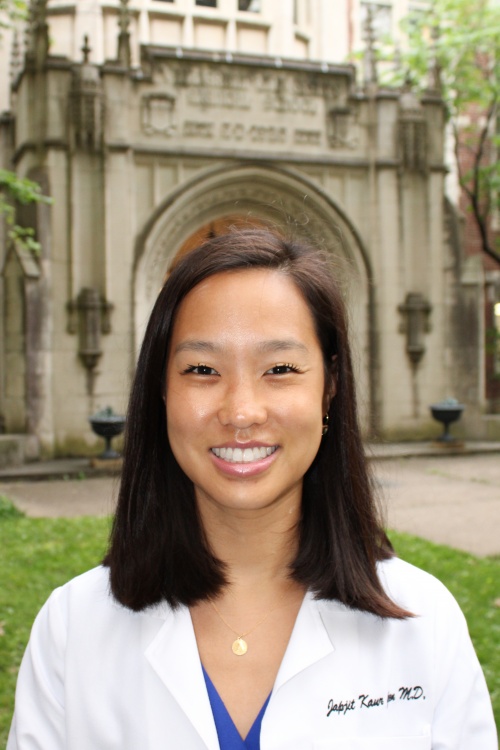 About
Hometown: Lake Villa, IL
Undergrad: Vanderbilt University
Medical School: University of Illinois College of Medicine
Alice, thanks for agreeing to be the Monthly Resident Spotlight. When I was tasked with choosing the next months spotlight, my wife immediately said, "Alice!" So, you have a couple fans in our home. Tell me, as this academic year ends, what is one thing you have enjoyed most about 3rd year and one thing you are most looking forward to in 4th year?
I am honored! During second year, we are burdened with a lot of clinical responsibilities including the brunt of the call. This year was nice to be relieved of some of those responsibilities. I was able to spend some more time reading and really think about my future professional and personal goals. The weekends off were a huge plus! I got to spend more time with Nick, my husband, and hang with all three of my co-residents.
For this coming year, I have a lot to look forward to. First and foremost, I am really excited to be done with junior call. Also, I am excited to begin doing some bigger surgeries and learn some of the nuances of surgical techniques. Finally, it will be nice to step into a "pseudo-chief" role and take on more responsibility.
Speaking of your husband, Nick, I know you guys have been doing the distance marriage thing. Tell us what he is up to and how you two have been able to support one another from a distance?
For the last 2 years, Nick has been getting his MBA at Kellogg at Northwestern University. I think it was a sneaky, smart ploy for him to get away during second year. Luckily, Nick and I are pretty independent, so though long distance is definitely challenging, we have handled it pretty well (though maybe he would disagree, especially when he was traveling the world and I was stuck on call...). We talk to each other multiple times during the day and make sure to stay updated on each other's lives. This year, he has been able to visit quite a bit more and I went on a few business school trips with him, which were fun. And thanks to a global pandemic, he is back in Nashville finishing his MBA remotely.
I'm glad to hear the love birds are back together. So, Alice, where do you see yourself in 10 years?
Oh man, that is a tough question. Professionally, I'm still trying to figure out. I enjoy so many aspects of Urology, I am having a hard time narrowing it down. By the way, who put you up to this question? But regardless of what specialty I choose, I hope that I continue to be challenged and fulfilled in my job. I don't know if I'll be able to beat the current crew that we have, but working with amazing colleagues is definitely high on my list.
Personally, I don't know where we will physically end up. But having a nice home without neighbors two feet away is a goal. Definitely dogs, probably kids. Oh yeah, and Nick is there too, if he's lucky.
Who do you consider a non-Urologic role model? Why?
This reminds me of my interview with Dr. Chang for residency. He asked for my favorite quote. I stood up and quoted Eowyn from The Lord of the Rings, "I am no man!" Needless to say, I am glad that wasn't the only interview that day. But Eowyn from The Lord of the Rings (which is the greatest movie ever made) embodies everything a heroine should be. She is strong, righteous, steadfast in her beliefs, and doesn't let social constraints dictate her actions.
I have just a few rapid fire questions to finish up the interview.
Beach house or Mountain cabin?
Beach house
Dogs or cats?
Dogs, all the way
5-star restaurant or street vendor?
Street vendor, though very biased as my 5-star restaurant experience is limited.
Favorite surgery?
Urethroplasty and open nephroureterectomy
Latest COVID-19 Netflix binge?
Kobe Bryant will always by the GOAT to me, but MJ is a close second after The Last Dance (I know, it's not on Netflix)