Applications possibly affected by the transition to @vumc.org
What do I do if I see a pop-up saying Skype for Business is attempting to connect?
Some of our transitioned users have experienced a pop-up message regarding Skype after the changeover to their new email address. If you receive a popup requiring "Trust" or "Certificate" information, please take the following actions:
Check the "Always trust this server, do not show me this again" box
Click the "Connect" button
Information on Safari Books email validation
If you have any problems with Safari Books, there are a few simple steps you can take to troubleshoot:
Clear your cache and cookies. If you need help doing so, please consult these instructions.
Close all browsers and re-open
Open a new or a different browser
Use the reset password link
If that doesn't work, contact Safari Books Support
Outlook
If you are prompted for log-in credentials when logging in to Outlook, use the following format: Vanderbilt\VUNetID
If you encounter a pop-up menu when logging in to Outlook, please click "Yes" or "OK" and continue with your log-in. Our technical teams are working on a final resolution to this issue.
Accellion
Save your Accellion files to your computer before your transition date. After you receive your new @vumc.org email address, on your first Accellion log-in, do so in the web version of Accellion (https://accellion.mc.vanderbilt.edu).
More information can be found in the following Knowledge Article: 
https://pegasus.mc.vanderbilt.edu/ViewKnowledge.aspx?id=13401.
Other FAQ
Let people know you have moved.
Will I lose any of my information during the migration?
Per the @vumc.org email transition plan, there should be no data loss for any users.
Will these changes affect my saved emails?
No. The move to the @vumc.org email domain will not affect any emails saved on the @vanderbilt.edu domain.
Will I get a new email address?
Yes. As part of the migration, all users transitioning to the new @vumc.org email solution will be given an @vumc.org address. When that happens, users will send and receive emails at the new address.
Will I have to use different software to access my email?
No. Outlook will continue to work after the migration.
Will I have to update my Outlook client?
There should be no impact to the Outlook client. The VUMC IT Transition team is working to minimize any changes to end-user systems. You will, however, need to update any log-in information for non-Vanderbilt accounts that you have used your Vanderbilt email address to sign-in on.
When will I see the changes?
The VUMC IT Transition team has already begun the email domain migration process, which is projected to last well over a year. Most users will not notice any changes until the last phase of the @vumc.org email project.
How will I know when I get my new email address?
The VUMC IT Transition team will send emails to each customer with more information as each phase approaches.
Will any of my applications be affected?
The email migration technical team carefully assesses each department and each of their applications before their alias is migrated in order to find out and mitigate any potential issues before any changes are made.
Can I go ahead and migrate my email address now?
Departments are assessed ahead of time and approved by top leadership before they are migrated to the new @vumc.org email domain.
Will my @vanderbilt.edu email address be deactivated when I get my @vumc.org address?
No. The @vanderbilt.edu email address will not be deactivated when you get your new @vumc.org email address. Users are receiving an additional email address (@vumc.org), which will be set as their primary email address. This means you will send emails from @vumc.org, not @vanderbilt.edu.
Is my @vanderbilt.edu address going to go away eventually?
Yes. The @vanderbilt.edu address will eventually go away. However, due to the nature of the email environment and its potential impact on users, the VUMC IT Transition team is taking its time to complete the full project.
The VUMC IT Transition team is working on a detailed timeline for full separation. We do not have a firm date set for removal of the @vanderbilt.edu address, but can assure ample notice will be given prior to its retirement.
Are emails addressed to the @vanderbilt.edu address being forwarded to the new @vumc.org email?
Emails addressed to you @vumc.org and @vanderbilt.edu are delivered to one central mailbox. You will continue to receive mail at both addresses until we retire @vanderbilt.edu from use for VUMC employees.
What happens to email currently stored within the @vanderbilt.edu environment?
The environment is not changing. You will have access to all your emails and folders at this time.
What will happen to my shared mailbox?
Shared mailboxes will not be receiving the @vumc.org address at this time.
Someone at the Medical Center receives a phishing email nearly every day. An attacker falsely identifies himself or herself as a trustworthy source and tries to exploit someone with an email that directs them to a fake website; usually under the auspices of being from human resources or as an email update. Despite awareness of such attacks, phishing continues to be used successfully in increasing numbers.  Symantec, an industry leader in cybersecurity, reported that phishing rates decreased slightly in September, down to one in 2,644 emails. Email remains the number one attack method in the world of cybercrime. However, pop-up warnings, strange cold calls, and confusing search results are also phishing attempts.
Some facts about phishing:
78% of people claim to be aware of the risks of unknown links in emails but click them anyway
Phishing emails continue to be a primary delivery method for viruses and malware
Phishing volume has grown by 33% in the five most targeted industries since 2016
Healthcare is one of the top five most targeted industries 
Why do phishing attempts continue to work when we know better? 
Attackers have learned to craft their messages to prey on emotions and desires that are common to most everyone:
Concern: "IT has detected an issue with your account. Log-in here immediately."
Confusion: "Your order has shipped. Log-in here for tracking information."
Greed: "Click here to receive your free concert tickets!" Attackers make phishing attacks even more difficult to detect by customizing their message specifically for their victims. This practice is referred to as spear phishing. 
For example, an attacker might craft an email to appear as if it came from the HR department and use what appears to be official company credentials.  These types of messages can be very difficult, even for experienced users to detect.
The example shown here shows a potential attack on a VUMC employee and plays on concern and greed with a promised 13.86% pay raise.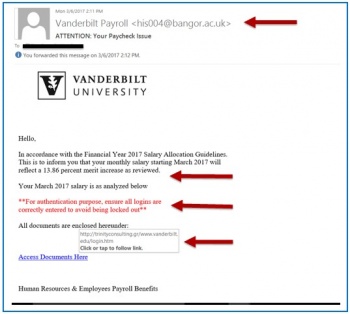 You can protect yourself and VUMC from phishing attempts
The number one method to avoid falling victim to a phishing attack is continuous education and awareness of the threat.  Know how attackers are tricking people and the signs to look for.
Five tips for spotting an email phishing attempt:
1. Check embedded links. Hover over the link to see the URL, but don't click it. Never click on any links or open any attachments that you are not expecting to receive. 
2. Verify the display name of the sender. Do you recognize them?
3. Check the body of the message.
Does it contain mistakes or strange language?
Does it contain threatening or urgent language?
Check the signature of the message. Most professional emails will have a signature line.
Never give up personal information. VUMC will never ask for your personal information in an email.
4. If you do receive an email from someone you know that seems off, give them a call to verify they sent it to you before opening it. 
5. If you are unsure about an email, call the Help Desk at 343-HELP (3-4357) or send the email to the VUMC IT Security Operations Incident Response team at phishing@vumc.org and ask them to verify it for you.
The entire Medical Center workforce can play a part in identifying and eliminating the effects of phishing emails. By reporting a suspicious email, someone can protect their data, and potentially data in their department, and across VUMC.