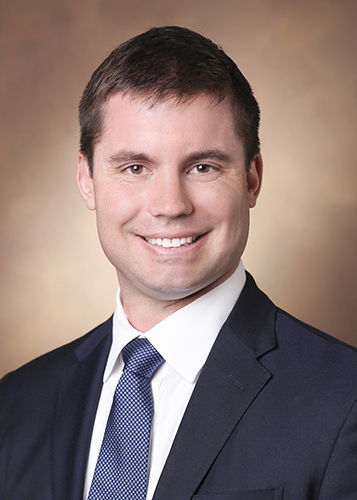 William G. McMaster, Jr., MD
Medical Center East - North Tower
1215 21st Avenue South
Nashville
Tennessee
37212
Dr. McMaster joined our surgical faculty in the Department of Cardiac Surgery after completing the fellowship program in Thoracic Surgery at Vanderbilt University Medical Center, Nashville, TN. His clinical areas of expertise include adult cardiac surgery, heart transplantation, cardiac arrhythmia surgery, mechanical circulatory support, and transcatheter valve replacement. 
Dr. McMaster board is certified by the American Board of Surgery in General Surgery and board eligible at the American Board of Thoracic Surgery in Thoracic Surgery. 
Research
Dr. McMaster's research interests include adult cardiac surgery, heart transplantation, arrhythmia surgery, hypertension, inflammation (T cell activation), and surgical resident education. His recently published articles include: LNK Deficiency Promotes Acute Aortic Dissection and Rupture, JCI Insight;  Sirt3 Impairment and SOD2 Hyperacetylation in Vascular Oxidative Stress and Hypertension, Circulation Research, and Gastrointestinal Bleed from a Left Ventricle to Colonic Interposition Graft Fistula following an Esophagectomy, Thoracic and Cardiovascular Surgical Report.
Education
Dr. McMaster earned a Bachelor of Science degree in Genetics from the University of Georgia, Athens, GA. He received his MD from Medical University of South Carolina, Charleston, SC and completed his internship and residency in general surgery at Vanderbilt University Medical Center, Nashville, TN. He also completed a fellowship in Thoracic Surgery at Vanderbilt University Medical Center.

Contact
Vanderbilt Department of Cardiac Surgery
1215 21st Avenue South
Medical Center East, North Tower, Suite 5025
Nashville, TN 37232
Phone: (615) 343-7363
Patients
Vanderbilt Department of Cardiac Surgery
Medical Center East, North Tower, Suite 5025
1211 21st Avenue South
Nashville, TN 37232
FAX:  (615) 936-7582
Appointments: (615) 322-2318
WEBSITE: Department of Cardiac Surgery