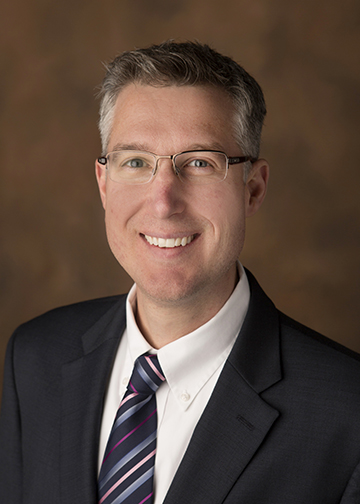 Timothy M. Geiger, MD, MMHC
Associate Professor of Surgery
Vice Chair for Network Surgical Strategy & Development
Section of Surgical Sciences
Executive Medical Director
Surgery Patient Care Center
Vanderbilt University Adult Hospital
Appointment: (615) 322-2063
Dr. Timothy Geiger is a member of the American College of Surgeons, the American Society of Colon and Rectal Surgeons, and the Society of American Endoscopic and Gastrointestinal Surgeons. His clinical interests include all aspects of colon and rectal surgery with an emphasis on minimally invasive colorectal procedures. His specialties include:
Transanal Endoscopic Micro-Surgery (TEMS) rectal surgery/Transanal Minimally Invasive Surgery (TAMIS)
Rectal Cancer
Colon Cancer
Diverticulitis
Crohns Disease and Ulcerative Colitis
Dr. Geiger joined Vanderbilt University Medical Center as Assistant Professor of Surgery in the Division of General Surgery in August of 2010. Prior to his appointment at Vanderbilt, he completed a fellowship in colon and rectal surgery at the Lahey Clinic in Burlington, Massachusetts. In 2009, he completed his residency in general surgery from the University of Missouri. During his residency, Dr. Geiger received the Outstanding Resident Teaching Award in both 2006 and 2007 and in 2010 the Medical School Teaching Award. He graduated magna cum laude with a B.S. in Finance and Banking from the University of Missouri, and went on to receive his M.D. degree from the University of Missouri School of Medicine in 2004. That same year, Dr. Geiger received the Donald Silver Award for Excellence in Vascular Surgery, as well as the Marion S. DeWeese Award for General Surgery.
Research and Publications:
In addition to his clinical practice, Dr. Geiger is active in several research projects studying colon cancer and colon cancer screening, laparoscopic colon surgery and fast track /enhanced recovery postoperative protocols. He has presented numerous peer-reviewed abstracts and has been published in such renowned peer-reviewed publications as Seminars in Colon and Rectal Surgery, Journal of the American College of Surgeons, American Surgeon, International Journal of Colorectal Disease and Surgical Endoscopy. Some of his abstracts are online at PubMed.
Meet Dr. Geiger
Colon and Rectal Surgery Center