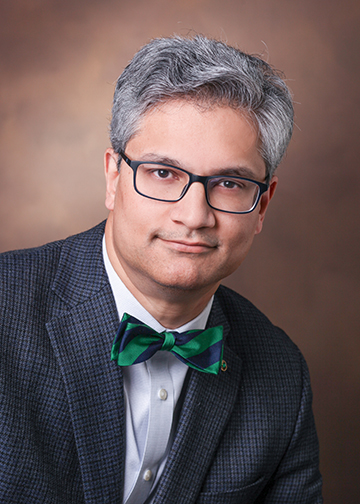 Sunil K. Geevarghese, MD, MSCI, FACS
Associate Professor of Surgery, Biomedical Engineering, Radiology & Radiological Sciences
Division of Hepatobiliary Surgery & Liver Transplantation
Section of Surgical Sciences
Medical Director, Transplant Perioperative Services
Vanderbilt University Adult Hospital
Oxford House
Nashville
Tennessee
37232-4753
A native of Tennessee, Dr. Geevarghese graduated from Vanderbilt University School of Medicine with the Coniglio Prize in Biochemistry and the Scott Prize in Surgery. He remained at Vanderbilt for general surgery residency and performed liver transplant research in the laboratory of C. Wright Pinson, MD, MBA. Fellowship training in multiorgan transplant and hepatobiliary surgery followed at the Dumont-UCLA Transplant and Liver Cancer Center under the tutelage of Ronald W. Busuttil, MD, PhD. There he received the Fujisawa Clinical Achievement in Transplantation Award.
The son of distinguished career educators, Dr. Geevarghese has made surgical education his major ongoing work. Recognizing a major gap in perioperative resident education, he devised the Educational Time-Out to formalize preoperative goal-setting during the surgical time-out and to provide feedback using the SIMPL app. He created the Vanderbilt-American Society of Transplant Surgeons (ASTS) Transplant and Hepatobiliary Surgery Fellowship which offers a 2-year fellowship as well as an internal track combining residency and fellowship into 6 clinical years.  Given the rising tide of burnout among healthcare providers, he founded the Vanderbilt Resilience Rapid Response Team, a team of residents and faculty specially trained to facilitate early recognition and support. A sought-after educator in transplantation, he has lectured for over a decade in Vanderbilt Schools of Medicine, Nursing, and Management.  For his efforts in surgical education, he was elected to membership in AOA in 2014 and received the coveted Robert S. McCleery Master Teacher Award for Surgical Resident Education in 2017. A busy clinical hepatobiliary and transplant surgeon with a regional referral base, he was named to the Vanderbilt Physician Council for Clinical Service Excellence in 2018. He recently received the inaugural 2019 ASTS Pipeline Award which recognizes dedication to the transplant surgical experience of medical students and residents through recruitment, research and mentorship.
Dr. Geevarghese has been active nationally in several roles.  He serves as member of the Wellness Taskforce and Chair of the Membership & Workforce Committee of the ASTS, Chair of the Education & Training Committee and an Executive Council Representative of the Southeastern Surgical Congress, and member of the Executive Council of the Society of University Surgeons.  Over the last decade he has mentored twenty students and residents, nine of whom have chosen careers in transplant surgery, three of whom have become associate program directors.
Education
1990 B.A., Chemistry, Magna Cum Laude, University of Tennessee, Chattanooga, TN
1994 M.D., Vanderbilt University School of Medicine, Nashville, TN
2006, Master of Science in Clinical Investigation (M.S.C.I.), Vanderbilt University School of Medicine
Postdoctoral Training
1994 - 2000 Residency in General Surgery - Vanderbilt University Medical Center
2000 - 2002 Fellowship in Multiorgan Transplantation and Hepatobiliary Surgery - UCLA Hospital, Los Angeles, CA
2004 - 2006 Research Fellowship in Hepatobiliary Oncology and Liver Transplant - Vanderbilt University Medical Center
Publications and Presentations
Dr. Geevarghese is a reviewer for the journals Oncology, Cancer, American Journal of Surgery, American Journal of Transplantation, Journal of the American College of Surgeons, Surgical Innovation and Annals of Surgery. Review some of his abstracts on PubMed.