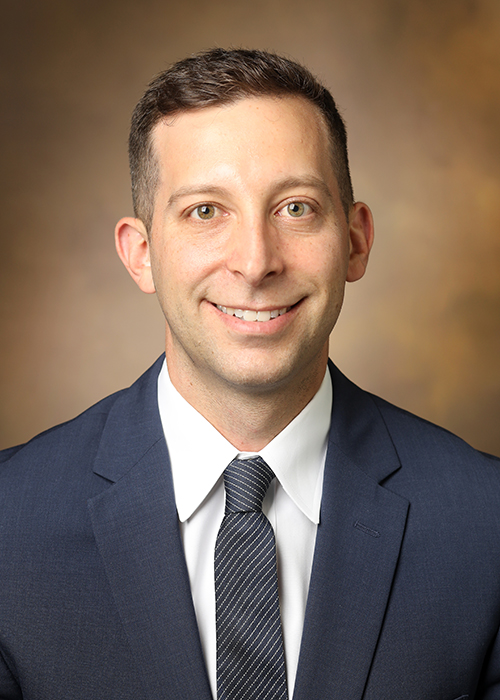 Scott Zuckerman, MD, MPH
Vanderbilt Sports Concussion Center
Assistant Professor of Neurological Surgery
Department of Neurological Surgery
Vanderbilt Spine Center
719 Thompson Lane, Suite 23108
Nashville
Tennessee
37204
Clinic Phone
Clinical/Appointment: (615) 875-5100
Dr. Zuckerman joined the Department of Neurological Surgery as Assistant Professor and Co-Director of the Vanderbilt Sports Concussion Center. His clinical interests include the surgical treatment of all spinal disorders, including degenerative spine disease, primary and metastatic spinal tumors, spinal trauma, sport-related spine injuries, and adult spinal deformity. His practice also includes the treatment of sport-related concussion, traumatic brain injury, and peripheral nerve pathology. 
Research
Dr. Zuckerman's research has focused on clinical spine outcomes, sport-related concussion, traumatic brain injury, global neurosurgery, and neurosurgical education. Dr. Zuckerman has authored over 300 peer-reviewed publications and given over 80 national podium presentations. He has published in the Journal of Neurosurgery, Neurosurgery, American Journal of Sports Medicine, and the Journal of the American Medical Association (JAMA). Some of his presentations include: "What Are the Consequences of Sub-Concussion?" at the 2017 Annual National Neurotrauma Symposium and "The Sports Neurosurgeon and Pre-Participation Screening" at the 2019 American Academy of Neurological Surgeons Meeting.
Memberships, Awards and Honors
Dr. Zuckerman has received several awards throughout residency and fellowship, including the Charles Kuntz Scholar Award, ThinkFirst Injury Prevention Award, Depuy Synthes Award for Research on Brain and Craniofacial Injury, Vanderbilt Neurosurgery Resident Teaching Award, and induction into the Alpha Omega Alpha Honor Society. He is an Unaffiliated Neurotrauma Consultant for the National Football League (NFL) and a member of the NFL Head, Neck and Spine Committee. Dr. Zuckerman currently serves in the U.S. Navy Reserves and received the 2020 Alfred Award for Military Distinction from Officer Training Command in Newport, RI. 
Education
Dr. Zuckerman earned his BS degree from Cornell University, Ithaca NY, graduating magna cum laude. He received his MD from Vanderbilt University School of Medicine, where he served as Class President for four years and was awarded the Vanderbilt University School of Medicine Award of Distinction. He completed his Neurological Surgery residency training at Vanderbilt University Medical Center, during which he also obtained an MPH in Epidemiology from the T.H. Chan Harvard School of Public Health and completed enfolded rotations in Spinal Oncology at M.D. Anderson Cancer Center in Houston, TX and Peripheral Nerve Surgery at the Mayo Clinic in Rochester, MN. Following residency, he served as the Cornell University Global Neurosurgery Fellow at the Muhimbili Orthopaedic Institute, Dar Es Salaam, Tanzania, where he spent 6-months implementing a Spine Trauma Protocol to decrease the time from hospital admission to surgery. To finish his training in complex spinal disorders, he completed a Comprehensive Adult/Pediatric Spinal Deformity Fellowship at Columbia University Medical Center in New York, NY.
Academic Office
Vanderbilt Neurological Surgery
Village at Vanderbilt
1500 21st Avenue South, Suite 4340
Nashville, TN 37212
Phone: (615) 322-1883
Fax: (615) 343-6948