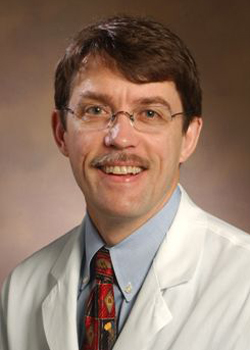 Samuel J. McKenna, DDS, MD, FACS
Professor and Chair of Oral & Maxillofacial Surgery
Department of Oral & Maxillofacial Surgery
Medical Center North
1161 21st Avenue South
Nashville
Tennessee
37232
Dr. Samuel J. McKenna completed his medical degree and residency at Vanderbilt and has been contributing since then as a faculty member, former director of the Oral Surgery Residency, and, as of June 2008, as professor and chair of the department.
His clinical interests include both vital and routine services:
Dental Implant Reconstruction
Facial and Jaw Reconstruction
Facial Trauma
Skeletal Facial Deformities
Total TM Joint Replacement
Facial Trauma and Post-Traumatic Reconstructive Surgery
Surgical Management of Obstructive Sleep Apnea
Dental Implants
Cysts and Tumors of the Jaws
Secondary Repair of Cleft Lip/Palate
Routine Oral Surgical Services, Including 3rd Molars (Wisdom Teeth) and Other Dental Extractions
Education
D.D.S. Degree: University of California School of Dentistry - Los Angeles, 1980
M.D. Degree: Vanderbilt University School of Medicine, 1983
Board Certifications
Oral and Maxillofacial Surgery, American Board of Oral and Maxillofacial Surgery, Certified 1987
Postgraduate Training
Vanderbilt University Medical Center
For referral to Dr. McKenna have your physician contact us:
E-mail: samuel.mckenna@vumc.org
Phone: (615) 343-9404
Fax: (615) 343-9397
Appointments: (615) 322-2377
Research Information
Dr. McKenna's research has included areas such as temporomandibular joint surgery, oral manifestation of systemic disease, and virtual surgical planning in the management of skeletal facial deformities. He is an invited lecturer in the dental and medical communities at Vanderbilt and beyond.