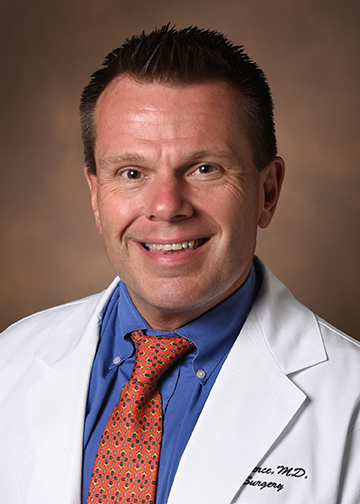 Richard A. Pierce, MD, FACS
Assistant Professor of Surgery
Division of General Surgery
Division of Veterans Affairs General Surgery
Phone
Appointments: (615) 322-2063
Dr. Pierce is originally from the New York/New Jersey area, but primarily grew up in Northern Virginia just outside of Washington D.C.  He earned his Bachelor's of Science degree from Duke University with a double major in Zoology and Russian and a Certificate in Molecular Biology.  Dr. Pierce then attended the University of Virginia for his graduate work, completing a combined MD/PhD program in 2002.  He earned his PhD in Microbiology and Immunology, with a focus on the Human Major Histocompatibility Complex and the identification of peptide antigens involved in melanoma recognition and bone marrow transplant rejection. He went on to perform his General Surgery Residency at Washington University in St. Louis.  While there, he spent 2 additional years in the laboratory of Dr. Brent Matthews studying the etiology and treatment of routine and complex hernias, as well as advanced topics in general minimally invasive surgery.
Dr. Pierce then completed an advanced Laparoscopic and Endoscopic Surgery Fellowship under the guidance of Dr. Lee Swanström in Portland, OR, specializing in minimally invasive surgical and endoscopic techniques and the treatment of diseases of the foregut.
He next joined the faculty of the Duke University Department of Surgery as an Assistant Professor for 4 years at Duke Raleigh Hospital in Raleigh, NC before accepting his current academic appointment as an Assistant Professor of Surgery at Vanderbilt University Medical Center and the Nashville Veterans Administration Hospital.  He previously served as a Lieutenant Commander in the US Navy Reserve for 9 years before being honorably discharged in 2013. Currently, he performs all aspects of general surgery while focusing on minimally invasive foregut surgery and routine and complex hernia repair, including athletic pubalgia, or "sports hernia".
Dr. Pierce has coauthored 3 major research grants and more than 25 peer-reviewed publications and book chapters.  He acts as an ad hoc reviewer for the journals Surgical Endoscopy, Surgical Innovation, and the Journal of the American College of Surgeons, and serves on multiple SAGES Committees.  His research interests include identifying the molecular mechanisms of hernia formation and recurrence as well as population and outcomes-based hernia research.  He is also active in the field of studying and implementing novel minimally invasive techniques for the surgical treatment of diseases of the foregut, including GERD, paraesophageal hernia, and achalasia.
Meet Dr. Pierce
WEBSITE