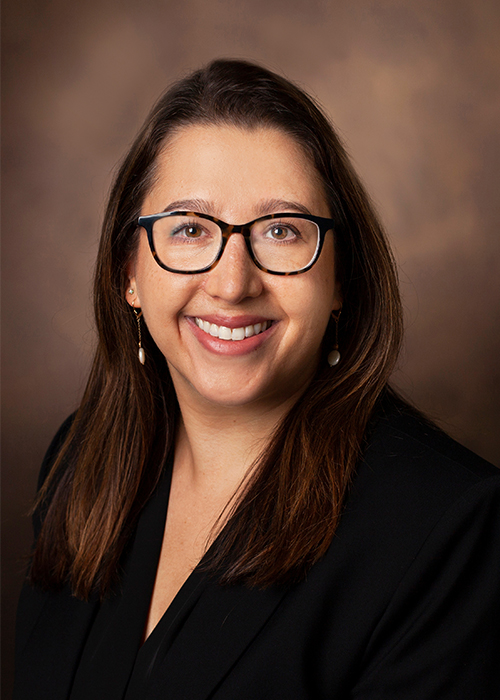 Rachel Appelbaum, M.D.
Assistant Professor of Surgery
Division of Acute Care Surgery
Dr. Appelbaum joined our surgical faculty in the Department of Surgery as an Assistant Professor, upon completion of her fellowship in Surgical Critical Care and American Association for the Surgery of Trauma Acute Care Surgery at Atrium Health Wake Forest Baptist, Winston-Salem, NC. Dr. Appelbaum's patient care interests are in trauma, critical care, and emergency general surgery.
Research
Dr. Appelbaum has extensively researched surgical trauma and related safety practices. Another primary focus of her research is the development of guidelines to improve clinical outcomes in acute care surgery. Included among her recent publications in numerous peer-reviewed journals are: Transitions of Care: Healthcare Handoffs in Trauma, American Journal of Surgery; Improving the Culture of Safety: A Prospective Handoff Initiative from the OR to the Trauma ICU, The American Surgeon; and Management of the Open Abdomen: A Systematic Review with Meta-Analysis and Practice Management Guideline from the Eastern Association for the Surgery of Trauma, The Journal of Trauma and Acute Care Surgery.
Memberships
Dr. Appelbaum is board-certified in General Surgery by the American Board of Surgery, with an added qualification in Surgical Critical Care. She holds membership and committee positions in the Eastern Association for the Surgery of Trauma and the American Association for the Surgery of Trauma. She is also a member of the Society of Critical Care Medicine and the Association for Academic Surgery.
Education
Dr. Appelbaum earned her Bachelor of Science degree from the University of Georgia, Athens, GA in Biochemistry and Molecular Biology with a minor in Spanish. She received her medical degree at the University of South Florida Morsani College of Medicine, in Tampa, FL. Her internship and residency in General Surgery were completed at Lehigh Valley Health Network, in Allentown, PA. This was followed by her aforementioned fellowship at Atrium Health Wake Forest Baptist. Dr. Appelbaum is a member of the Phi Beta Kappa Society and the Alpha Omega Alpha Honor Medical Society.

Contact
Division of Acute Care Surgery
Vanderbilt University Medical Center 
Medical Arts Building, Suite 404
1211 21st Avenue South
Nashville, TN 37212
Phone: (615) 936-0083

Patients
Vanderbilt Trauma and Surgical Care Clinic 
Vanderbilt University Medical Center
The Vanderbilt Clinic
1301 Medical Center Drive, Suite 3501 A
Nashville, TN 37232
Fax: (615) 936-0185
Adult Appointments: (615) 322-2063
EMAIL: Rachel.Appelbaum@vumc.org
WEBSITE: Division of Acute Care Surgery