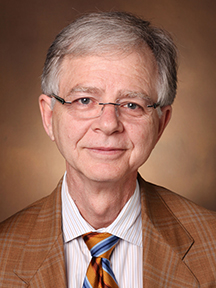 R. Daniel Beauchamp, MD, FACS
J.C. Foshee Distinguished Professor of Surgery
Professor of Cell and Developmental Biology
Co-Leader of the GI Cancer Program
Vanderbilt-Ingram Cancer Center
R. Daniel Beauchamp, MD, FACS, is the John Clinton Foshee Distinguished Professor of Surgery. Former Chair of the Section of Surgical Sciences, and Surgeon-in-Chief of Vanderbilt University Hospital holding these positions since July 2001 to July 2018. He holds joint appointments as professor in the departments of Cell and Developmental Biology and Cancer Biology. He also serves as Deputy Director of the Vanderbilt-Ingram Cancer Center. Dr. Beauchamp joined the faculty of the Vanderbilt University Medical Center as Associate Professor in the Department of Surgery, and Associate Professor of Cell Biology in December 1994. He was the founding division chief of the Oncologic and Endocrine Surgery Division which he led from 1997-2001 as the John Sawyers Professor of Surgery. He assumed his current role of Chairman of the Section of Surgical Sciences in 2001. His current ongoing institutional administrative responsibilities also include the Chair of the Perioperative Enterprise Committee, and co-leadership of the Perioperative Executive Committee. He also serves on the Vanderbilt-Ingram Cancer Center Executive Committee, the Vanderbilt Medical Group Executive Committee, the Medical School Executive Committee, the Clinical Enterprise Group, and the Surgical Critical Care Steering Committee.
Dr. Beauchamp came to Vanderbilt from the University of Texas Medical Branch (UTMB), Galveston, Texas, where he was Associate Professor in the Department of Surgery and the Department of Human Biological Chemistry and Genetics. During his UTMB tenure Dr. Beauchamp served as an attending faculty member for the General Surgery Service, the Surgery Tumor Clinic, and the Surgical Intensive Care Unit. During his last four years there he chaired the Residency Review Committee for General Surgery. While at UTMB, Dr. Beauchamp was also director of the James E. Thompson Memorial Molecular Biology Laboratory for Surgical Research.
Here at Vanderbilt University, Dr. Beauchamp has a clinical practice focused in Surgical Oncology. Until 2008, his practice included patients with a broad spectrum of malignancies, including gastrointestinal tract cancers, breast cancer, melanoma and soft tissue sarcoma. Since then, Dr. Beauchamp has focused his practice to the care of breast cancer patients. He uses the clinical settings to teach residents and medical students, in a one-on-one setting and in small groups. In addition to clinical practice and administrative responsibilities, Dr. Beauchamp has a productive research laboratory. He spent two years (1987-1989) conducting basic growth factor research in the Department of Cell Biology at Vanderbilt under the direction of Dr. Harold Moses after completion of his residency at UTMB. After two years in Dr. Moses' laboratory Dr. Beauchamp returned to UTMB as assistant professor in the departments of Surgery and Human Biological Chemistry and Genetics. His research fellowship was funded by the National Cancer Institute in the form of a Physician Scientist Award which supported his work for 5 years post-residency. Since completion of his surgical residency, Dr. Beauchamp's research work has maintained and has been continually funded by the NIH and other extramural funding agencies. He currently has three active R01 grants from the NIH, and is a project leader for the Gastrointestinal Cancer Specialized Program of Research Excellence (SPORE) Grant. Dr. Beauchamp's primary area of research interest has been in colorectal carcinogenesis, the biology of cancer cell invasion and metastasis, and in the identification of novel molecular biomarkers and therapeutic targets in colorectal and other alimentary tract malignancies. His work applies DNA microarray and proteomic technology to identify novel biomarkers and therapeutic targets in human colorectal cancer samples. He also uses molecular genetics and cell biological approaches to examine mechanistic questions in cancer biology in both cell culture and mouse models. In addition to the basic cancer research Dr. Beauchamp works in collaboration with his Medical Oncology and Radiation Oncology colleagues to accrue cancer patients to approved clinical trials.
Dr. Beauchamp is active in several national surgical and scientific organizations. He is a member of the Society of University Surgeons where he served as President in 1999, and was on the Executive Council for 10 years. He is a member of the American Society of Clinical Investigation, the Society for Surgical Oncology, the Association for Academic Surgeons, the Southern Surgical Association, the American Surgical Association, the Society for Surgery of the Alimentary Tract, the American Association for Cancer Research, the American Society of Clinical Oncology, the American Gastroenterology Association, the Halsted Society and the American Society for Cell Biology, among others. He serves or has served on the Editorial Boards of the Journal of Parenteral and Enteral Nutrition, the Journal of Surgical Research, Surgery, the Journal of the American College of Surgeons, Surgery, the American Journal of Surgery, Contemporary Surgery, and the Annals of Surgical Oncology. He is also an Associate Editor for the Sabiston Textbook of Surgery. He has served on the GMA2 and the GCMB study Sections as a regular member and is a member of the NIH CSR College of Reviewers