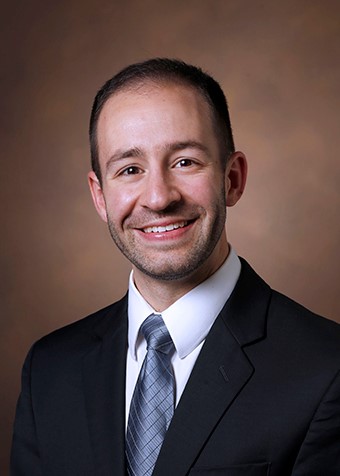 Peter J. Morone, MD, MSCI
Assistant Professor of Neurological Surgery
Department of Neurological Surgery
Village at Vanderbilt
1500 21st Ave. South
Nashville
Tennessee
37212
Clinic Phone
Appointment: (615) 322-7417
Peter J. Morone, MD, MSCI joined our surgical faculty after having completed his residency at Vanderbilt University Medical Center in Nashville, TN. Dr. Morone's clinical areas of interest include neurosurgical oncology, skull base neurosurgery and all aspects of complex cranial neurosurgery.

Research

Dr. Morone's main research interests include neuro-oncology outcomes and delayed cerebral ischemia after aneurysmal subarachnoid hemorrhage. He is also interested in neuroanatomy and using biostatistics to synthesize information from large datasets. He has received the following research grants:
NIH StrokeNet grant: Using Fresh Frozen Plasma, Vitamin K, and Platelets to Stop Intracranial Bleeding in Patients Presenting with Spontaneous & Traumatic Intracerebral Hemorrhage
Brain Aneurysm Foundation grant: A Cell Permeant Peptide Nanoparticle to Prevent Cerebral Vasospasm After Subarachnoid Hemorrhage​
His recently published articles include: 
A Virtual, Three-dimensional Temporal Bone Model and its Educational Value for Neurosurgical Trainees in World Neurosurgery
Awake Craniotomy in Glioma Surgery: Is it Necessary? in the Journal of Neurological Sciences
A Comparison of the Existing Wellness Programs in Neurosurgery and Institution Champion's Perspectives in Neurosurgery
Neck Remnants and the Risk of Aneurysm Rupture After Endovascular Treatment With Coiling or Stent-Assisted Coiling: Much Ado About Nothing? in Neurosurgery​
See Dr. Morone' s publications on PubMed
Education & Awards
Dr. Morone completed his undergraduate degree in Biochemistry from Indiana University in Bloomington, IN. He attended medical school at Indiana University School of Medicine in Indianapolis, IN where he was inducted into Alpha Omega Alpha.

During residency at Vanderbilt University Medical Center, Dr. Morone completed an enfolded training in skull base neurosurgery and a Master of Science in Clinical Investigation. He received the Vanderbilt Neurosurgery Teaching and Leadership Award, and Vanderbilt MSCI Scholarship.

Dr. Morone has a strong interest in education and developed a neurosurgery anatomy curriculum. He routinely delivers lectures and leads other residents through dissections. Additionally, Dr. Morone developed multiple neurosurgical simulation applications that are available on iOS and Android-based devices and are used worldwide.

Organizations

Dr. Morone is a member of the Congress of Neurological Surgeons and the American Association of Neurological Surgeons.
 
CONTACT
Patient Appointment Questions or Scheduling:
Vanderbilt Neurosurgery Clinic
Village at Vanderbilt
1500 21st Avenue South, Suite 1506
Nashville, Tennessee 37212
Phone: (615) 322-7417
Fax: (615) 322-7596
Academic & Administrative Office:
Vanderbilt University Medical Center
Department of Neurological Surgery
Village at Vanderbilt, Suite 4340
1500 21st Ave. South
Nashville, TN 37240-7923
Phone: (615) 322-6638