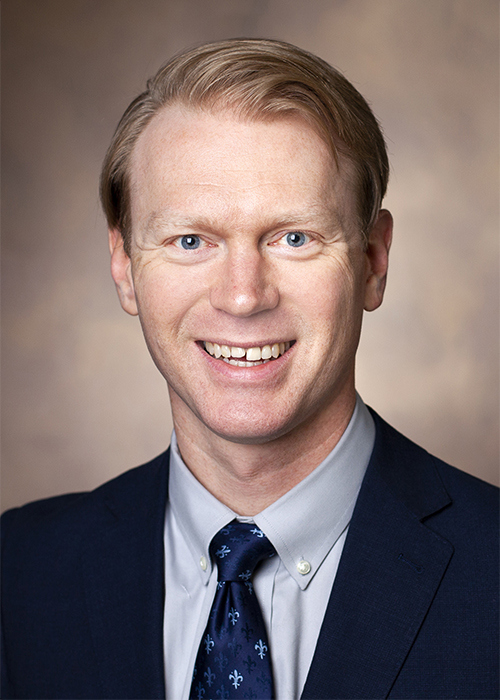 Patrick Duffy, MD
Assistant Professor of Surgery
Division of Acute Care Surgery
Dr. Duffy joined our surgical faculty in the Department of Surgery, as Assistant Professor of Surgery, following his previous role as Assistant Professor of Surgery at the University of Colorado Anschutz Medical Center, Aurora, CO. His specialized interests include burn surgery and burn reconstruction for adults and children. Dr. Duffy's responsibilities in these areas will include acute and trauma care, complex skin and soft tissue injury, and laser scar therapy.
Research
Dr. Duffy has extensively researched multiple dimensions of burn treatment, including the use of technology and palliative care. Another focus of his research is transfer protocols for patients at regional burn centers. Included among his recent publications in the Journal of Burn Care & Research are: Triage and transfer to a regional burn center: Impact of a mobile phone app; Early palliative care consultation in the burn unit: A quality improvement initiative to increase utilization; and Remote delivery of thrombolytics prior to transfer to a regional burn center for tissue salvage in frostbite: A single-center experience of 199 patients.
Memberships
Dr. Duffy is board-certified in General Surgery and Surgical Critical Care by the American Board of Surgery. He is a fellow of the American College of Surgeons, of which he is also a member. He is also a member of the American Burn Association, the American Society for Laser Medicine and Surgery, the International Society for Burns Injuries, and the National Association of Emergency Medical Technicians.
Education
Dr. Duffy earned his Bachelor of Arts degree at Colorado College, Colorado Springs, CO. He received his medical degree at Case Western Reserve University School of Medicine, Cleveland, OH. His internship in General Surgery was completed at University Hospitals Case Medical Center, also in Cleveland, and his residency in Burn Surgery was completed at Shriners Hospitals for Children Northern California and UC Davis Medical Center, both in Sacramento, CA. This was followed by a fellowship in Trauma Surgical Critical Care at UC Davis Medical Center.
Contact
Division of Acute Care Surgery
Vanderbilt University Medical Center
Medical Arts Building, Suite 404
1211 21st Avenue South
Nashville, TN 37212
Phone: (615) 936-0083
Patients
Vanderbilt Outpatient Burn Clinic
Vanderbilt University Hospital
1211 Medical Center Drive, Suite 11201
Nashville, TN 37232
Fax: (615) 615-936-0185
Adult/Pediatric Appointments: (615) 936-2876
WEBSITE: Division of Acute Care Surgery
WEBSITE: Burn Center