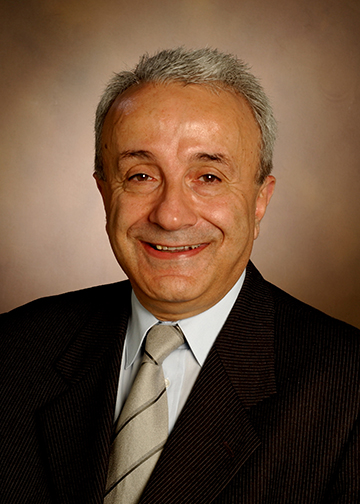 Naji N. Abumrad, MD, FACS
Section of Surgical Sciences
Light Hall
Nashville
37232-2730
Dr. Naji Abumrad's clinical interests cover all aspects of general surgery and, particularly, endocrine surgery. His extensive research activities include studies of the mechanism of insulin resistance in the morbidly obese, and in particular, he is conducting studies related to the understanding of the mechanisms involved in the reversal of type 2 diabetes in morbidly obese patients who undergo bariatric surgical procedures. Additional studies carried out in his laboratory, address the metabolic effects of opioid peptides and opiate alkaloids; and in particular cocaine on energy metabolism and fuel mobilization. Dr. Abumrad's work has been funded by NIH grants during most of his academic career.
Dr. Abumrad's professional interests have earned him appointments to serve on many NIH study sections, such as the Surgery, Anesthesia, and Trauma (1991-94) and Metabolism (1996-1998) Study Sections. In addition, he has just finished a stent as a member (2000-2004) and Chairman of the GMA2 Study Section. He also has served as a member of Secretary Donna Shalala's Task Force on Breast Cancer in 1994.
He became a member of Alpha Omega Alpha in 1983, and of Sigma Xi, the Scientific Research Society, in 1986. In 1977, Dr. Abumrad received the Best Teacher Award at SUNY, Syracuse, and the Grant W. Liddle Award for Excellence in Teaching at Vanderbilt Medical Center in 1984.
Dr. Abumrad is certified with the American Board of Surgery since 1978 and was recertified in 1996. 

Education:
Dr. Abumrad received his medical degree from the American University of Beirut in Lebanon in 1971.

Post-Graduate Training:
Dr. Abumrad completed his internship training and a residency in pediatrics at the American University of Beirut, in Lebanon. In 1976, he completed a residency in surgery at the State University of New York (SUNY) in Syracuse. He was Assistant Professor of Surgery at SUNY before leaving in 1979 to join the Vanderbilt University School of Medicine as Research Assistant Professor of Surgery and Medicine.
In 1981, Dr. Abumrad was appointed Assistant Professor of Surgery, Medicine and Physiology, and in 1982, as the Director of the S.R. Light laboratory at Vanderbilt, a post he held until 1991. During that time, he progressed through the academic ranks to become Associate Professor (1984) and then Professor (1987) of Surgery, Medicine and Molecular Physiology and Biophysics. He also was the named Paul W. Sanger Professor of Surgery (1984-92), and Associate Director of the Clinical Research Center (1985-92) with the Vanderbilt School of Medicine.
Subsequent positions included Professor and Chairman of the Department of Surgery, Professor of Molecular Physiology, and Acting Dean of the School of Medicine at SUNY, Stony Book (1992-96); Chairman of the Department of Surgery at North Shore University Medical Hospital Professor in Manhassett, New York, Co-Chairman and Professor of the Department of Surgery at New York University Medical Center (1996-2000), Director of Surgical Research at Sinai Hospital in Baltimore, Maryland (2001-02), Chief of Surgical Services for the Tennessee Valley Health System (2002-03).
Other Responsibilities:
Dr. Abumrad is active in numerous professional associations, including the American Surgical Association, the Society for University Surgeons, the Association of Academic Surgery, the American Diabetes Association, the Endocrine Society, the Nashville Surgical Society, and the Tennessee Academy of Medicine.
As a reviewer for many professional journals, Dr. Abumrad contributes to publications such as the Journal of Clinical Investigation, Diabetes, Metabolism, Endocrinology, American Journal of Clinical Nutrition, New England Journal of Medicine, Science, Nature and Proceedings of the National Academy of Science.
Research Information
View Dr. Abumrad's Publications
Dr. Abumrad has authored well over 250 articles in peer-reviewed journals, and several book chapters. Some of his topics include research findings on metabolic activity and hypoglycemia; the repair of metabolic processes; the effects of metabolic responses during insulin deficiency; the hormonal and metabolic effects of neuroglucopenia, and the effects of fasting on metabolism.