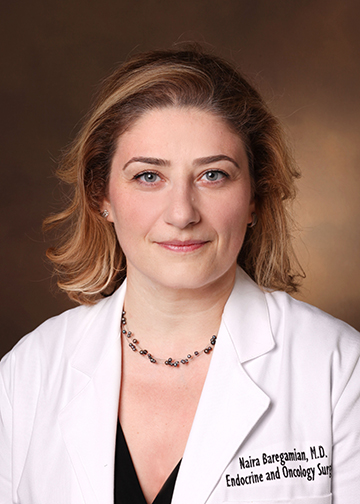 Naira Baregamian, M.D., F.A.C.S.
Assistant Professor of Surgery
Phone
Phone: (615) 322-2391
Clinic Phone
Appointments: (615) 936-8422
Dr. Baregamian is a fellowship-trained Endocrine Surgeon who joins our surgical faculty in the Division of Surgical Oncology and Endocrine Surgery after serving as an Endocrine Surgery Fellow in the Department of Surgery at Yale University, New Haven, Connecticut.
Dr. Baregamian specializes in surgical treatment of benign and malignant conditions of the endocrine glands - parathyroid, thyroid and adrenal. She specializes in minimally invasive parathyroidectomy (MIP), including a surgeon-administered cervical block approach ("awake surgery"); reoperative parathyroidectomy; parathyroidectomy for non-localizing parathyroid disease and parathyroid carcinoma. Her expertise in surgical treatment of benign and malignant thyroid conditions include conditions such as multinodular goiter, Graves' disease, substernal goiters, initial and re-operative management of thyroid cancer, modified radical neck dissection (MRND) for metastatic thyroid cancer, and re-operative MRND, and multiple endocrine neoplasia (MEN-I, MEN-II). Dr. Baregamian specializes in laparoscopic (transabdominal and retroperitoneoscopic approaches) and open adrenalectomy for a spectrum of benign and malignant adrenal tumors, including paragangliomas.
Education:
M.M.S., University of Texas Medical Branch (UTMB), Galveston,TX
M.D., Saint Georges University School of Medicine, Grenada
B.A. (Magna cum laude), California State University, Northridge (CSUN), CA
Residency:
General Surgery, University of Texas Medical Branch, Galveston, TX,
General Surgery, Maimonides Medical Center, Brooklyn, NY
Fellowship:
Endocrine Surgery Fellowship (2014), Yale University School of Medicine, New Haven, CT
Fetal Surgery Fellowship (2012), Cincinnati Children's Hospital Medical Center, Cincinnati, OH
NIH Research Fellowship (T32), University of Texas Medical Branch, Galveston, TX
Research Focus:
Basic-translational research focuses on understanding underlying molecular mechanisms of thyroid cancer progression, tumor metabolomics and microenvironment, and oxidative stress regulation.
Clinical research focus includes thyroid, adrenal and parathyroid disease outcomes, including understanding the impact of parathyroidectomy on neurocognitive performance profile (NPP) in patients with primary hyperparathyroidism.
Credentials:
Board certified by the American Board of Surgery, 2013
ECFMG Certification (# 0-626-157-2), 2003
Fundamentals of Laparoscopic Surgery (FLS), 2010
Publications:
Review some of Dr. Baregamian's abstracts on PubMed.