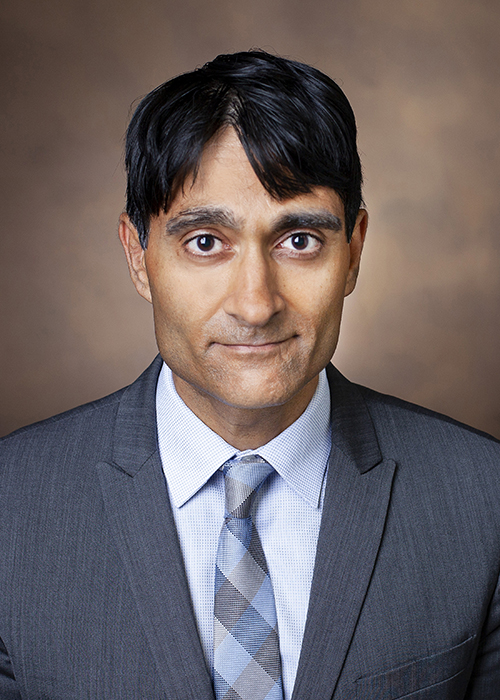 Mayur B. Patel, MD, MPH, FACS, FCCM
Division of Acute Care Surgery
Vice Chair of Professional Development
Critical Illness, Brain Dysfunction, & Survivorship (CIBS) Center
Ingram Chair in Surgical Sciences
In the Department of Surgery, he leads the Division of Acute Care Surgery across the domains of trauma, emergency general surgery, and critical care. As Department Vice-Chair of Professional Development, he is helping build a supportive program for Junior Faculty centering on mentorship, sponsorship, & promotion.
He is a participatory member of specialty societies (American College of Surgeons [ACS], ACS Committee on Trauma [COT], Center for National Trauma Research [CNTR], Eastern Association for the Surgery of Trauma [EAST], American Association for the Surgery of Trauma [AAST], Association for VA Surgeons [AVAS], Society of Critical Care Medicine [SCCM]), as well as academic surgical groups (American Surgical Association [ASA], Association for Academic Surgeons [AAS], Society of Asian Academic Surgeons [SAAS], Society for University Surgeons [SUS], Society of Clinical Surgery [SCS], Southern Surgical Association [SSA], Surgical Biology Club II [SBC II]), and national workgroups like National Academies of Science, Engineering, & Medicine (NASEM).
Since 2010, Dr. Patel has carried federal funding and has matured this to >$20M NIH Principal Investigator portfolio on behalf of the Vanderbilt collaborative community, represented by 3 independent research programs (R01 GM120484, R01 AG058639, I01 RX002992). In addition, he coordinates a number of national & global studies (e.g., Department of Defense [DoD], Industry), participates in the NIH Center for Scientific Review, and is a permanent charter member for the Surgery, Anesthesia, & Trauma (SAT) Study Section. Dr. Patel has publication record reflects over 130 peer-reviewed articles, invited reviews, book chapters, and editorials. He serves as an Associate Editor for the Sabiston Textbook of Surgery, Advanced Trauma Operative Management textbook, and the Journal of Surgical Research. He has presented locally, regionally, nationally, and internationally. He has mentored >60 undergraduate, pre-doctoral (MD and PhD candidates), post-doctoral trainees (F and K level resident and junior faculty), and motivated faculty (R level). Dr. Patel leads as the Program Director for Vanderbilt's inaugural NIH/NIGMS (T32 GM135094) two-year Post-doctoral Research Fellowship: Interdisciplinary Training in Injury and Critical Illness.
For inquiries about his work, please contact him (mayur.b.patel@vumc.org).
For those interested in the T32 Post-doctoral Fellowship, please apply (https://www.icudelirium.org/cibs-center/t32-fellowship).