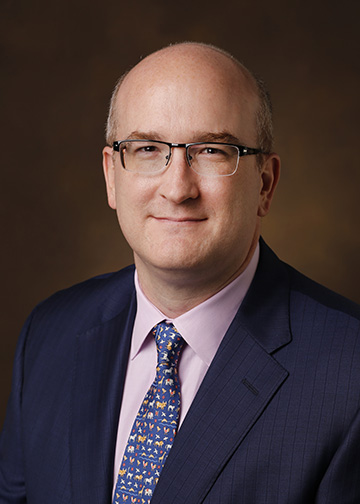 M. Benjamin Hopkins, MD, FACS, FASCRS
Associate Professor of Surgery
Division of General Surgery
Surgery Colorectal Informations Operations
Vanderbilt University Adult Hospital
Phone
Appointments: (615) 322-2063
Dr. Hopkins joins our surgical faculty in the Vanderbilt Division of General Surgery in Colon and Rectal Surgery after holding the position of Assistant Professor of Surgery, Duke University Medical Center, Durham and Raleigh, NC. He also served as Director of Colorectal Surgery, Department of Surgery, Durham Veteran Affairs Medical Center, Durham, NC. His clinical areas of interest include colorectal cancer, benign anorectal diseases, surgical treatment of inflammatory bowel disease, laparoscopic and robotic surgery, enhanced recovery, and improved patient outcomes.
Dr. Hopkins is board certified by the American Board of Surgery and the American Board of Colon and Rectal Surgery.  He is a Fellow of the American College of Surgeons and American Society of Colon and Rectal Surgeons. Dr. Hopkins was nominated for Master Clinician/Teacher Award at Duke University Medical Center's Surgical Residency Program, and voted to "Member at large" for the Duke Raleigh Medical Executive Committee. He received the Physician Champion of Service Excellence in 2011.
Research Interest
Dr. Hopkins research interests are in colon and rectal surgery outcomes and minimally invasive colorectal surgery. Hopkins' recently published articles include Miscellaneous Conditions (Chapter 15): Improved outcomes in colon and rectal surgery, Informa, Technical Challenges: Reoperative Surgery (Chapter 20): Minimally Invasive Approaches to Colon and Rectal Disease, Springer Publishers, and Lower Gastrointestinal Bleeding (Chapter 3): Surgery of the Anus, Rectum, and Colon 4th edition. CRC Press (pending publication). Some of his abstracts are online at PubMed.
Education
Medical Degree - Wake Forest University, Winston-Salem, NC
Internship & Residency - Ochsner Clinic Foundation, New Orleans, LA
Fellowship - Ochsner Clinic Foundation, New Orleans, LA
Meet Dr. Hopkins
WEBSITE