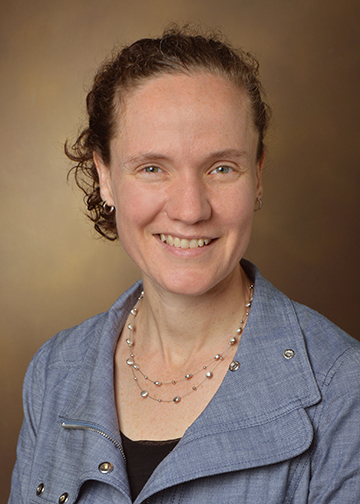 Kyla P. Terhune, MD, MBA, FACS
Associate Dean for Graduate Medical Education
Vice President for Educational Affairs
ACGME/NRMP Designated Institutional Official
Graduate Medical Education Office
Professor of Surgery and Anesthesiology
Dr. Terhune joined the Vanderbilt faculty in 2011 and is a professor of Surgery and Anesthesiology. Her practice consists of general surgery with an interest in acute care surgery.  She currently is the Associate Dean for Graduate Medical Education, the Vice President for Educational Affairs and the Designated ACGME/NRMP Institutional Official for VUMC. Her clinical surgery practice is primarily at the VA Medical Center, where she served as Chief of General Surgery from 2016 until 2019. 
Dr. Terhune completed her residency in general surgery and fellowship in critical care at Vanderbilt University Medical Center.  After joining faculty at Vanderbilt in 2011, she became Program Director of the Surgery Residency in 2014, a position she held until 2019.
She has received several distinguished teaching awards at the local and national level, including the inaugural David Leach Award from the ACGME in 2010.
Prior to her faculty appointments, Dr. Terhune received her A.B. degree in molecular biology from Princeton University and her medical degree from the University of Pennsylvania School of Medicine, where she received the I.S. Ravdin Award in Surgery.
Education
1996 A.B. Princeton University, Princeton, NJ
2004 M.D. University of Pennsylvania School of Medicine, Philadelphia, PA
2016 M.B.A. Owen School of Management, Vanderbilt University
Postgraduate Training
2004-2011 Resident, Surgery, Vanderbilt University Medical Center
2007-2008 Fellow in Critical Care, Vanderbilt University Medical Center
2008-2009 Resident, Research, Vanderbilt University Medical Center
Research Interest
Dr. Terhune's research interests include workforce issues and surgery education.
Presentations and Publications
Dr. Terhune has authored multiple manuscripts and book chapters, and has presented nationally and internationally.
View Dr. Terhune's Publications on PubMed
Contact:
Vanderbilt University Medical Center
Office of Graduate Medical Education
2215 Garland Ave
Room 303 Light Hall
Nashville, Tennessee 37232-5283
Phone: (615) 322-6035 Fax: (615) 343-1496
email: kyla.terhune@vumc.org