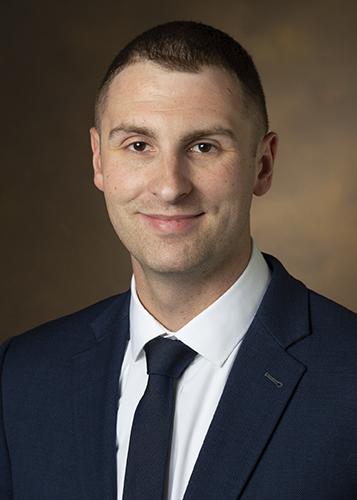 Joshua Porter Smith, DO
Assistant Professor of Clinical Surgery
Division of Acute Care Surgery
Dr. Smith joined our surgical faculty in the Department of Surgery, Division of Acute Care Surgery following his fellowship in Surgical Critical Care and Acute Care Surgery at Vanderbilt University Medical Center. His particular areas of research and clinical interest include complex ventral and incisional hernias of the abdominal wall, emergency general surgery, management of enterocutaneous fistula, and trauma and surgical critical care. 

Research
One of Dr. Smith's primary research interests is participation in an ongoing Department of Defense grant between an industry sponsor, Vanderbilt Medical Center, and Vanderbilt School of Engineering to develop a machine augmented virtual reality soldier health kit to guide forward combat elements through performance of complex medical procedures. A further research focus is developing military/civilian partnerships to ensure the readiness of military physicians and medical teams to perform highly effective combat casualty care. Prior research experience surrounds the coagulopathy of trauma and resuscitative endovascular balloon occlusion of the aorta.
Among Dr. Smith's recent publications in peer reviewed journals are: Medical Management of Left Sided Diverticular Disease, Seminars in Colon and Rectal Surgery; Three Versus Four-Factor Prothrombin Complex Concentrates for "Factor-Based" Resuscitation in a Porcine Hemorrhagic Shock Model, Journal for Trauma Acute Care Surgery; and Smartphone-Based Mobile Thermal Imaging Technology to Assess Limb Perfusion and Tourniquet Effectiveness Under Normal and Blackout Conditions, Trauma Acute Care Surgery.
Memberships, Awards and Honors
Dr. Smith holds certifications in both the American Board of Surgery, General Surgery and Surgical Critical Care. He has active membership in the Eastern Association for Surgery in Trauma, American College of Surgery, the American Association for Surgery in Trauma, and Excelsior Surgery Society. Dr. Smith is the recipient of a grant sponsored by the Department of Defense to research development of machine augmented health kit. 
Education
Dr. Smith received a Bachelor of Science degree in Molecular Genetics from The Ohio State University, Columbus, OH. He attained a DO at West Virginia School of Osteopathic Medicine, Lewisburg, WV. Both his internship and residency were completed at Madigan Army Medical Center, Tacoma, WA. This was followed by a fellowship in Surgical Critical Care and Acute Care Surgery, at Vanderbilt University Medical Center, Nashville, TN.
Contact
Division of Acute Care Surgery
Medical Arts Building, Suite 404
1211 21st Avenue South
Nashville, TN 37212 
Phone: (615) 936-0083
Fax: (615) 936-0185
Patients
Emergency General Surgery/Trauma Surgery Clinic
The Vanderbilt Clinic, Suite 3501A
1301 Medical Center Drive
Nashville, TN 37232
Fax: (615) 343-2210
Appointments: (615) 322-2063

WEBSITE: Division of Acute Care Surgery