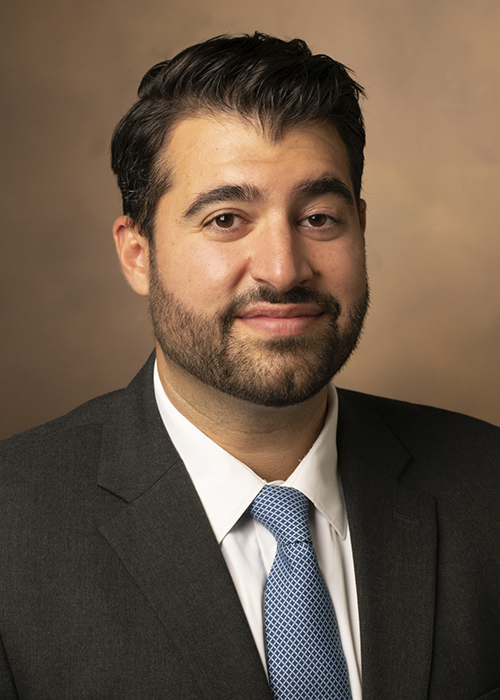 John M. Trahanas, MD
Assistant Professor of Cardiac Surgery
Department of Cardiac Surgery
Dr. Trahanas joined our surgical faculty in the Department of Cardiac Surgery, as Assistant Professor, after completing a fellowship in Cardiothoracic Surgery at Massachusetts General Hospital, Boston, MA. Dr. Trahanas brings his specialized clinical and research experience in mechanical circulatory support, heart failure and respiratory failure. Dr. Trahanas will treat patients seeking care for aortic aneurysm, cardiac transplantation and cardiac valve and coronary heart disease. His other clinical interests include transcatheter aortic valve replacement and heart assist devices.
Research
Dr. Trahanas has extensively researched interventions for the treatment of heart and respiratory failure, including innovations in mechanical circulatory support and thoracic organ transplantation. Another primary focus of his research is aortic surgery. Included among his recent publications in numerous peer-reviewed journals are: Veno-venous Extracorporeal Membrane Oxygenation for Respiratory Failure in COVID-19 Patients. Early Experience from a Major Academic Medical Center in North America, Annals of Surgery 2020; How to Turn it Down: The Evidence and Opinions Behind Venoarterial ECMO Weaning. American Society of Artificial Internal Organs Journal; and Getting to the Art of the Matter with Aortic Valve Repair, Journal of Thoracic Cardiovascular Surgery.
Memberships, Awards and Honors
Dr. Trahanas is board-certified in surgery and surgical critical care by the American Board of Surgery. He is a member of the Society of Thoracic Surgeons.
Education
Dr. Trahanas earned his bachelor of science degree at the College of New Jersey, Trenton, NJ. He received his medical degree at New York University Medical Center in New York, NY. His internship and residency in General Surgery were completed at New York Presbyterian Hospital, Columbia University Campus, New York, NY. This was followed by a research fellowship and a fellowship in surgical critical care at the University of Michigan Medical Center, Ann Arbor, MI. Dr. Trahanas also pursued fellowships at Massachusetts General Hospital, Boston MA, in Cardiothoracic Surgery and at Duke University School of Medicine, Durham, NC, in Advanced Aortic and Endovascular Surgery.
Contact
Department of Cardiac Surgery
Vanderbilt University Medical Center
Vanderbilt Medical Center East
1215 21st Ave. South, Suite 5025
Nashville TN 37232
Phone (615) 343-5224 
Patients
Department of Cardiac Surgery
Vanderbilt University Medical Center
Vanderbilt Medical Center East
1215 21st Ave. South, Suite 5025
Nashville TN 37232 
Fax: (615) 936-7582
Appointments (615) 343-9195
EMAIL: John.Trahanas@VUMC.org
WEBSITE: Department of Cardiac Surgery
WEBSITE: Vanderbilt Heart & Vascular Institute 
WEBSITE: Vanderbilt Heart Transplant